The English cottage garden outside of my Southern Ontario, Canada cottage is at its peak in the autumn. It's prime OoOooOooo and AhhhHhhHhHHhhh season for anyone walking past. If you can't walk past then please enjoy this virtual tour.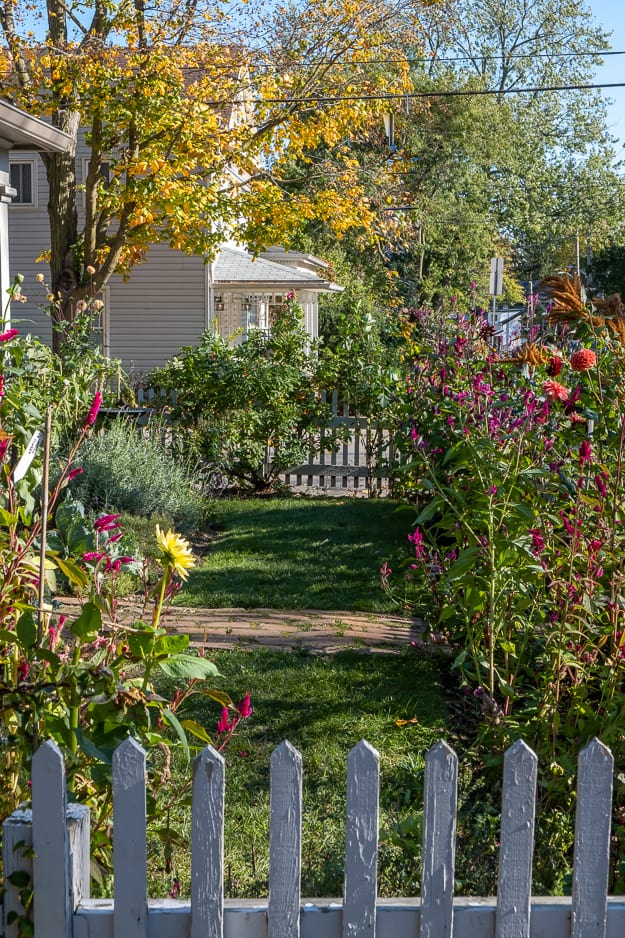 In the spring my garden looks like crap. In fact, 3 days before this photo was taken in the fall my garden looked like crap. I may have overextended myself a tiny bit this year ... and then I got a dog. So that's why my fall garden looked like crap.
In the spring it's because I have no evergreens in my yard so it's literally just bare dirt and a strip of half dead lawn until the perennials and bulbs start to pop up.
Once they do, my English Cottage Garden in Canada starts to look less anemic. Tulips, Ranunculus, Rhubarb, Poppies and Peonies start popping up. It's bueno.😘
Then it goes through a bit of a beunopause in the middle of summer when the early bloomers have finished blooming and the late bloomers (the majority of my garden) have yet to explode.
It is now time for the late bloomers.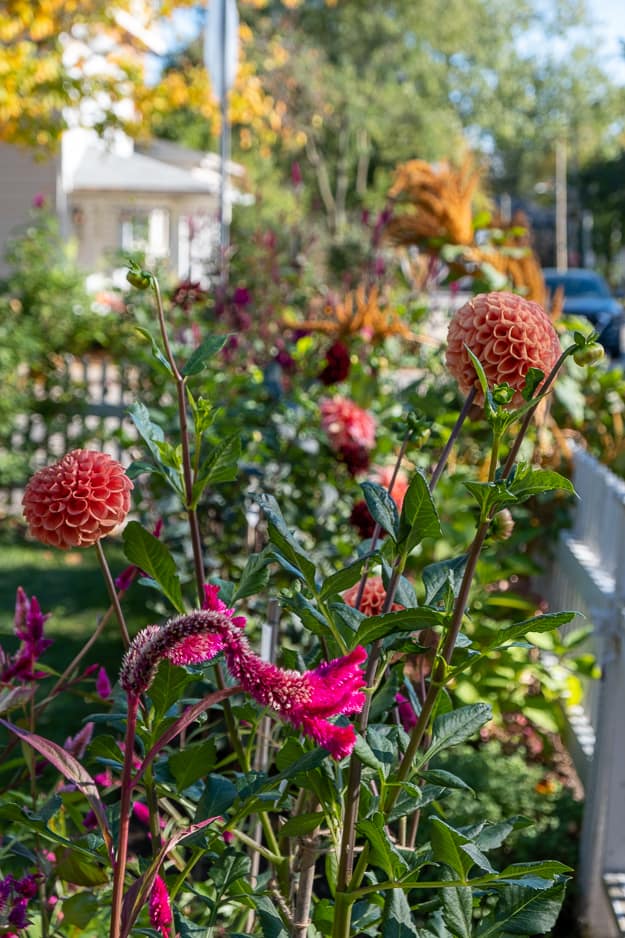 Celosia in front of Cornel Bronze dahlia.
Apple espaliers just a day before I picked the last of the apples. Some cabbages in felt pots and in the ground.
I'm hoping there's just enough time for my red cabbages in pots to mature before cold weather arrives. Which it should have about a month ago.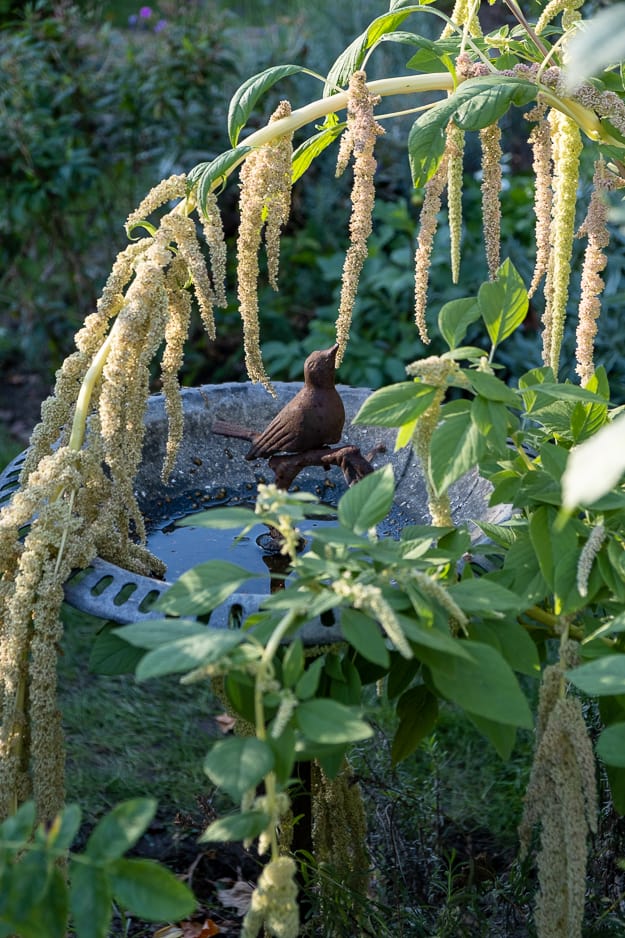 I 0% did not keep that intention. It's a riot of colour.
Wine Eyed Jill dahlia to the left, Dollarama tuber to the right.
My spring garden could take a lesson from my fall garden.
The tour ends here.
There are a multitude of other dahlias that I didn't get a shot of or that weren't blooming the day I shot the pictures.
If you'd like to see the complete list of dahlias I grew this year I have them all listed with photos in this post.
If you'd like to see the most exciting, hilarious, ridiculous flower I grow in my front yard you can read all about Buzz Buttons here. They're edible, electric and like nothing you've ever eaten before. Yes! They're edible and very trendy right now.
The dahlias will continue to bloom until they're killed by frost. Years ago they would have been dead by now, but this year it looks like they'll be on display until at least the beginning of November. Same as last year.
Then the work of digging up and dividing the massive tubers starts.
Whenever someone walks past and asks me what all the amazing flowers are I tell them dahlias. They ask why everyone doesn't have them when they're so extraordinary. I explain the part about having to dig them all up in the fall, wash them, divide them ... Oh! You're still here. Good for you. :)
Most people get glassy eyed right after I say "dig them all up in the fall" and then they meander away towards someone else's hydrangea bush.
Yeah. Dahlias are seriously a needle in the ass kind of a pain. But they're so beautiful they'll make almost anyone stop and stare.
Until the dahlias die and the garden once again - looks like crap.
→Follow me on Instagram where I often make a fool of myself←