So you want to grow something "different" this year do you? Alright. I have a few ideas for ya.
When you plant your first garden you usually limit yourself to the things that are easy for growing in a vegetable garden. Stuff that's pretty common.
Things like tomatoes and cucumbers and slugs. But as time goes by and you get confident in your gardening skills you inevitably want to branch out into growing things that are little less common.
Things like quinoa and tomatillos and credit cards.
Reisetomate Tomato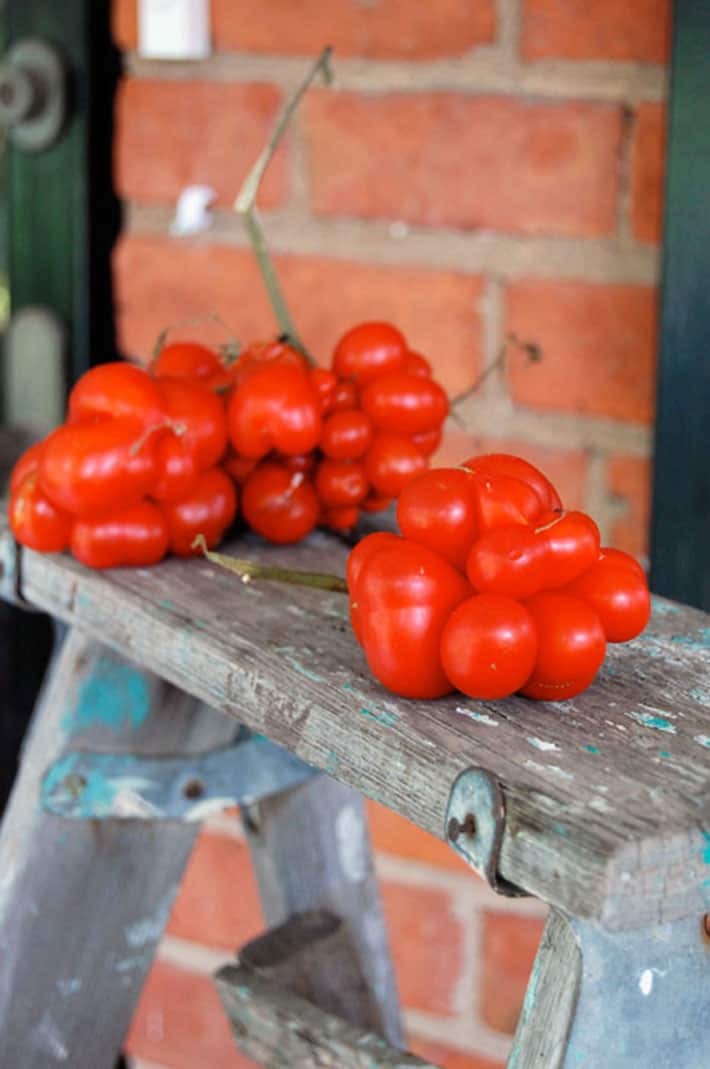 I'm featuring a few of the weird, unique and moderately bizarre things you can grow this year. Like the Reisetomate tomato you see above.
They're also called a Traveller tomato or a Pull Apart Tomato because instead of growing into 1 large tomato, each tomato grows in sections like a bunch of cherry tomatoes fused together.
To eat it you just pluck a section off and pop it in your mouth, leaving the rest of the tomato still in tact and not dripping juice all over the place.
The eating it is where I had a problem with these tomatoes when I grew them. They were dry and sour and really kind of inedible. BUT there are people who say they're the best tomato they've eaten.
So you could land in the camp of one of those mental folks and LOVE the taste.
Seeds for this specialty tomato can be hard to find especially in the past year but I've found some online for you:
In the US you can get Reisetomate tomato seeds from Annapolis Seeds here.
In Canada you can get Reisetomate tomato seeds from Gaia Organics here.
Mouse Melon / Cucamelon
ALERT! If you have a fence, pergola, arbour or trellis you like to have something climbing on, may I introduce to you the Mouse Melon.
A vine that will wrap itself around and over just about anything all while producing little fruits that taste like a pickled cucumber.
I think the reason they're called Mouse Melons is quite obvious to anyone with even a partial strand of DNA in them.
They look exactly like a watermelon that a mouse would find about the right size to take home to her family.
I mainly eat these while I'm standing in the garden contemplating what to pick for dinner. But they're also perfect, and I mean PERFECT in salads.
When you bite into the mouse melon the first flavour you get is cucumber, but then your salivary glands do that weird thing where they kind of burn and clench up, like when you eat salt and vinegar chips. It's astonishing how I can relate everything back to potato chips. Or at the very least potatoes.
Mouse Melon seeds are available just about everywhere so check your local seed stores.
Horned Melon / Jelly Melon / Kiwano
photo via SeriousEats
The Horned Melon originated in Africa near the Kalahari desert. The outside is green and horned, turning orange when it's ripe.
The inside is filled with a chartreuse green jelly that tastes like cucumber at first then blends into an exotic fruit flavour. At least that's what anyone trying to sell the fruit says. As far as online reviews, pretty much everyone in North America says they think the taste is kindda gross.
Mushy, sour and just not a ton of flavour.
But I don't care what it tastes like. LOOK at it.
Photo via Fruit Facts
It grows like a vine that you can trellis so it doesn't take up a ton of space. So that's good. It's the sort of thing you may just grow once to see what it's like for the fun of it. And I really can't imagine what would be more fun than having a big bowl of these on the kitchen table when people came over.
It'll look great beside my big bowl of home grown winning lottery tickets.
I tried to grow this one year but I got started on it late and got it into the ground late so I never ended up with anything more than a LOT of vine. IF I can find my old seeds in my stash I'm going to try again.
You can buy Horned Melon seeds in the US from Rareseeds right here.
You can buy Horned Melon seeds in Canada from this company in Quebec.
Amaranth
Ah, Amaranth. It's what you see me holding at the very beginning of this post.
Last summer, in year 3 of the English Cottage garden the third most commented on flower was Hot Biscuits Amaranth.
Everyoneeeeeee who walked past it asked what it was. This tornado of blooms (which is actually a grain) easily gets 4′ high by the end of the season and will relentlessly reseed itself every year. But not in a bad way like stupid Rose of Sharons.
There are many varieties of Amaranth but the two easiest to find are Green Tails or Red Tails Amaranth. Unlike the upright habit of these Hot Biscuits, Green and Red Tails Amaranth droop down like a horse's tail.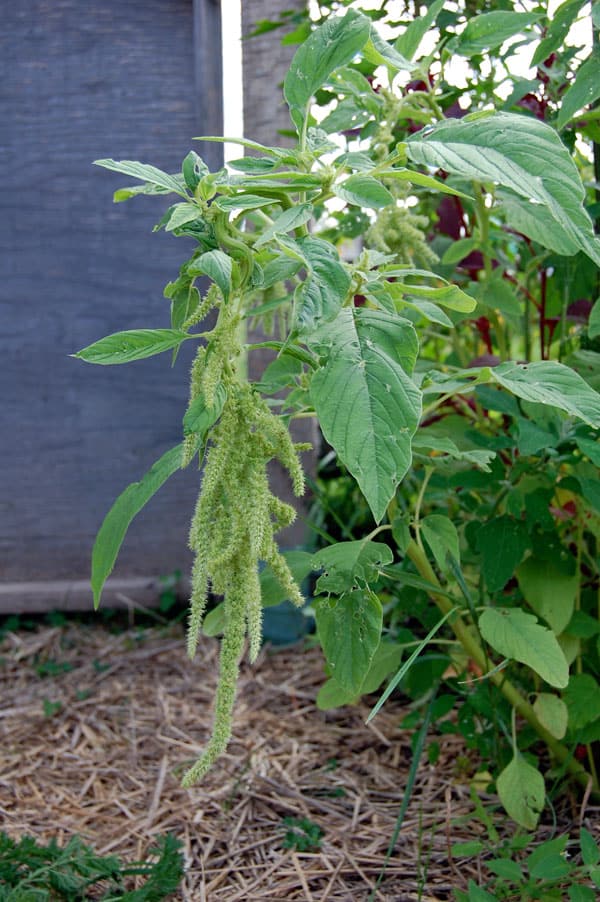 If you REALLY want to impress yourself, grow one upright and one trailing variety like Green Tails and Velvet Curtains or Hot Biscuits.
So if you're looking for a unique flower to grow and you want one that gets BIG, produces BIG blooms, will reliably grow year after year, comes in all manner of shapes and colours, is a beautiful cut flower, dried flower or glycerine preserved flower you should try pansies.
Just kidding.
Amaranth is your gal. She's also edible. Did I mention that?
For the best selection you wanna get your seeds from Floret. They're sold out of ALL Amaranth seeds right now but the minute they go on sale again this is where you should get them from.
If you're desperate to buy some Amaranth seeds right now you CAN get the variety Hot Biscuits from:
William Dam Seeds in Canada – note they're several weeks delay for shipping but that still gives you time to plant.
Johnnys Select Seeds in the US also have Hot Biscuits along with several more of the more unique varieties of Amaranth.
Obviously this isn't any kind of exhaustive list. That would be overwhelming and I'm not here to overwhelm you. I'm here to inspire, encourage and remind you that gardening is fun.
Even if you can't grow credit cards. Legally.