Paint a shed in less time than it takes to make a batch of cookies. Paint a section of fence in seconds. Chairs in minutes. Nope, it's not a dream world, or delusional. It's my prized tool. A Wagner paint sprayer.
This post is sponsored by Wagner SprayTech. A product I love and have used for YEARS.
I am on my third paint sprayer. Not because they keep breaking. Not because they don't work as well as I would like so I keep trying new ones. Nope. Quite the opposite in fact. I'm on my third paint sprayer from Wagner because I keep letting them know how much I like them and they keep sending me new ones.
It all started a few years ago when I bought a Wagner paint sprayer from Home Depot to paint my picket fence. I don't know if you've ever tried to paint a picket fence but it isn't easy. There are approximately 742 sides to a picket fence. Just when you think you've got them all covered, you discover another side to it. It's like painting a rhombicosidodecahedron. Google it.
So I bought a paint sprayer thinking it would make the job faster and it did. Faster and easier. The model I bought was whichever Wagner was the cheapest. I think it was around $70 or $80. It was powered by a garden hose which still doesn't make sense to me but it worked.
In fact I liked it so much I contacted the company to tell them how much I liked it. That's something people don't do enough of. Everyone is quick to call a company to complain about products they don't like but people rarely make the same sort of call when they are impressed with something.
They were so happy I liked their sprayer they said WAIT'LL YOU TRY THIS ONE. And they promptly sent me the Wagner FLEXiO 890. A sprayer that comes with a compressor so there's no garden hose.
In the past 3 years I have used that sprayer to paint the interior shutters I made (you can click here to see them and learn how to make the yourself), my potting shed, my front porch, my picket fence (again), my wicker chairs and a very small portion of my cat.
Again, this summer I told them how much I loved it and how many times I used it. Again – they sent me a new one. ( I should probably consider letting Volvo know how much I like my S60. )
Allow me to introduce all you painting geeks to – The Wagner FLEXiO 3000.
O.K. the last machine they sent me got rid of the garden hose. THIS machine gets rid of the compressor. I don't have any idea how they do it but basically it's the size of a hair dryer. There's no garden hose, no compressor, no nothing.
Just a hand nozzle and a power cord. It really is like a hairdryer that spews out paint.
Since I've sprayed pretty much everything in my house already I carried it over to my mother's house to spray her two wicker chairs for her.
SPRAY GUN PAINTING USES LESS PAINT.
It took 1 quart of paint to do 2 coats on 2 wicker chairs, with paint left over.
They're plain white wicker chairs and Betty isn't a plain white person. She's a colour person. We're very different Betty and I.
This is a picture of me pretending to carefully read the instructions. I did glance at them.
HOW DOES A PAINT SPRAYER WORK?
It's pretty easy. In fact it's way easier than painting with a brush or roller. You fill the container with paint, screw it onto the spraying handle and point it at whatever it is you're painting.
The FLEXiO 3000 comes with 2 nozzles. One for finer, detail work and one for bigger work. For these outdoor chairs the bigger nozzle is the one I chose.
HOW TO SET UP THE WAGNER SPRAYER. (FLEXiO 3000)
Steps
There are 3 settings to pay attention to. The air flow, the paint flow and the paint width.
Set the red dial on top to between 1 and 8. Setting it to 1 provides the least amount of air flow, setting it to 8 provides the strongest air flow. There's a handy chart with a picture of a chair on it right on the gun, so I decided that was probably the right setting to choose. Between 3 and 4.
2. Adjust your material flow rate on the red dial around the neck of the spray gun. 1 for the least amount of paint to come out, higher for more. (so 1 gives a very thin coating of paint, 10 would give a mammoth amount of paint and you'd run out of paint faster)
3. Adjust how wide you want the spray to be. If you're doing the side of a house you'd want a side spray. If you're doing a table, you'd want it to be less wide.
That's it. Now that the 3 adjustments are made you just need to plug it in and start spraying.
There is NO ON BUTTON on this thing. When you squeeze the spray handle to start spraying, it automatically engages and turns on.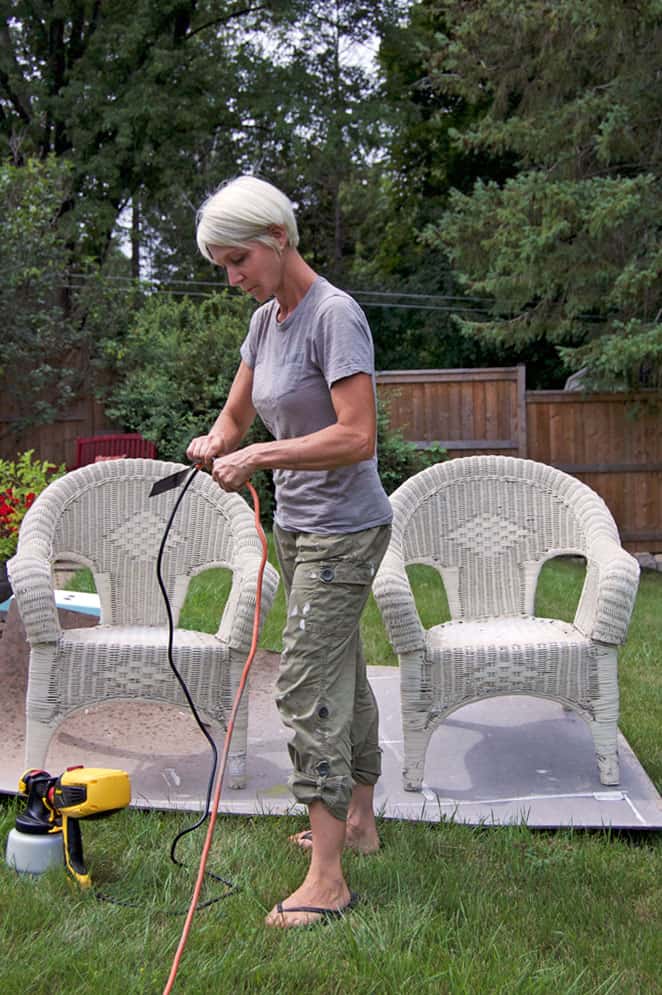 To make things fun and interesting I made it a race. I wanted to time exactly how long it took to paint 2 coats on 2 wicker chairs.
Set your timer …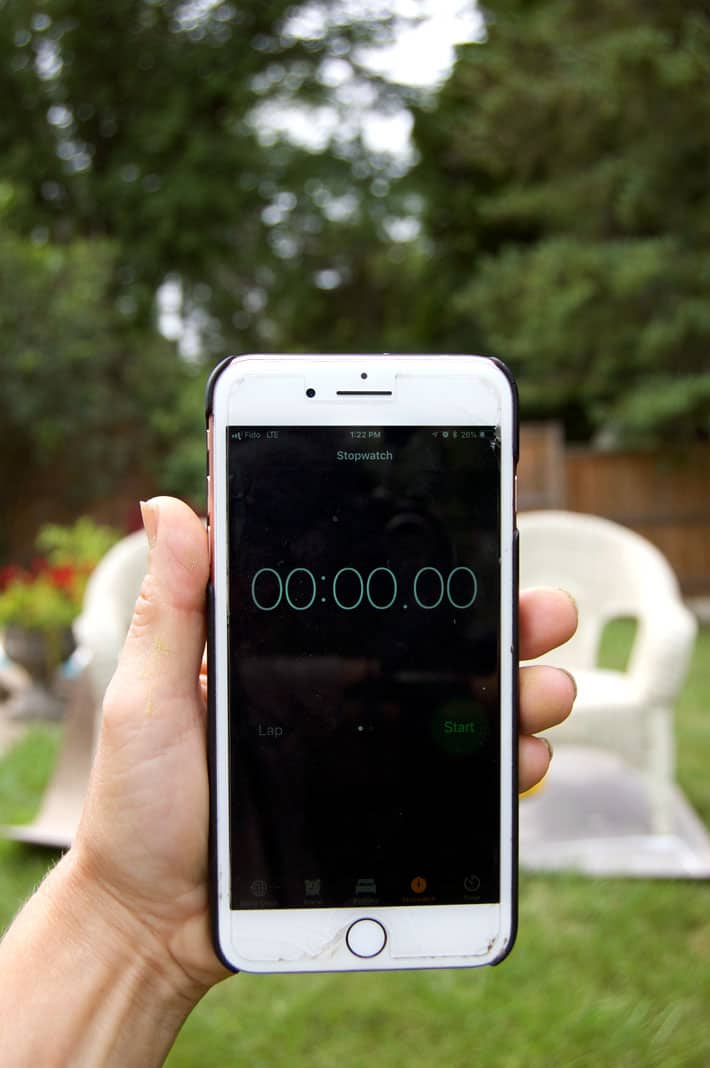 AND SPRAY.
Every once in a while, while you're spraying you need to check the nozzle of the machine to make sure it isn't getting clogged up. Just keep a paper towel or rag with you and wipe it off.
This, much like not doing laundry until literally everyone in your house is out of underwear, is totally normal.
The paint builds up around the nozzle as you spray. Just wipe it every once in a while.
The time it took you to read this post so far is approximately how long it took to spray my mother's wicker chairs 2 coats. Depending on how fast a reader you are of course and whether you were interrupted by a husband, child or dog.
2 Chairs, 2 Coats in 15 Minutes.
In 15 minutes both chairs were done 2 coats. That includes the extra dry time in between coats.
If you've ever painted wicker you know it's a PAIN. It's almost impossible to get into each crack and crevice. With a spray gun nothing goes untouched. Every bit is painted.
It makes painting fun. I mean, the kind of fun that an adult has. Adult fun. Like waking up in the middle of the night and realizing you still have 5 hours to sleep.
I do have a few tips that I've learned through years of using various models of these sprayers.
Wagner Paint Sprayer Tips
The hole.
Last spring I was trying to spray something and it just WOULD not spray. I checked everything and couldn't figure it out. Finally I discovered this tiny air hole on the underside of the spray tube. It was clogged with a bit of dry paint. And that was all it took to stop the sprayer from working.
If your Wagner spray gun stops spraying check to make sure this air hole isn't blocked.
(it's entirely possible there are entire write ups about this in the instructions but … )
2. Paint straining.
The instructions DO say you need to strain your paint to make sure nothing clogs the nozzle. I don't do this. I shouldn't tell you I don't do this, but I don't. I NEVER strain my paint. I haven't had the nozzle clog up once, but I'm also probably always using brand new paint that isn't likely to have any contaminants or bits of guck in it. This is not an endorsement and Wagner advises you absolutely DO strain your paint before pouring it into the paint container. I just don't.
3. Thinning paint.
If your paint is too thick it can also clog the nozzle, but for this project I used Benjamin Moore's Aura line of paint which is thicker than most paints and it sprayed perfectly without thinning.
4. Clean your sprayer as soon as you're finished using it. It's a much faster cleanup job to spray out wet paint than scrape out dried paint.
Wanna see it in action?
The things I noticed that were improved on this, the FLEXiO 3000 model over my last model, the FLEXiO 890.
The "big nozzle" of the FLEXiO 3000 has a finer spray that's less splattery than that of the FLEXiO 890.
It's easier to move around and maneuver since there's no exterior compressor or hose.
It packs back into its case PERFECTLY. The FLEXiO 890 is a bit of a jigsaw puzzle to get back into its case.
You don't have to believe me about how great these sprayers are. You can ask my neighbour who bought one 3 days after seeing me paint my picket fence with one this spring. You can ask my friend Stephanie who bought one a day after seeing me paint my porch with it this spring. Or my niece who borrowed mine to paint her shed. Or my mother's neighbour who saw me painting these chairs and couldn't believe it. Really. Ask any of them.
As I've mentioned before, I don't do a lot of sponsored posts and when I do I make sure they're for products I genuinely love and use.
I genuinely love and use Wagner spray guns.
And Volvos. ;)
→Follow me on Instagram where I often make a fool of myself←