Now you'll probably think I'm exaggerating, but I had the best day of my entire life a couple of weeks ago. I FOUND SOME STICKS!
Not just *any* sticks! I found 2 bundles of perfectly straight sticks out behind the kitchen store I shop at. In their garbage pile, covered in muck and discarded coffee cups. Since the area is also near a bar it's entirely possible there was a bit of urine and vomit around them. I'm lucky I spotted them! They were shoved behind a staircase, covered in rotting leaves and less than a dozen worms. And only a couple of the sticks were broken. If they weren't, I'm sure someone else would have taken the sticks.
So being the kind and non-stealing kind of person I am, I asked the owner of the kitchen store if I could have their garbage. Apparently, it's illegal to take something from someone's garbage. I don't know why I adhered to this law today, when in the past half of my house was furnished with stuff I took out of people's garbage.
I was not only given the sticks, the entire store did a bit of a dance that involved complicated footwork, while they sang a song about not having to go to the dump. So … they were O.K. with me taking the sticks.
I had a certain plan for these sticks. It was something I'd been thinking about doing with sticks for a long time. I couldn't wait to do this thing with the sticks so you could see it. I had plotted and planned about how I would execute "said thing" once I finally found some straight sticks. I knew the proportions, how I was going to hold everything together and what colour I was going to paint them. I spent a LOT of time dreaming about these sticks and my plans for them.
Then once I actually got the sticks … I did something completely different.
I'm not going to tell you what I was going to make in case I do make it in the future. But what I did make was a Twig Tree.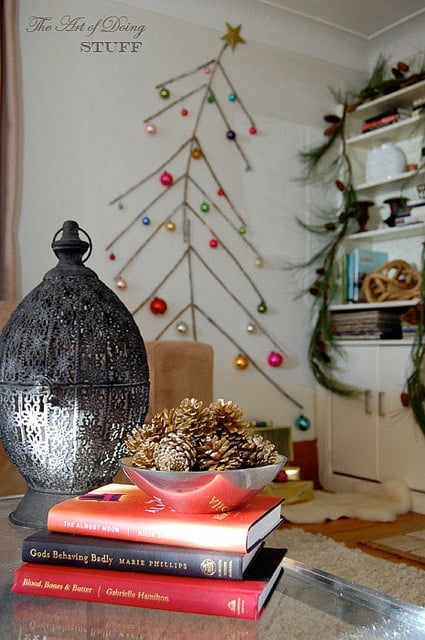 The Twig Tree is similar to the Wall Web I did for Halloween, only this time around instead of using 2 sided tape, I used the Command removable tape tabs.
They remove more easily than the two sided tape and come off cleaner. The two sided tape came off O.K., but there were little bits I needed to remove with my fingernail. So I gave the Command tab things a try and they're GREAT. I can't recommend them enough. You stick them on the wall, and then to remove them you just pull down on the tab. You don't pull *away* from the wall, you pull down. They come off clean, plus they're strong enough to hold these sticks on the wall.
I did my tree using the antique ornaments I got this spring at the Christie's Antique Show & Sale. I also got french fries that day but didn't think they'd look all that festive on the tree. Not unless I dipped them in some ketchup anyway. Plus I already ate them 6 months ago.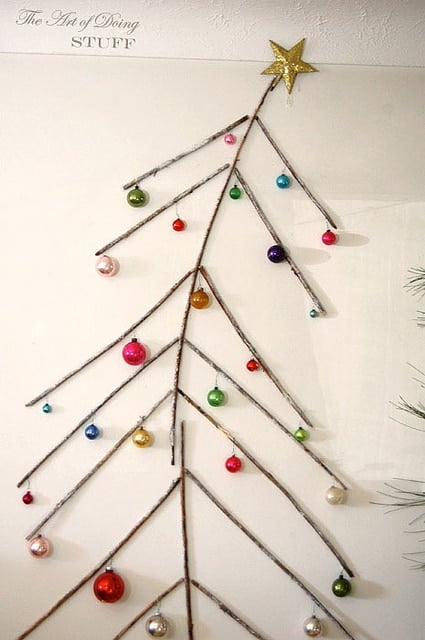 To do this tree all I did was cut the sticks to length and stick them on the wall with the tape. Use 2 – 3 pieces of tape per branch. Lay your branches on the wall and roll them until they're in a position where they lay flattest on the wall. Then just stick em up.
I also sprayed a bit of fake snow on the branches the night before I did this to give it a bit more depth. More zing. And zip. And plus I love spraying that snow.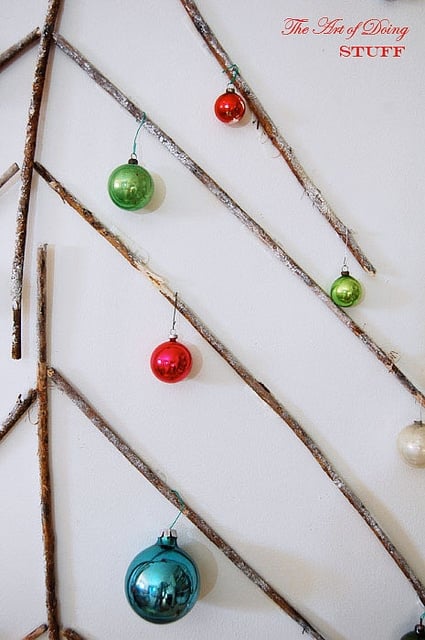 Miss the glow of lights on your tree? Not a problem.
I found these battery run icicle lights at the Dollar Store. I toyed with the idea of using a string of lights, but decided it would look like a mess. I'm not in love with the blue of the led lights, but one day the Dollar Store will carry the more expensive "white" led lights I'm sure. Until then, I'm going with the blue.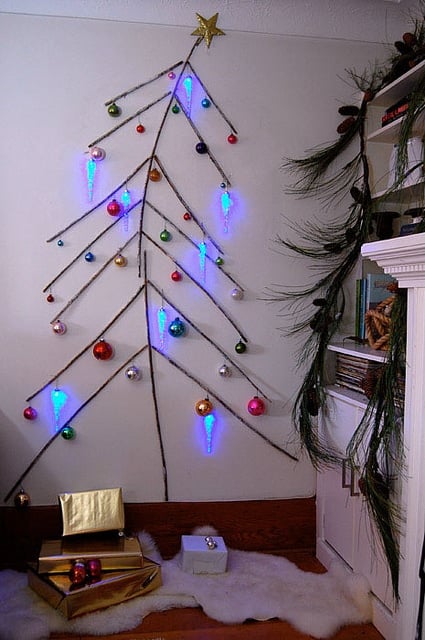 Total cost for the Twig Tree? $2 for the Command tape tabs. If you yourself, don't happen to have the luck that I did with finding dirt covered, worm infested, peed upon sticks, you can buy them just about anywhere this time of year. Garden Centres, Ikea, Dollar Stores even.
In the spirit of the season, I'll be totally honest with you. I normally have a table and lamp in front of the tree (right beside the arm of the couch) but it blocked the tree too much for the pictures. Looks nice in real life, but not so nice in pictures. Kind of like my nose.
This twig tree is a great option for someone who has a wall but doesn't have the space to put up an actual tree. Like people in jail maybe. Or a home for the criminally insane. Or rehab. Those people need trees too. It's the Charlie Brown Incarceration tree.
The best part about this tree? It doesn't drop any needles and doesn't need any watering. Hell, if you're stupid enough, spray it with some pine scent and you'd never know it wasn't the real thing.
Merry Christmas Charlie Brown.