UPDATE: March, 2017 I discovered an even better, more reliable way to start slips for Sweet Potatoes. The way I explain to do it in this blog post still works and it works well, but my second method makes the process more predictable and produces more robust slips (believe it or not how robust your slip is has no effect on the end sweet potato so don't worry too much if you have sickly looking slips).
I'm having a LOT of trouble focusing on my posts these days. It happens. As soon as there's anything that can be grown, seeded, started, planted or propagated I can't be trusted to do anything else. I'll pretend to do other things. At this moment for example, I'm sitting at my desk pretending to write a post. When in fact what I'm doing is stringing a few words together to form a bunch of sentences which is NOT to be confused with actual writing. Don't be alarmed if you thought what you were reading was writing. It's a common mistake.
It's pretend writing which isn't real writing. It's fake. It's just the illusion of writing. Now that we've established that this post is the trompe l'oeil of words we can move forward without you having any real expectations from this post or the "writing".
I'm back. I bet you didn't even know I was gone. Well I was, I got up and walked away from my computer just a few sentences into the post because I wanted to check to see if the sweet potatoes I'm propagating had started to sprout yet. They haven't. I'll check again in 5 minutes.
There are a few things I've started for the garden that are therefore constantly on my mind. Onions, leeks, and sweet potato slips. Onions and leeks have to be started stupid early and so do sweet potatoes. Which means I'm a bit of a fool starting around March. You've heard of baby brain I'm sure. This here is worse. This is horticulture head.
SO … I DRAGGED MYSELF AWAY from watching my sweet potatoes not grow to let you know
IF YOU WANT TO GROW SWEET POTATOES THIS YEAR YOU HAVE TO START NOW.
Sorry to be so loud about it but I wanted to make sure you got the point. Want to grow sweet potat …
I'm back. This time I actually left you for quite a while. Of course you have no way of knowing that, but in fact, I walked away from my computer for an hour and a half because it suddenly became of the utmost importance that I drive to the grocery store to procure more sweet potatoes for propagating.
I've written about growing Sweet Potatoes before but I'm going to break it down even more this time around with some more specific information that should help you be successful. I grow Sweet Potatoes in Zone 6b by the way, this will be my fourth year doing it. And you can do it too.
What you need:
Sweet Potatoes
Water
Toothpicks
WARM place (80F or warmer)
3 months!
Method
Place sweet potatoes in a glass jar of water (like a mason jar). You want half of the sweet potato under water and the rest not. The part under water will grow roots and the part above water will grow sprouts (known as sweet potato slips). If your sweet potato is too skinny you can use toothpicks to keep it from falling right down into the jar of water.
Put the jar with the sweet potato somewhere WARM. Over 80 degrees Fahrenheit is ideal. And the warmer the better. I have a dining room cupboard that's next to a heat vent. I know the cupboard always gets warm because of the vent so I put my sweet potatoes in there. A check with a thermometer showed that cupboard is indeed 80 degrees inside. At this point the sweet potato doesn't need any light. Just warmth. Now just leave the sweet potato and wait.
It could take as long as a month or more for the potato to start growing "slips". Just keep checking them every few days to see if they've started to sprout.
They might grow roots before they grow slips so check for those too.
Once they sprout you can put them either under grow lights or in a warm, sunny window. You still want the sweet potatoes to be in as warm a place as possible, but now you also need light for the sprouts to grow.
Once the sweet potato sprouts are 5″ or so long you can break them off of the potato and put them in a jar of water. It won't take long before your slips will grow their own roots in water. Once they have a nice little group of roots you can plant them in soil. However chances are by the time you've grown the slips and rooted them, it'll be time to plant them in the garden. Sweet potatoes take a long time to root and produce slips, but the warmer their conditions the quicker this process will go.
Sweet potatoes can't be planted until the soil is VERY warm. A good rule of thumb is to plant your sweet potatoes two weeks after you've planted your tomatoes.
This is a store bought sweet potato. Just a regular one, not organic. The organic ones were only sold in bags for $8 for 4 and in past years they haven't been any better than a regular sweet potato for producing slips. Which is contrary to everything I've been told on the Internet (which is that regular ones will have been sprayed with a sprouting inhibitor that prevents them from producing slips). I get slips from store bought, home grown or organic.
Other than this year. This year my sweet potatoes won't grow because I forgot and left them in my mudroom when it was REALLY cold for a few nights. That means they got below (way below) 55 degrees fahrenheit. Once they do that, the sweet potato is damaged and chances are it will never sprout for you. I was counting on growing slips from the sweet potatoes I grew last year so I didn't order any slips this year. Which means I'd better hope these grocery store sweet potatoes are a) short season sweet potatoes because that's what will grow here in Southern Ontario and b) ready to produce slips for me.
Some Sweet Potato Growing Tips
If you want to try growing sweet potato slips from grocery store sweet potatoes, check for cold damage on them. Cold damage doesn't show up until a few days after the sweet potato has been exposed to below 55 degree temperatures. On the inside (which you can't see) the sweet potato will have dark spots. On the outside the sweet potato will have dark discoloured spots and lesions.
If you're feeling extroverted you can seek out the produce manager and ask if he happens to come across any sweet potatoes that have sprouted to save them for you.
2 weeks prior to planting your sweet potatoes, lay plastic on the soil. It can be clear or black plastic. Clear plastic sold in rolls for home vapour barriers is ideal. You can get it at any home improvement store. This plastic will increase the temperature of your soil by 10 – 15 degrees which the sweet potatoes will love.

When it's time to plant your sweet potato slips, just cut a hole in the plastic about 4 or 5 inches across and plant the slip. The cut out hole allows for water to get to the sweet potato roots so you'll grow bigger potatoes. If you also push the edges of the hole down, it will help direct any water right to the plant.
Sweet potatoes can be dug up just before the first frost, although they won't grow much once the weather starts to get cooler. If your soil temperature is consistently cooler than 60 degrees fahrenheit (18 celsius) they won't grow anymore and risk cold damage. Wanna know how to test your soil temperature? Just stick a thermometer in it.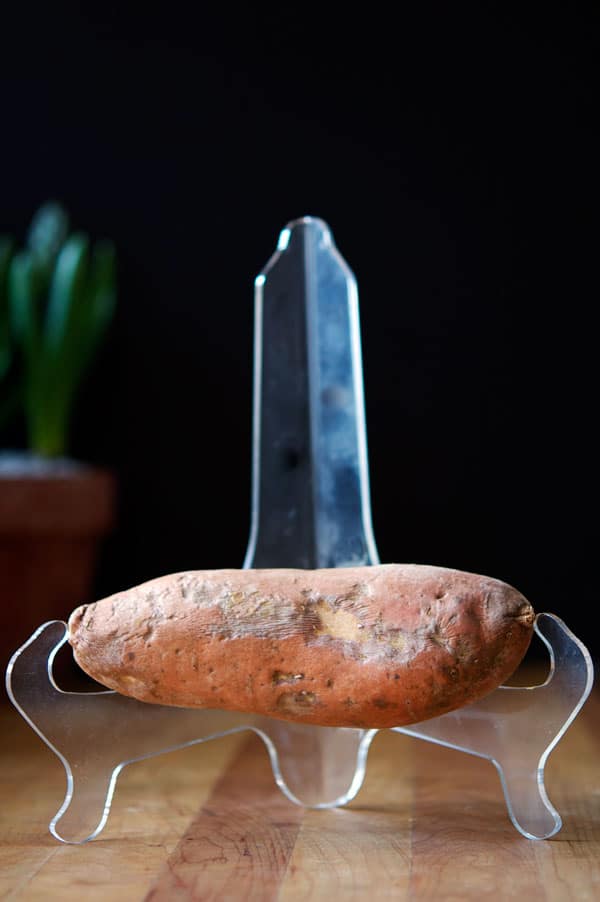 This potato has the start of chilling injury from being stored below 55 degrees fahrenheit. Notice how icky it looks. It's still fine for eating just not for producing slips.
This is a sweet potato that's been stored at the proper temperature.
This is what your sweet potatoes will look like once they start to form "slips".
This was an organic sweet potato I sprouted a couple of years ago. It did no better than …
… the regular sweet potato from the section of the grocery store where people with kids shop because for now they can't afford to buy both diapers and organic produce.
Oh are you still here? Sorry. I was gone for a bit again. I was laying out the new sweet potatoes I bought and making space for them in my dining room cupboard. You might as well leave now. I have a feeling if I
Sorry. You lost me there again. For the love of all that is good in this world … just go. No WAIT!
Tomorrow I announce my next live video course, SEED STARTING! sponsored by my favourite source for seeds, Cubit's seeds. It'll be a quick and dirty (literally) one night class covering everything you need to know about starting seeds with live demonstrations. More on that tomorrow.
Kay, now you should probably go.
[shareaholic app="share_buttons" id="5342563″]