When last we met I told you I was going to have a video for you that showed how I was putting together my version of the Restoration Hardware Aspen collection.  The outdoor furniture would have cost me $20,000 if I'd bought it from Restoration Hardware.  Which I wouldn't have, because I spent my last $20,000 on a tiara.  Damnit.
Building it myself is still going to cost $1,500 (mainly because of the cushions) but that's what a cheap store bought outdoor set would have cost me and I wouldn't have liked it as much.  Besides.  This set will match my tiara.
Here's a reminder of what the Restoration Hardware set looks like.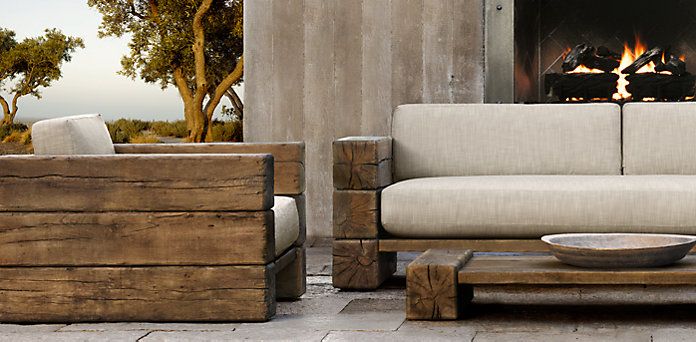 To copy this I had 6" thick cushions custom made for  in weather resistant/fade resistant fabric.  Then I bought several rough posts of untreated Ash from a sawmill. I cut the posts into shorter lengths of 29".  I needed 16 of them to make the arms with a few left over for support under the sectional and to make a coffee table with.
Restoration Hardware has used wood posts that are 8" high, but I went with 6" so it wouldn't look quite so massive in my backyard.  To get the same height on the arms that meant I had to stack 4, 6" posts instead of the 3 posts Restoration Hardware has used for their arms.
After cutting them all to 29" long, I beveled all the edges with a belt sander (there are 12 edges on each post).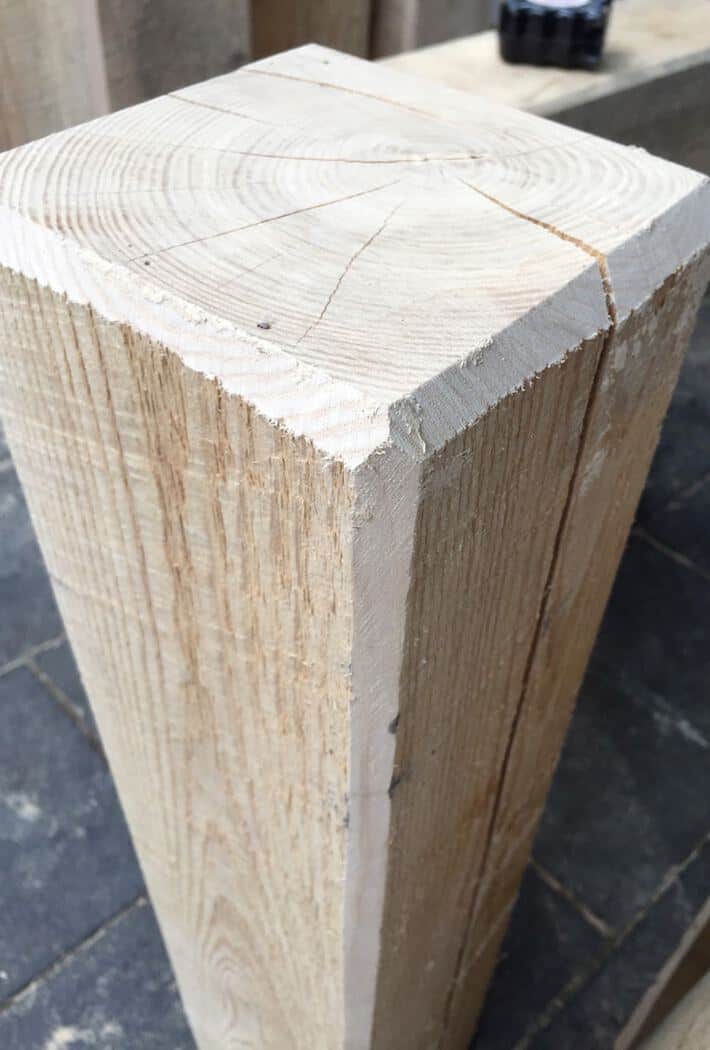 Then I stacked 4 of them on top of each other until I was satisfied with how they looked, and then started securing them using lag bolts.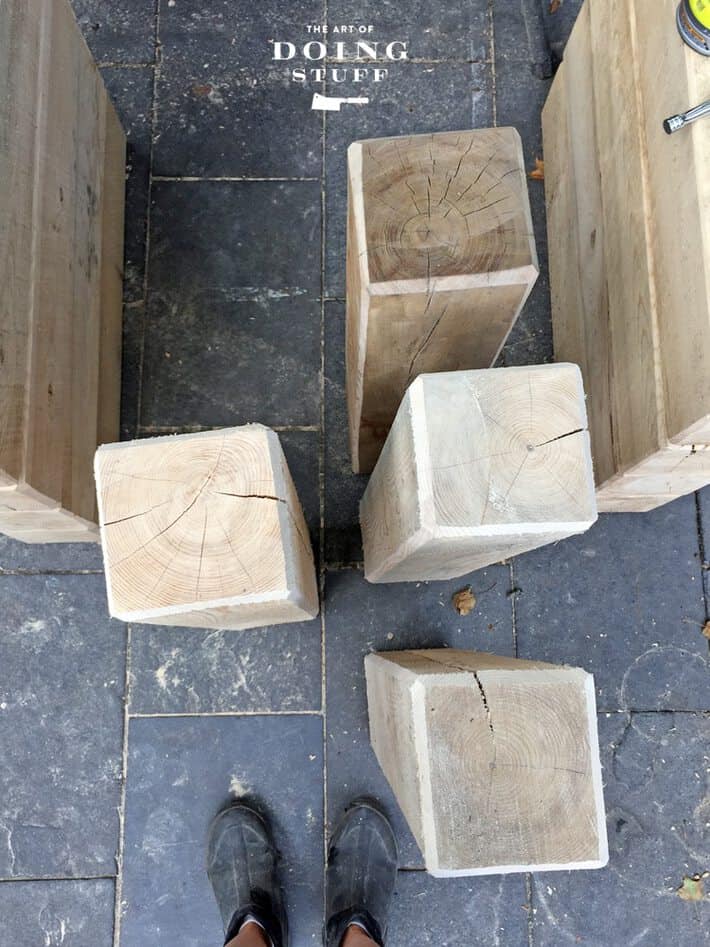 Obviously I didn't want any of the bolts to show so I flipped the posts over and worked from the underside of them.  You'll see what I mean in the video.  Once 4 posts were bolted together, I had an arm.  Then I sanded the sides and one arm was complete.
Like so.
My Uncle was here visiting the other week and he asked me if I got everything done I had set out to do this summer.  Um. No.  No I did not.  The chicken coop still needs a new roof, my house isn't painted yet (although some of it is), and my front yard isn't quite looking right yet.  BUT I'M BUILDING MY OWN OUTDOOR FURNITURE!  Like a fool.  So it's not like I didn't get the other stuff done because I was busy shining my tiara.  I just needed a place to sit more than the chickens needed a dry coop.  Just kidding. I got rid of the chickens.  They don't match my tiara.  Just kidding.   I threw a tarp over their roof.  They're dry.
Once my arms are done (I have one more set to assemble), I have to hack them all up so they look like they've lived a little and then put together the supports for the seats and back.  Which in my head seems like a quick and easy job.
In fact, in my head, building this entire set was only going to take about half a day.  I have NO idea why I ever would have thought anything so ridiculous. Actually, I'm pretty sure I can chalk it up to my tiara being too tight.
Shouldda laid out the extra $5,000 for the adjustable one.