Fall immediately evokes thoughts of coziness and comfort. But it doesn't mean you have to huddle up indoors! With just a few things you can turn your porch into a cozy place to wrap your hands around a warm mug of cider and watch the leaves fall. Fall Porch Inspiration for you.
It is officially fall, (or autumn for the more uppity among you.) This means three things:
You are going to find a ball under a hedge while raking up leaves. You will not know where it came from.
You will remind yourself to clean your furnace filter every month. And then you will not do it.
You will succumb to wearing jeans and flannel even if it's still 30 degrees celsius out.
In Southern Ontario we were kind of robbed of our summer. We did eventually get warm weather, it's just that it showed up 3 months late. No one's sure who held our summer hostage but we all secretly suspect Australia. Or Jason Bateman. It's a toss up.
I'm including tips, tricks, how I did it and where you can get it with each of the photos.
The Fall Porch
The Dahlias are from my garden. The variety is Ice Cube. They appear more peach in real life and are very pale.
Lazy Bones Tree Stump table DIY can be found here.
The Porch Swing is a kit that I bought on Amazon. It came as natural cedar, I painted it. I also swapped out the metal chain that came with the kit for hanging it, with a nylon rope.
THIS is the obligatory boots on the front porch shot. Look back among the posts of any blogger worth her weight in affiliate links and you'll find a front porch shot with a pair of boots by the front door. No. We don't wear more boots than you do. No, we aren't more likely to take them off before entering the house. We just like to take pictures of boots on front porches.
Bogs boots, going strong since 2012. They don't make this exact style anymore but these are close.
Those grey/blue pumpkins are actually one of my favourite squash varieties to grow. They're sitting on the front porch both as decoration and to cure. They're called Grey Ghost and they're my go-to squash for pumpkin ravioli and that favourite pumpkin soup recipe of mine. I got my Grey Ghost squash seeds from Stokes.
I use old crocks for holding flowers and utensils. I use new crocks for fermenting and pickles. As much as I'd love to use an old crock because I'm the kind of person who gets a thrill out of using anything that's been used for generation after generation, it isn't entirely safe. And even though I'm the kind of person who sometimes gets a thrill out of using anything that isn't entirely safe, I still say no to using old crocks for food.
Luckily you can still get old fashioned looking new crocks. The added bonus is that new crocks come with a lid and you can also get weights for keeping your pickles pushed down.
I forgot to mention there's one other way you can tell it's fall. People start dragging out their sheepskins and throwing them around. Moments later cats find them and start rolling on them.
Like the water hyacinth basket? If you're in Canada you can get the exact same one at Canadian Tire. If you're outside of Canada, this one on Amazon is a relatively good imposter.
It's planted with 3 large cabbages, 1 large Dusty Miller, a pepper plant, thyme and sedum.
I tend to stay away from mums or use them kind of minimally and lean more towards edible stuff for fall arrangements.
The other thing I did to change my front porch this year is I moved my porch swing to the other side of my porch. I then moved these two chairs to the side of the porch the swing was on. I like this configuration a LOT more. Sometimes you just have to move shit around and fall (autumn, la-de-da) is a great time to do it.
You can barely see the cheesebox under my Ikea sheepskin but I got it during my 3 days of relaxation up at Lynne Knowlton's treehouse this summer. I found it in a closet. Stole it. Just kidding, I got it from the Keady market which apparently is a very famous market that I'd never heard of. The best place to get one of those wood cheese boxes is at a flea market or antique store. Or ya know ... a closet.
The table you can just barely see there is a wine barrel my mother was throwing out years ago. Silly mother. I originally had a small table that matched the wicker chairs but something about it didn't look right. When my niece showed up unexpectedly she nailed it. All the textures were the same. It threw everything off. Somethings you have to make things wrong to make them right.
So I picked up the wicker table and threw it into oncoming traffic. I pulled over the wine barrel, put a glass tabletop on it and now it's perfect.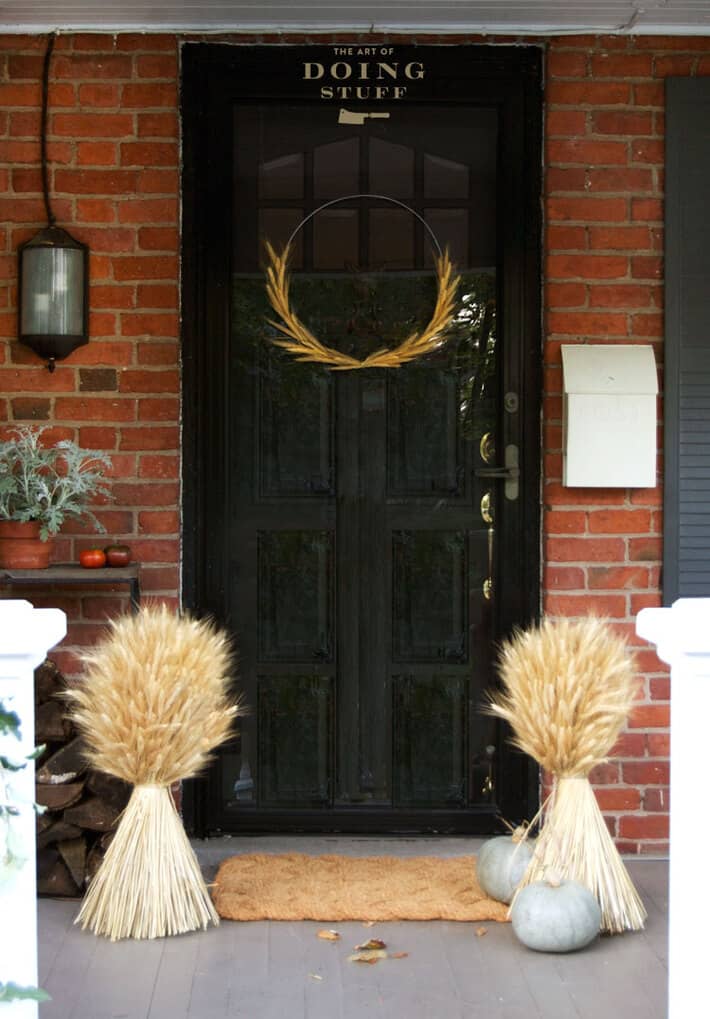 If you read the post last week, you know all about the wheat sheaves and the wreath. If you didn't here's the step by step tutorial on how to make this simple fall wreath.
Tomatoes. To the left, Celebrity, a hybrid. To the right, Black Krim, an open pollinated.
I took some shots for this post that featured me. You know, me hanging out in a chair with a coffee, me hanging the wreath on my door ... I even changed out of my linen shorts and loose tee shirt for the pictures since this is a post on fall decorating. I put on jeans. And flannel. I looked so hot, sweaty and flushed in the photos I appeared to be fighting off a heart attack. So I didn't use those pictures.
Oh! To the lower right in the reflection of the door you can see my iPhone sitting on the cheese box.
As I'm sure you guessed, I was just calling the big cheese about the upcoming fall forecast.