A once a month series, giving you guidance on what to plant, where to plant it & most importantly - how to keep it all alive without wanting to kill yourself.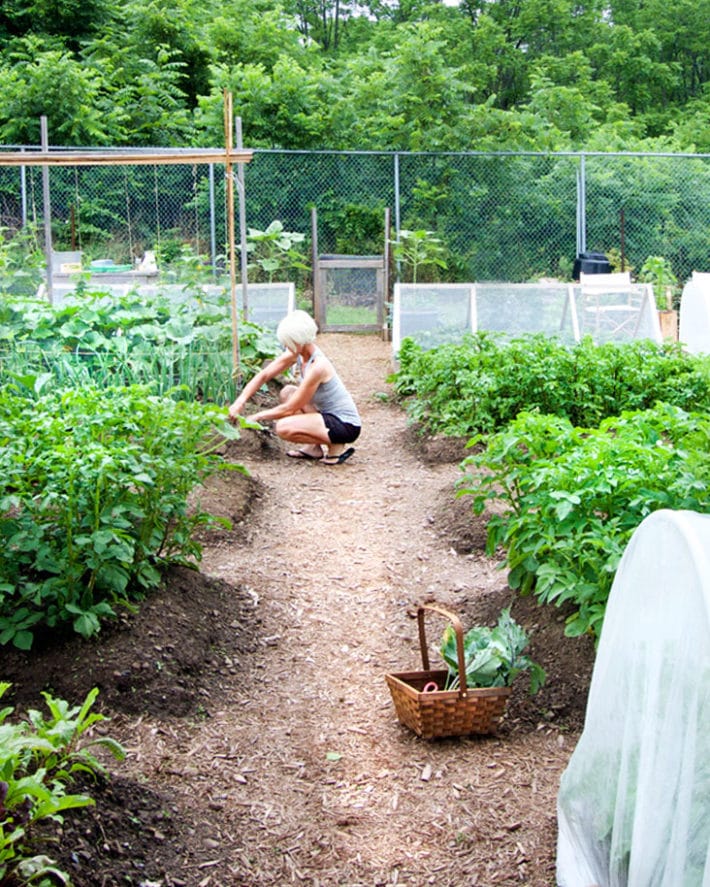 So you've always wanted to have a vegetable garden. You picture yourself wandering around a sun-drenched patch of tomatoes and herbs, wicker basket dangling from your arm, straw hat tilted jauntily on your head. Casual yet chic; a perfect look for selfies!
If this is your vision of vegetable gardening I encourage you to continue your imaginary gardening hobby - because the reality of it will shatter you.
For everyone else! THIS is the year you're finally going to start a real vegetable garden that produces big, healthy, organic vegetables. It might not be as big as my 40' x 40' community garden plot but I didn't start with a garden this big either.
We're going to do it together step-by-step in a 7 part series.
WELCOME TO THE FIRST IN A SERIES OF 7 TUTORIALS ON:
How to Start a Vegetable Garden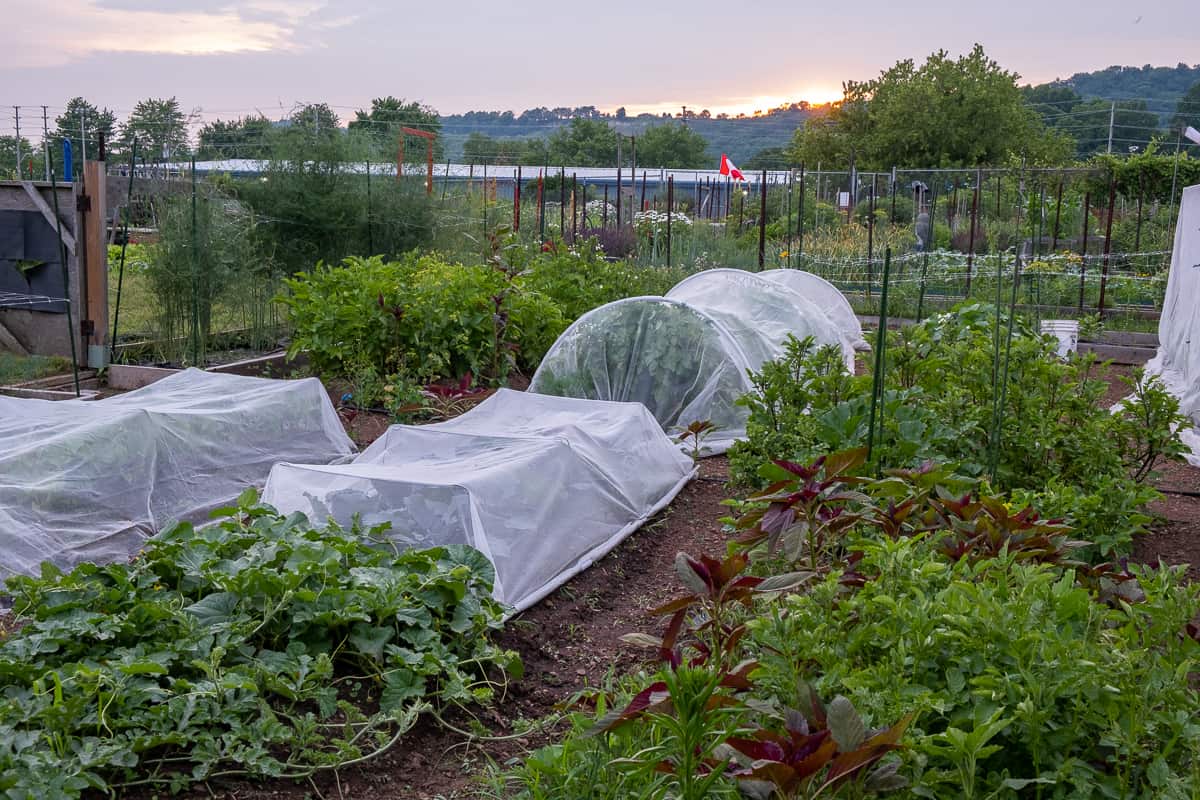 I will hold your hand the entire time. I mean that in spirit of course, because a) no one wants to hold a gardener's hands because they're always filthy and b) it's really hard to hold hands through a computer.
I'll be writing one article each month from April to October that will be like a calendar of sorts, letting you know what to do and what to watch out for as you grow your first vegetable garden. Even if this isn't your first "potadeo" there will be lots of advanced tips too.
Let's get started!
(This is for zone 6. If you are in a zone higher or lower, adjust your schedule accordingly)
APRIL
The start of it all. Time to dream, plan, pick out and order seeds.
For certain things you're also going to be able to start planting indoors More on that in a minute.
April Gardening Tasks
Decide what it is you want to grow! THIS is the fun part. Think about what you like to eat yourself, how much you have room for and how well it does in YOUR zone. Don't be discouraged by not having a lot of space. You can grow A LOT in a small amount of space whether it's in raised beds or pots.

Order seeds! Spend a night or two going through seed catalogues online and pick out a few things. You can always buy prestarted plants in the spring, but there's nothing like the magic of growing from seed. Plus you can get very specific varieties of things that way.

Most nurseries selling cantaloupe seedlings for instance, only label them as "cantaloupe" and you have no idea what variety it is. It's like ordering a pair of "pants" from Amazon and having no idea what make they are.

Decide how you'll be growing. Raised beds? Traditional rows? Galvanized planters? Pots? Wherever it is, most vegetables need to be in an area that gets at least 8 hours of direct sunlight a day.

Plan your garden. Decide how much room you have to grow things and then start planning out where things go. Using an online vegetable garden planner can help you visualize things and many of them also show you how many plants to plant in a certain amount of space.

You'll need this to begin with because it's sometimes hard even for experienced gardeners to remember that the tiny Brussels sprouts plant is eventually going to be 3' high and 2' wide. A good general rule to keep in mind for planting is to put taller things at the back of your garden where they won't shade anything behind them.
Raised Garden Beds, Pots or Rows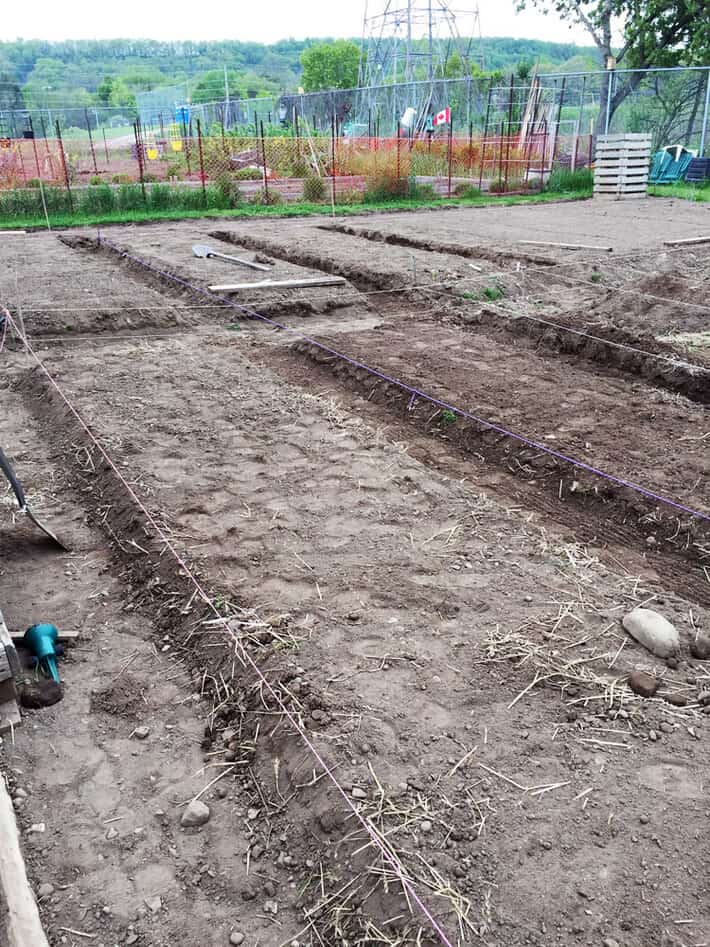 You have more options than you think for growing vegetables even if you have a small yard or even no yard at all. If your home is a condo or an apartment you can grow almost anything in pots on a balcony. No balcony? Talk to the management and ask if there's an outdoor area you can use for growing potted vegetables.
It. Can. Be. Done. No matter where you live or how much land you do or don't have. I started my vegetable bonanza by creating a front yard vegetable garden in my house in 2012. Since then I've evolved to a 40' x 40' plot in a community garden which you can see in this post that also includes 10 really helpful gardening tips and tricks.
And my front yard garden is now an English cottage style garden that incorporates my favourite dahlia varieties and other traditional flowers along with vegetables scattered in.

Traditional rows. This is your grandpa's vegetable garden. Single rows of vegetables. A classic.

Raised beds. More of a modern approach to vegetable gardening. Basically just mounded up dirt in the shape of beds (usually around 4' wide by however long you want).

The benefits of a raised bed are: the water drains more freely, their slightly raised height makes them easier to work on, and you're less likely to walk on them which keeps the soil from getting compacted.

Raised beds can can have wood or metal sides enclosing them or not. Having sides keeps soil from washing away and helps prevent weed seeds from blowing into the soil.

If you choose to build raised beds with sides, remember the wood will eventually rot and you'll have to redo them every few years. Many people are now switching to the more expensive but long lasting galvanized vegetable beds.

Square foot gardening. Square beds that are 4' x 4', encased with wood sides, divided into 16 individual 1' by 1' sections that are intensely planted.

Waist high raised gardens. Basically a raised bed on stilts. Like the Vegtrug, which my mother owns. These super-raised beds are perfect if you have trouble bending down. Or if you are really good at bending down but not so great at getting back up again. They also work well in any areas that don't have room for a traditional garden bed. You can just sit them on your balcony, patio or on some paver stones in the middle of your lawn.

Pots. You can grow an entire vegetable garden in a pot garden. Plants like tomatoes, lettuces, carrots, beets and potatoes all grow really well in a container.  I really can't think of any vegetable I've grown that couldn't be grown in a pot.

Smushing vegetables in with your regular front or backyard plants.  Most vegetables are pretty beautiful and can blend in with ornamentals easily.  If you don't have enough room to dedicate to an actual garden, just plant your vegetables in with your landscape plants.

Tomatoes do really well planted near the foundation, absorbing the heat from the side of the house.  The same is true if you pot your tomatoes and put the pots next to a house wall.

Carrots, with their delicate frond tops look like a fern when planted together and lettuce just looks like pretty greenery. 

Dinosaur kale is almost always the most commented on plant in my front yard because it looks so dramatic and beautiful.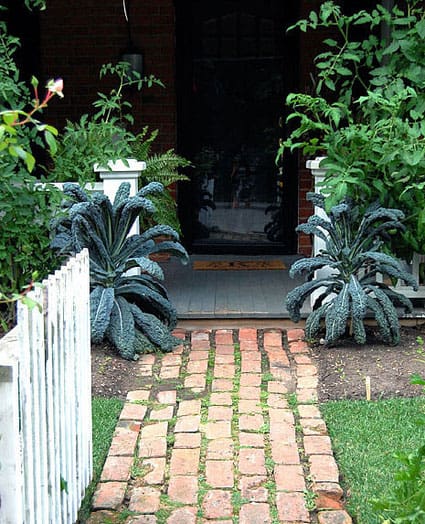 So that's your first task. Figure out what you want to plant and where you can plant it.
Pests & Solutions
You won't have any pests to have to deal with this month since you don't actually have any plants growing yet. Enjoy it.
Tools You Need
Seed Catalogues and seed packets.
Grow lights (if you plan to grow your own seedlings) – I recommend these exact T5 LED grow lights to start with as an initial investment. 
Soiless Mix (this is sterile potting soil with no nutrients in it for starting seeds)
Small pots and seed starting trays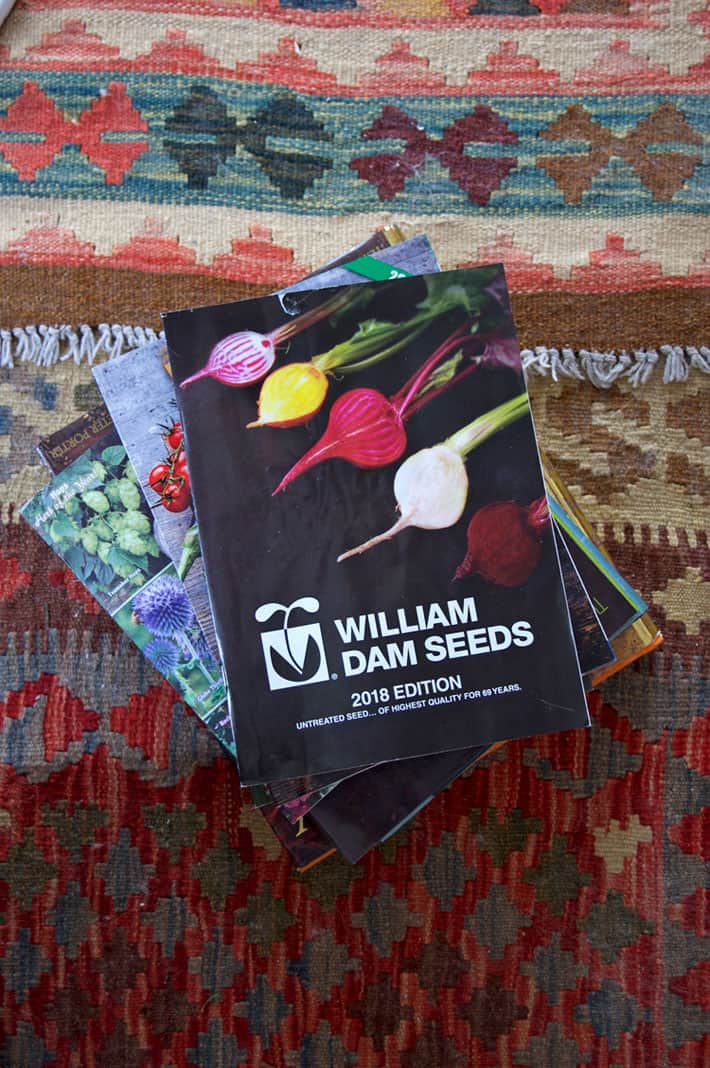 ZONE 6 PLANTING GUIDE - APRIL
Planting in April falls into 3 categories. Seeds you can plant directly outside now, seedlings you can plant directly outside now, and seeds you want to start indoors under lights right now.
When you start and/or plant them depends on whether the plants are cold tolerant. Those are the ones that can be planted outside right now. Heat loving vegetables like tomatoes and cucumbers can't be planted outside for a while but they should be started indoors right now so they're ready to go out and the end of next month.
DIRECT SEED OUTSIDE
carrot
radish
onion sets
beets
peas
turnip
parsnip
lettuce
spinach
potatoes
swiss chard
SEEDLINGS TO GO OUTSIDE
strawberries
brussels sprouts
kale
kohlrabi
broccoli
cabbage
INDOOR SEED STARTING
tomatoes
cucumbers
winter squash
summer squash
most flowers
zucchini
eggplant
sweet potato slips (it's not too late to try to start these!)
peppers
This timeline is for zone 6. You can refer to this seed starting calculator to calculate what can be started this month in your zone.  Just enter your first frost free date.
Seed Resources
Seeds – Baker Creek, Veseys, William Dam Seeds, Stokes, all have a huge selection of heirloom varieties. You can also get quality seeds at your local garden or home centre.
To help get you started here's a list of some common vegetables and my favourite varieties of them.
Vegetable Varieties For Beginners
I mentioned earlier that growing a vegetable without knowing the variety is like buying a pair of pants without knowing what size, shape or material they are. Case in point: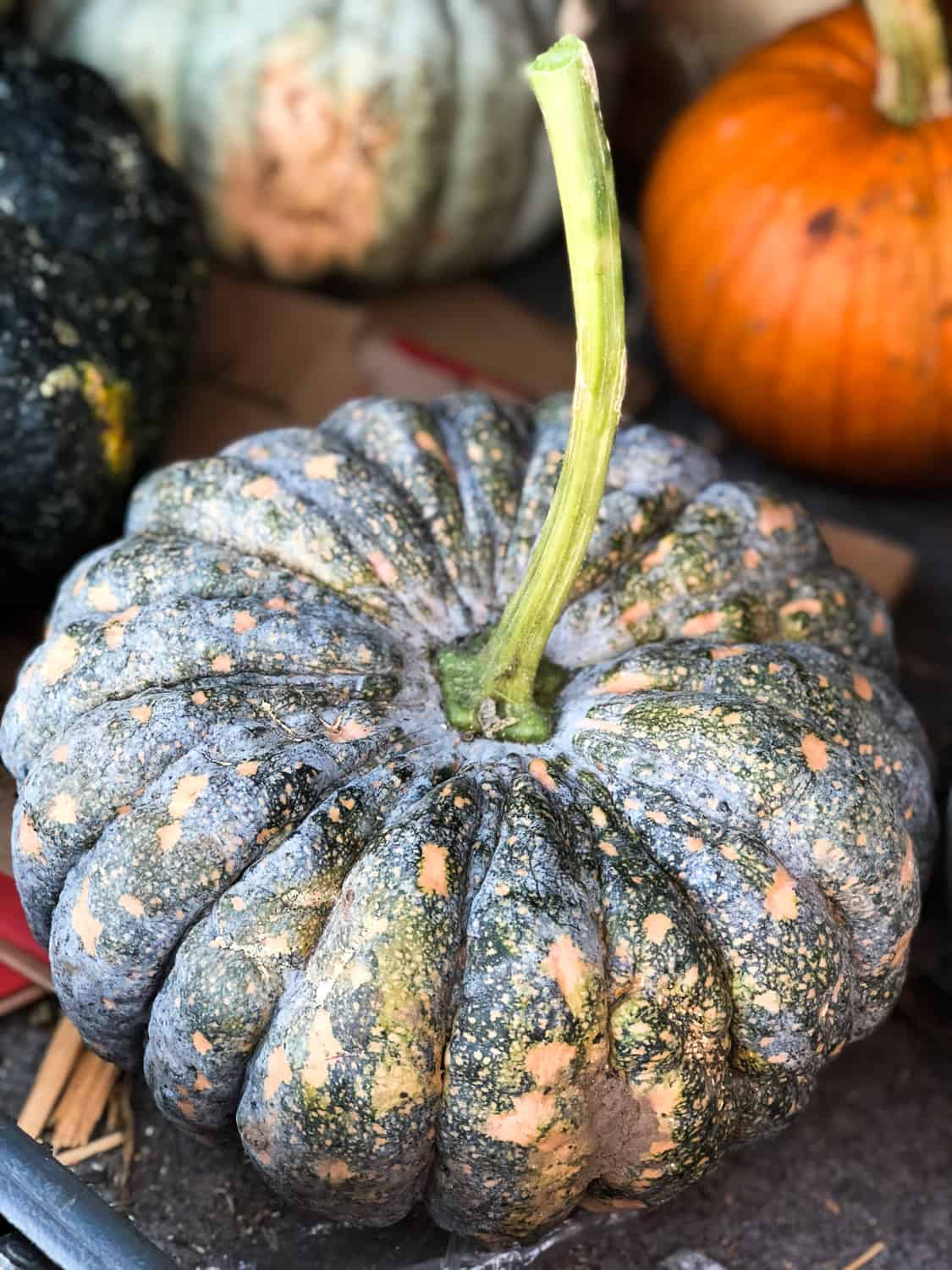 These are all winter squash. These 3 varieties all have unique shapes and tastes. So variety matters when it comes to vegetables.
This is a list of my most trusted varieties to grow from seed. They are the varieties I grow that consistently show good disease and pest resistance as well as being quick to germinate and grow on.
Carrots – Bolero (typical long, orange carrot)
Tomatoes – Juliet (a salad tomato that's naturally resistant to splitting and disease)
Beets – Kestrel is a delicious nice sized beet that germinates readily. Boldor (a yellow beet with superior flavour but is much more difficult to germinate and grow on)
Kale – Black Magic (a lacinato kale) Like any kale, you need to cover it with netting while it's growing if you don't want it covered in cabbage moth caterpillars. This is the kale flanking my walkway in the photo above.
Squash – For beginners and experts alike, Delicata (Sweet potato squash) is a winner. VERY sweet, orange flesh that stores remarkably well for a thin skinned squash.
---
Now go think about what you'd like to plant in your vegetable garden this year. I'll meet you back here next month to talk more about where exactly you're going to plant all of this stuff.
For the next several months you're going to be dirty, messy and look dismal in selfie's. 
But your meals are going to look GREAT.