How to grow tomatoes for the average, everyday person who isn't going to search out dehydrated fish-kelp-mountain-lava rock-fertilizer from the depths of a sacred ocean to fertilize them with. All you need is a tomato plant, a trowel and some compost.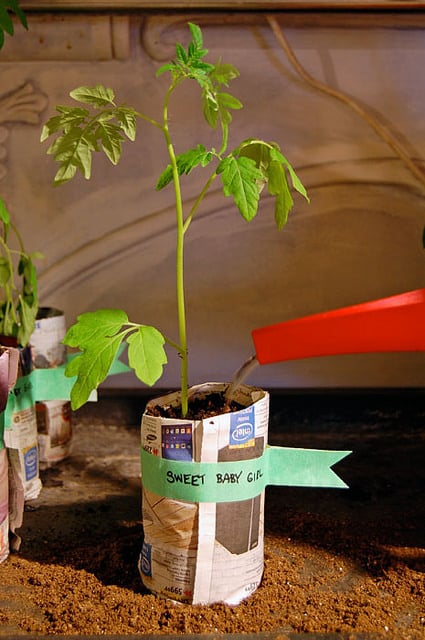 When I first started growing tomatoes in a serious way I would obsess over every spot, blemish or discolouration on the leaves. What could it BE? Are my tomatoes DOOMED? I am DOOMED? WHY IS THIS SO HARD?
Of course growing tomatoes wasn't hard - I was making it hard.
Tomatoes are the most popular vegetable grown by home gardeners. They're versatile, easy to grow, don't take up much space and are pretty forgiving.
So they're nothing like growing luffah sponges - which everyone knows are the Mariah Carey of garden plants.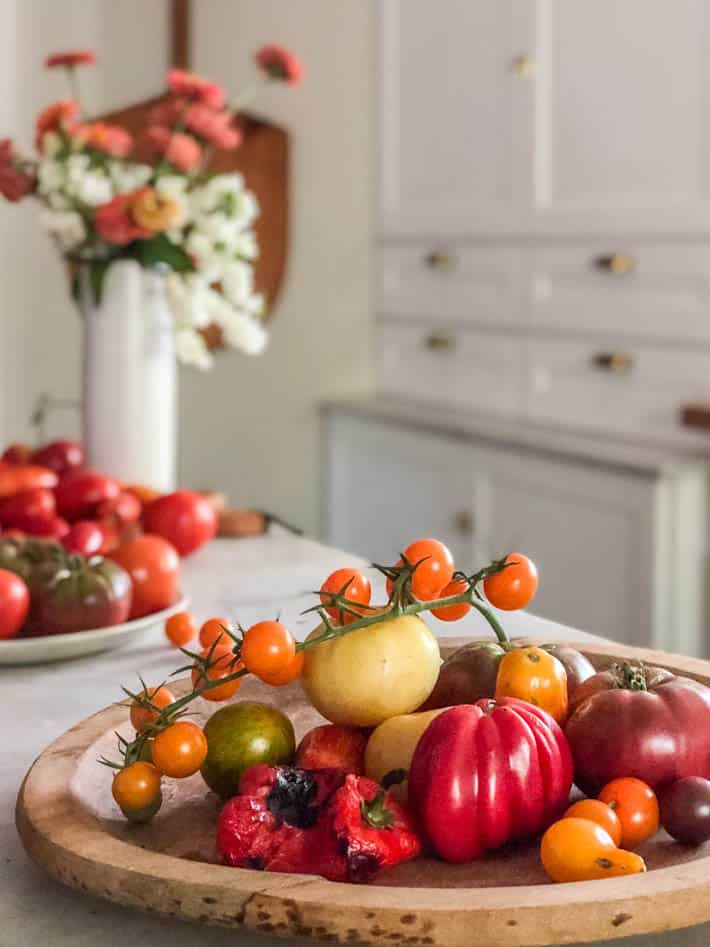 Tomato leaves are going to get spots, they're going to get chewed on and they're going to diseased by the end of the summer for the most part. Blame blight.
You can get all up in the science of growing tomatoes, but if you really just want to grow a couple of plants for your home garden you don't need to worry about it.
In general with tomatoes - if you plant it they will come. The tomatoes I mean. I don't say this as someone who doesn't care about the science.
I experiment with fertilizers, graft heirlooms onto hybrid rootstock to see the difference it makes in terms of production and disease resistance - I do all manner of obsessive things when it comes to my tomatoes.
But you don't have to.
Growing Tomatoes in Pots
This is the easiest, most sure-fire way to get good tomatoes with little disease. Tomatoes LOVE to be planted in pots.
You'll get a faster harvest if you place those pots on the South side of your house, right up next the brick or stone foundation. The brick and stone holds the heat and releases it - right beside your tomato plants.
In cold climates this gives them a BIG jump start in growth.
Fill the pot with new potting soil.
Remove the 2 lowest leaves on the plant.
Plant the tomato so it's very deep with the soil coming up to the (new) first leaf.
Water well.
You can reuse the same pot and same soil every year, just make sure you add 3" of compost on top of the soil every spring. A slow release fertilizer helps too if you want to get fancy.
I use the Gaia Green organic fertilizer I've linked to. Sometimes. When I can be bothered.
Growing in the Ground
Plant and fertilize the same as you would if you were growing in a pot.
Add 3" of compost on top of the garden soil.
Remove the lower 2 leaves from the tomato plant.
Dig a deep hole and plant the tomato so the soil line comes up to to its new first leaf.
Water well. Watering after planting is one of the most important steps.
Support the tomato with stakes, cages or by using my #1 TOMATO TIP a string trellis. Cages are the best supports for hybrid tomatoes - a string trellis is the best for heirlooms.
As the tomato grows, remove any leaves that are below the first set of flowers. (more on why later).
TIP: Tomatoes can grow roots off of their entire stem as long as that stem is under soil. The more roots a plant has, the more nutrients and water from the soil it can access. So planting deeper is always better with a tomato.
Some people even remove almost all the leaves below the tip and lay their tomato down horizontally to plant with just the very top sticking out of the soil. This way they're placing almost the entire stem below the soil. This idea is this results in a HUGE root system and more fruit.
Types of Tomatoes
Just to refresh your memory there are 2 types of tomatoes: determinate and indeterminate.
Determinate (bush)
These tomatoes are usually (but not always) hybrid tomatoes. They are called determinate because their height is predetermined. They won't exceed their predetermined height which is usually around 5'.
These plants tend to produce more fruit all at once.
Indeterminate (cordon)
These tomatoes are usually (but not always) heirloom tomatoes. They are called indeterminate because their height isn't determined by their genetics. They will continue to grow taller until the plant dies. They're often 8'-10' by the end of summer.
These plants tend to produce less fruit over a longer period.
This is a SINGLE heirloom tomato plant left to grow on its own unchecked: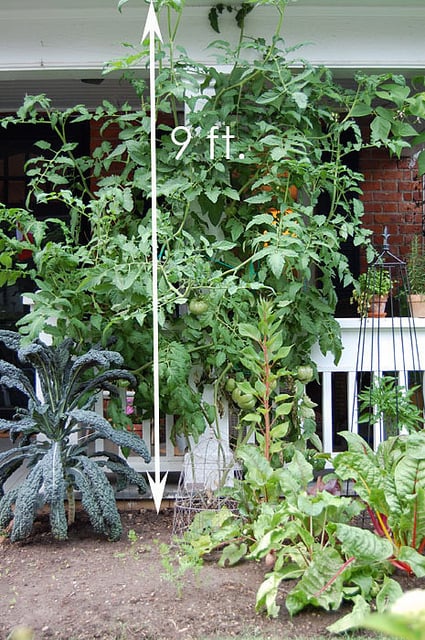 When to Plant Tomatoes
Like other heat loving vegetables, tomatoes are planted in relation to the frost dates in your area. This because you want to avoid frost on your tomato plants since they hate it because frost kills them. It's understandable really.
Cool Regions
In cool regions tomato seedlings can be planted out after the last chance of frost has passed. Use this calculator to see when your last frost date is in Canada or the United States.
Example: My last frost date in Hamilton, Ontario is May 10th. That's when I can plant out tomatoes.
If you're growing tomatoes from seed, start them indoors 6 weeks prior to your last frost date. Here's how to start tomatoes from seeds in case you wanna give it a shot.
Example: March 29th is 6 weeks before my last frost date. That's when I start tomato seeds.
---
Hot Regions
Planting tomatoes in Texas and Florida
In hot climates like Texas and Florida it's different. These areas need to avoid growing tomatoes in July and August because of the Armageddon-like heat they suffer through in those months.
Texas and Florida benefit from that heat in other ways though - they can do 2 plantings every year: one spring crop and one fall crop!
1st Crop Planting: MARCH
The spring crop can be planted on your last frost date which is generally around March (but it really varies depending on your region). These tomatoes will be ready for harvest before the major heat of mid-summer. Yay you!
2nd Crop Planting: JULY
The fall crop can be planted 100 days prior to your first frost date in Texas or Florida.
If your first frost is November 20th then you need to work at least 100 days backwards from that. Plant your second crop of tomatoes by August 12. This gives time for the tomato to grow and allows for a few weeks of harvesting time before the frost sets in.
If you want a longer harvest window plant 2 weeks earlier - at the end of July.
Why You Should Remove Tomato Leaves
Removing the lower leaves as the plant grows is a good way to help reduce disease because the most devastating tomato diseases like blight are soil borne. When it rains, the spores splash up onto the tomato leaves, where it then travels up the plant until it eventually kills it. By removing the lower leaves, closest to the ground you can help slow this from happening.*

Tomatoes form fruit from the bottom of the plant upwards. Any leaves beneath the lowest flowers or fruit are just taking energy away from fruit production. They're using more energy from the plant than they're giving back. Removing them directs more energy to the all the fruit above.

Therefore, once you see the first set of flowers forming on your tomato plant, remove the leaves beneath it.
*You can also apply mulch to the soil to create a barrier to help prevent disease splash up.
Suckers
Letting your tomatoes do their thing is something you can get away with if you grow hybrid tomatoes. Even if you don't prune hybrid tomatoe suckers the plants will stay a reasonable size.
Heirloom tomatoes on the other hand can grow over 10' high and have the power to kidnap an electric car if not kept in check.
I have a WHOLE post on how to identify suckers and prune your tomato plants right here.
But in a nutshell:
So for your heirloom (indeterminate) tomato plants, pinch off any suckers.
For your hybrid (determinate) tomato plants, you can leave all the suckers on the plant OR you can pinch off about half of them to allow better light and air circulation to the plant.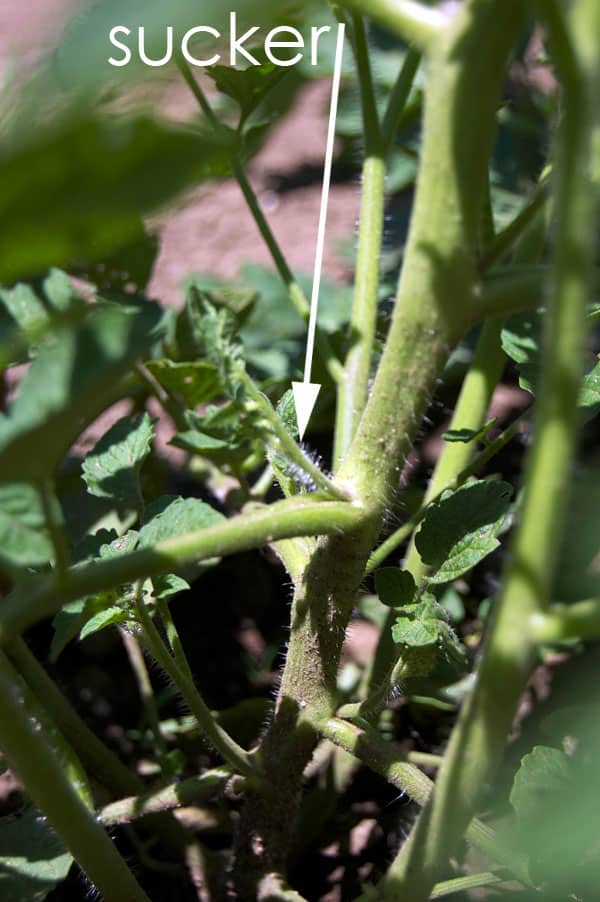 Anything growing between the stem and a leaf is a sucker. Even if it's huge and looks like a branch it's a sucker.
TOMATO GROWTH TIMELINE

4 weeks from seed to seedling.
10 weeks from seedling to fruit production.
4 weeks of harvesting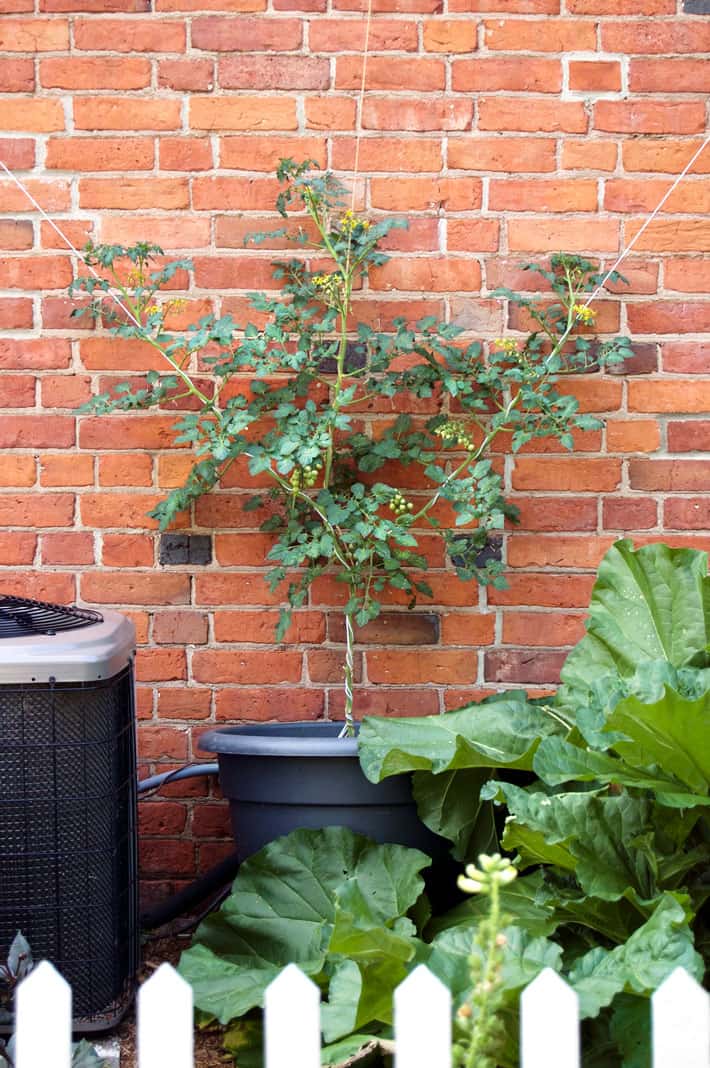 How long does it take for tomatoes to grow?

It takes about 14 weeks after planting a tomato seed to get your first tomato.

It will take about 10 weeks from planting your tomato seedling to get your first tomato.
How to save tomato seeds.

If you're growing hybrid tomatoes, the seeds you save won't be the same as the tomatoes you grew.

If you're growing heirloom tomatoes, the seeds can be saved and will produce an exact replica.

See here for exactly how to save tomato seeds.
Why are my tomatoes flowering but not fruiting?

It's probably the humidity. If you're getting loads of flowers but aren't getting tomatoes it could be because the pollen inside the flower is damp and stuck to the side. Swirl a paint brush around the inside of the flower to gather the stuck pollen then transfer it to the long green pointy thing (pistil) in the middle of the flower.
Can you make growing tomatoes more complicated than this? Sure.
You can espalier them like the photo above, add rock minerals to experiment with its effect on Brix levels, you can graft tomatoes, look into ways to improve calcium uptake to prevent blossom end rot.
You can complicate the hell out of growing tomatoes if you want to.
But if you just want to grow some for your family salads and sandwiches? Just relax and do what I've outlined here. Stick a tomato in the ground or a pot, add some compost, water and wait.
Save your nervous breakdowns for growing the luffah sponges.
And while you wait for that tomato to grow you can practice making your own mayo for the toasted tomato sandwiches that are in your future.
FOLLOW ME ON INSTAGRAM! Or don't. Whatever. It's your choice.