Welcome to my house at Halloween. If you like creepy as opposed to cutsie Halloween decorations (yay for you by the way), you're in the right place. Cheap Halloween decoration inspiration for your own haunted house this October.
There are two kinds of people in the world. Halloween people or Easter people. I am a Halloween person and I tend to get along with other Halloween people. You're my kind of crowd. Let's look at this scientifically: 100% of the food associated with Halloween is chocolate or potato chips. 100% of the food associated with Easter is gross or disgusting. That's really all the motivation smart people like you and I need.
The trick to cheap but impressive Halloween house decorations is to use a few key pieces for haunting up your house. They need to be creepy and/or elegant. A few carefully placed skulls and hits of black will convey that "I'm living in a very stylish Transylvanian home just waiting for my good friends Cruella and Dracula to show up for the party." Please wipe your feet.
---
Decorating for an Elegant & Creepy Halloween
Halloween Stuff
Use skulls. Pop them everywhere and get the most realistic ones you can.
BLACK GAUZE. Dollar stores have a ton of this stuff for really good prices and if you can only buy ONE thing for your Halloween decorating, make it black gauzy fabric.
Chicken bones. Chicken bones are my favourite way to create some ghastly Halloween vignettes.
Candles.
Doll parts.
Spiders.
Black Feather boas are also GREAT. They're creepy but opulent feeling.
If you have a few of those things you're set for creating a haunted house feel in your home.
---
Let me walk you through a few of the rooms in my house for some Halloween decorating inspiration.
BOOOOOOOOO!!! Sorry to scare you like that but I'll be doing it a few times through this post so prepare yourself.
Halloween Decoration Ideas.
For a Halloween party or just for the helloween of it.
Don't go cutesy, go creepy.
The mummified cat on the floor in the dining room is basically terrifying. Chances are you won't be able to find one exactly like mine, but just always keep in mind your goal is creepy not cute.
It was bought after Halloween, on sale, from Shoppers Drug Mart in Canada a couple of years ago for $10.
---
2. Candles and Bones.
Putting bones anywhere makes things automatically startling and "Halloweeny". Is that a word?
Here's my whole tutorial on how to clean your chicken and turkey bones for decorating.
The candelabra is one I own, but to get the same effect get some cheap candle holders, spray them black and group them together.
I really like these super-plain cast iron window candle holders that are $30 for 12 of them but I have no use for them so hopefully one of you will.

---
BOOO! Gotcha again. Heh.
3. Black Gauze.
Draped over tables, curtains, mirrors of the life sized oil painting of Margaret like you see here gives you more bang for your buck than anything else.
Your best bet for getting black gauze is from a dollar store.
---
4. Spiders.
Placing spiders on surfaces is the easiest way to use them but hanging them is even better. Just run a line of fishing line or string for a pendant light and attach the spider.
Big old spider from the dollar store. Cheap.
---
5. Books.
Stacked hardcover books with a Halloween theme (think Alfred Hitchcock, Edgar Allan Poe ...) are a subtle way to give the haunted house feeling without being kitschy.
If you're feeling in a DIY mood you can craft this book with eyes in it for a total cost of about $2. Read the tutorial on how to make Book Eyes here ... you can do it with a book, a drill and some fake eyes in an hour or less.
---
6. Skulls.
You need a skull. Skulls are to Halloween what Christmas trees are to Christmas. That's all there is to it. If you're desperate for some sparkle in your Halloween get a glass skull because it will shine and reflect light.
Skulls can be bought anywhere from Amazon to Dollar Stores but the best ones are usually found at places like HomeSense (HomeGoods). Dan Akroyd also makes vodka with a skull shaped bottle so look for that if you're having a party. Where everyone plans to drink a lot of vodka.
This skull I got from Homesense. That's Homegoods to you American folk. I love it. It's a candy dish but would work well as a festive flower vase as well. I love it so much because of the attention to detail. It actually looks like a real skull, right down to the spinal cord coming out of the back of the skull.
---
7. Doll parts.
Grab a doll and rip it apart. It's as simple as that. Dolls are scary in general if you ask me, but when you disassemble them they're downright terrifying. Just place the doll parts (head, legs, hands) in random places and prepare yourself for people to run screaming from your house.
The BEST dolls for this are vintage or antique dolls. You can get them cheap at flea markets if they're broken and not in great condition which is PERFECT and exactly what you want when you're decorating for Halloween.
---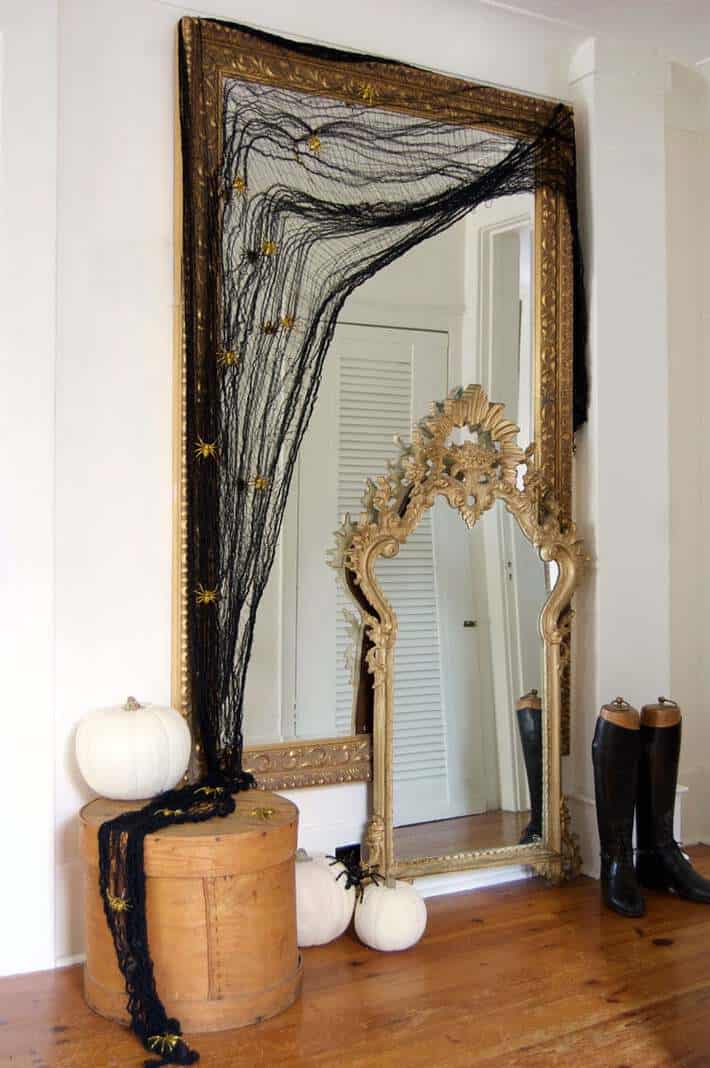 8. Black Feather Boas.
Feather boas might seem a bit frivolous for Halloween but if they're the right colour they're perfectly dark and elegant. Drape them on paintings or mirrors.
Yet again, the dollar store for the win on your cheap Halloween supplies. One year I got black feather boas for $2 each at my local Dollarama. They carry them from as cheap as $5 on Amazon.
---
So as you can see with a few cheap things you can get a really good look for Halloween. In fact, if it weren't for the dollar store my house wouldn't be scary at all. Other than the actual cobwebs that are so big they seem to have pulsating organs, there'd be nothing scary in my house at all.
And no. I don't have kids. But that doesn't mean I can't partake in the season. I don't have to have kids to trim my house out to the best of my Halloween ability. Besides. How else am I supposed to catch one? A kid I mean. A kid with a pillow case filled with chocolate and chips. Lots and lots of chocolate and chips.

→Follow me on Instagram where I often make a fool of myself←