Regular ground beef can sometimes make a lacklustre homemade hamburger. You can take your burgers to the next juicy, char broiled level by just tweaking a few things.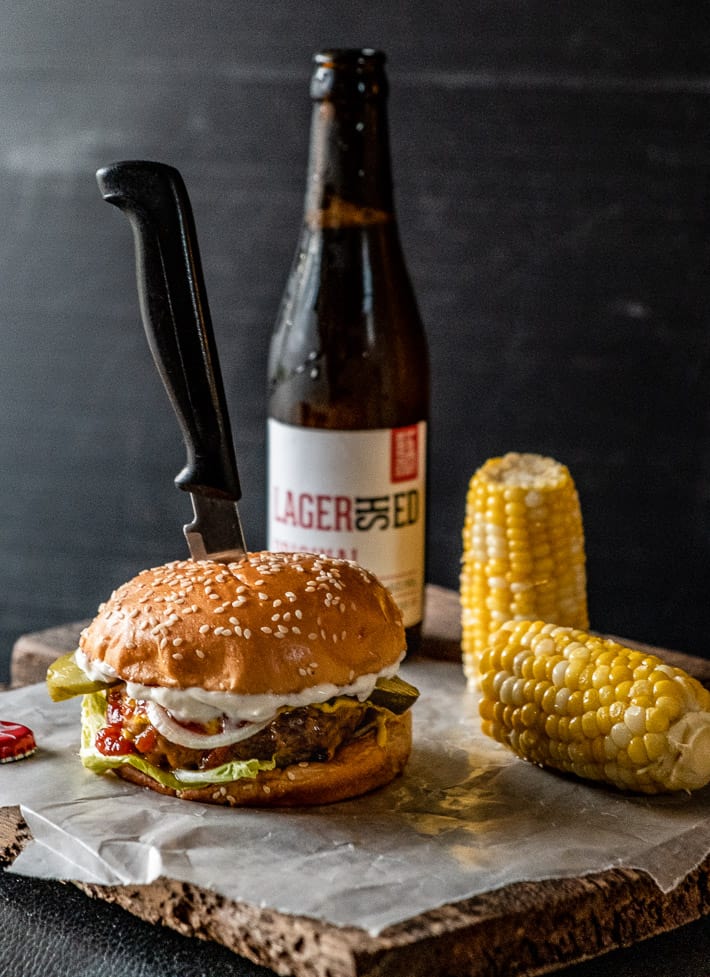 (That's a DIY Charcuterie board ↑ you can learn how to make. )
To make some super-delicious homemade burgers you need a little more than just a mess of ground beef.  For starters you can grind your own beef with a blade or cross rib roast.  I show you how to do it, if you're interested, right here. 
If you have pasture raised, dry aged beef with beautiful yellow fat in it you don't need to add anything other than a bit of seasoning to it.
But most of us are just buying regular ground beef at the grocery store which needs a bit of help.
With a few ingredients you probably already have around the kitchen you can make a great, big, juicy hamburger tonight! You have imported Asian truffle foam rooted by a one-eyed panda bear, right? (canned is fine)
Just kidding.
Read on for the recipe!
Homemade Hamburger Recipe
1. Add one egg (yolk only) to 1 lb of the highest fat content ground beef you can find. (fat = flavour)
2. Add finely diced onion.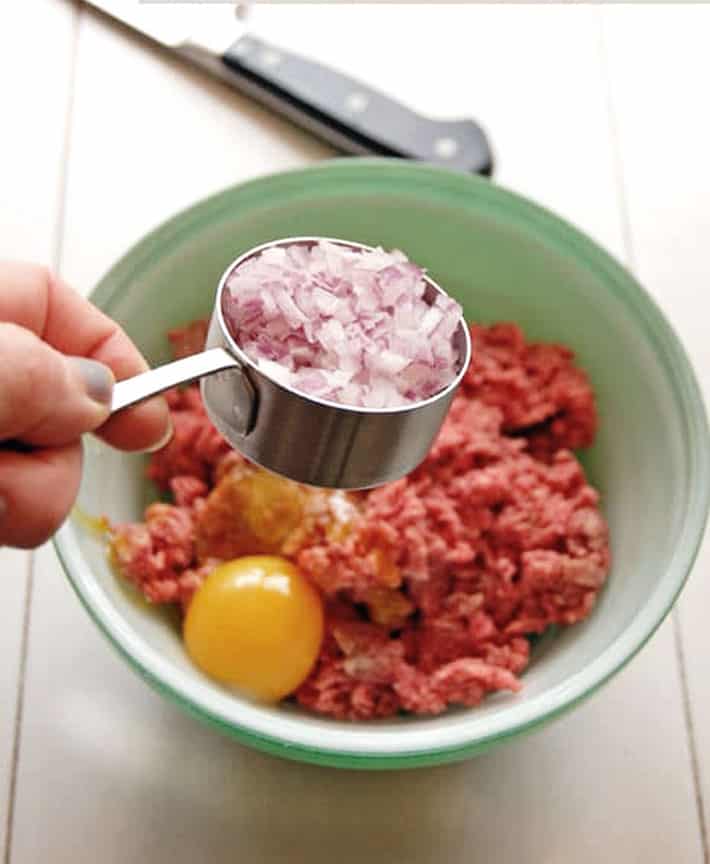 TIP: Do all your mixing gently. You want to work the meat as little as possible.
3. A blast of ketchup.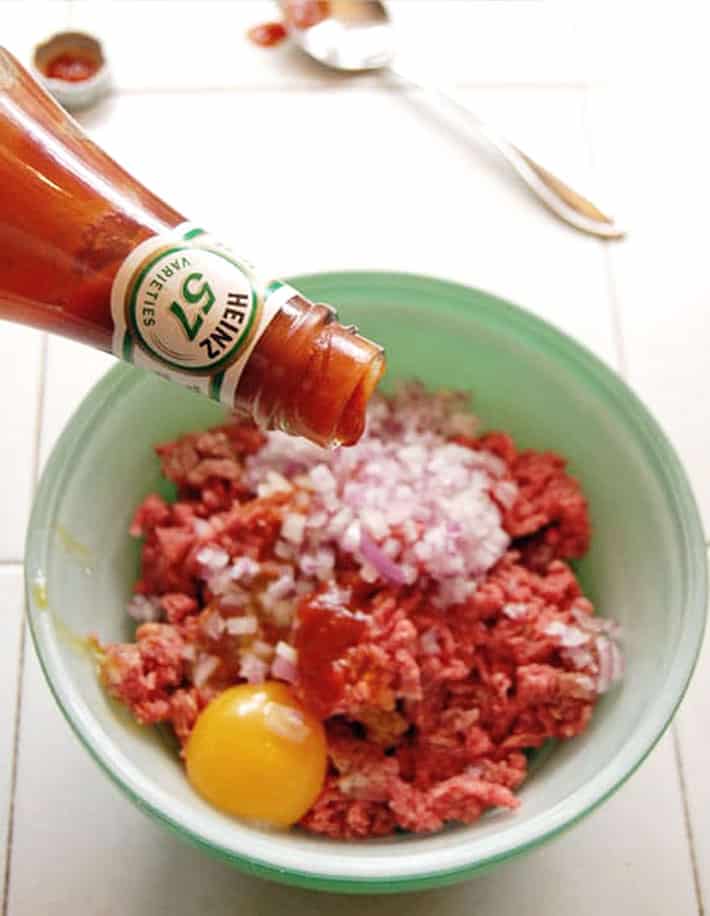 4. In goes a glob of Dijon mustard.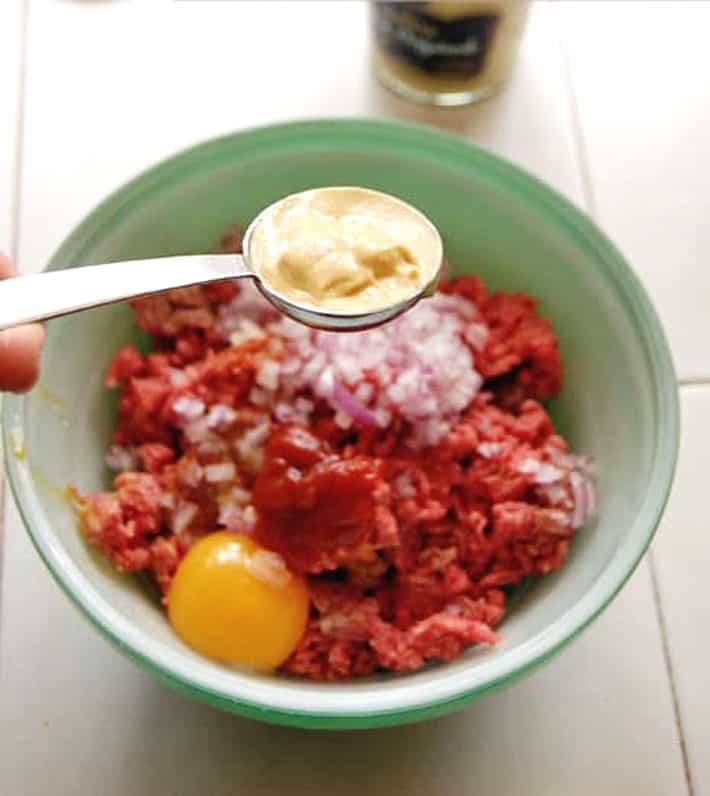 5. Squirt in a splash of Worcestershire sauce and gently mix.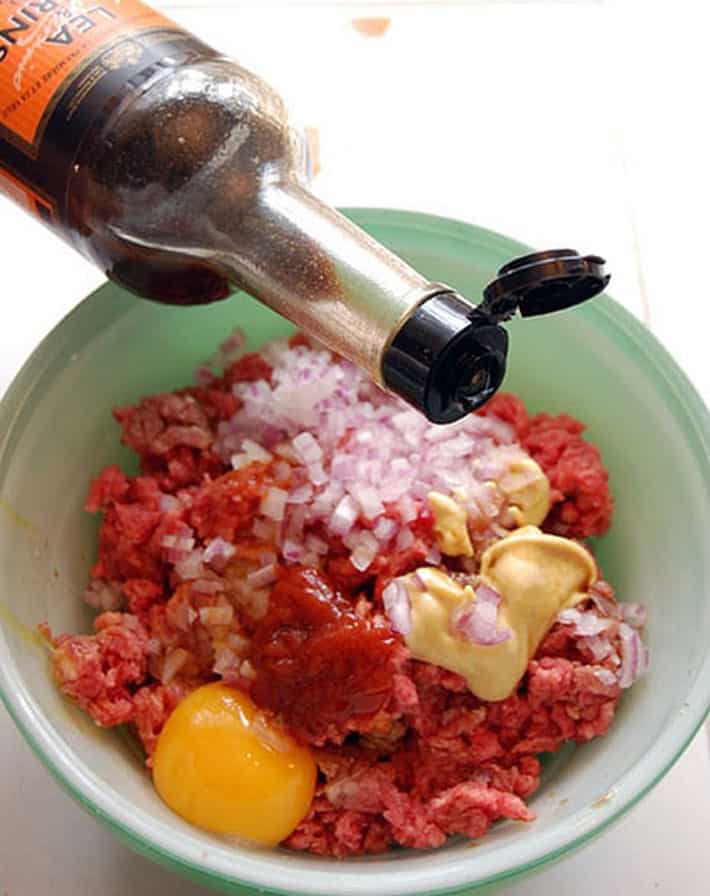 6. Add in ¼ cup of breadcrumbs (just enough to help with binding) and a generous dose of salt and pepper.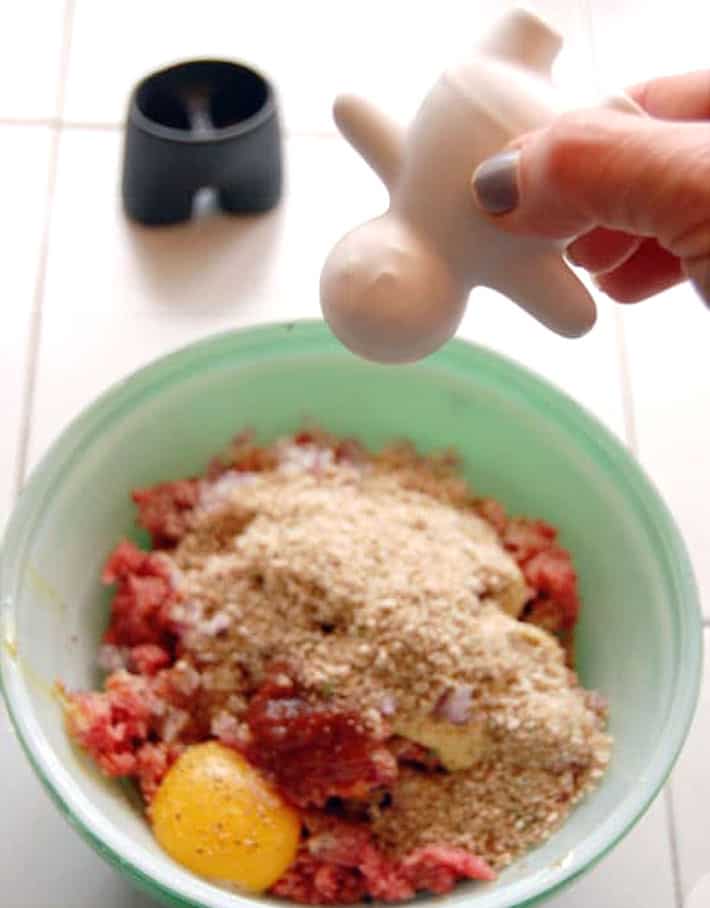 7. Gently form into patties. DON'T squash them. Gently form them. Squashing is for bugs, not hamburgers.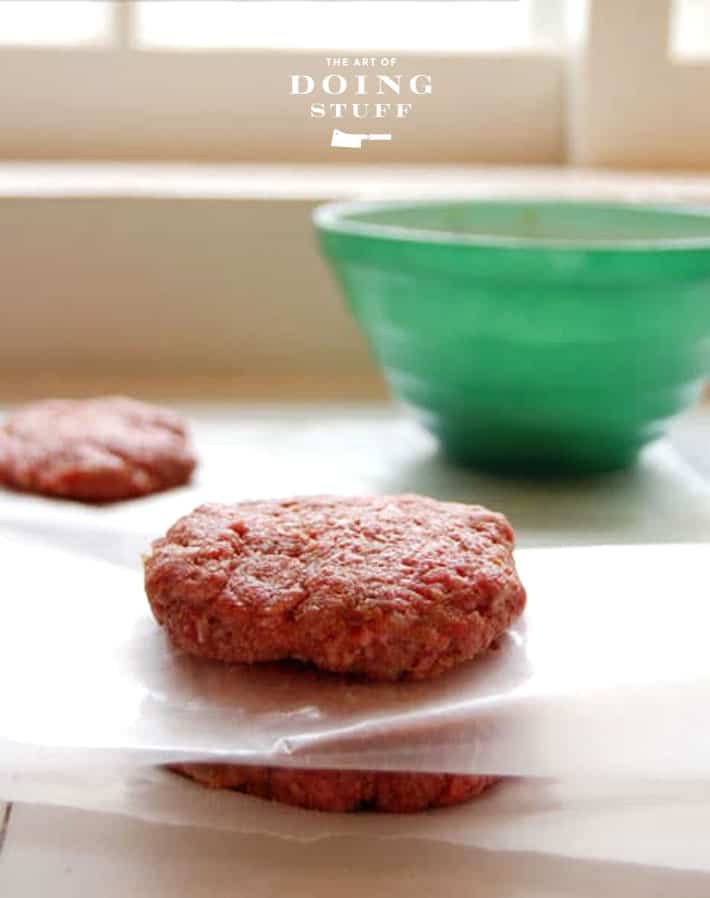 Update: For everyone in apoplectic fits over adding ¼ of a cup of dry bread crumbs and the egg yolks this does not make it meatloaf. It does not. It really is still a hamburger. The tiny amounts of these two things act as a binder which are important. They keep hamburgers from falling apart on the grill.
How to Make the Patties?
The number 1 rule for making hamburger patties is to be GENTLE with them. You don't want to mush, smash or press them hard. They need to be pressed enough to stay together but you want to keep the integrity of the meat.
Form the meat into a bit of a ball and then press it between the palms of your hands until it's a disk shape. Put that disk on the countertop and continue to gently press and prod it until it's the right shape and size.
Just before dropping them into the pan or grill press your thumb into the centre of the burger and press it about halfway down. This helps it cook evenly.
How Big Should the Burger be?
A good rule of thumb is to make your patty ¾" - 1" thick, and wider than the bun. Anything thinner will run the risk of being dried out and anything bigger and they're easy to undercook.
You Put Egg in Them?
You bet I do. Egg acts as a binder helping to stick the hamburger together so it doesn't fall apart on the grill.
If you can't use egg to keep your burgers together another trick you can use is to refrigerate the patties, allowing them to set up, before cooking.
Making Sure it's Juicy
I've already given you one tip for ensuring you have a burger that drips down your chin and makes your eyes roll into the back of your head. By making it 1" thick. More tips for a juicy burger include:
Pressing an indent into the centre of it before you cook. This will pop up as the burger cooks, and get you a more evenly cooked hamburger.
Use regular or lean ground beef - never extra lean.
Unless the person eating it is very young, very old or pregnant you can cook your burger until it has an internal temperature of 145.
How to Cook
Cast Iron
I almost exclusively cook meat in a cast iron pan. That includes hamburgers. Yes, even before using a grill, I will use my cast iron pan.
Cast iron heats up evenly and beautifully, is non stick, but can still get a good crusty sear on meat. The heat you set your pan to will depend on your stove, but I tend to heat it up quickly on high and then turn it down to medium/low once the burger hits the pan.
Oven
If you only have an oven (a toaster oven in a dorm for instance) you can cook these in there as well. Slip a cookie sheet into the oven and set it to 450 F (230 C). Once it's heated up slide your patties onto the hot cookie sheet and bake for approximately 5 minutes per side. When you flip the burger, flip it onto a part of the baking sheet that hasn't had burger on it yet - this will get you a better sear on the second side.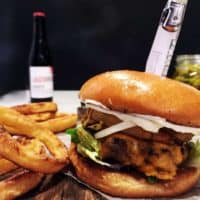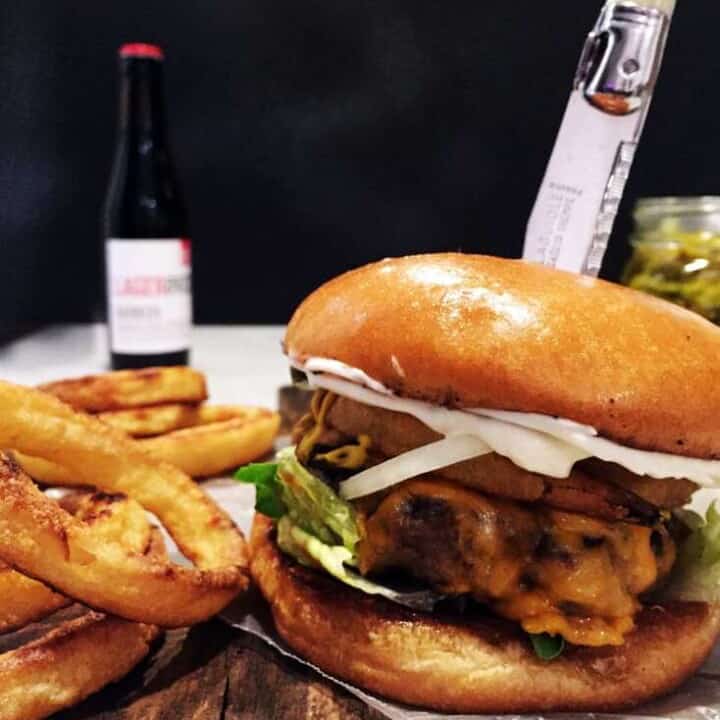 How to Make Homemade Hamburgers!
The best way to make flavourful hamburgers with grocery store ground beef.
Print
Pin
Rate
Ingredients
1

lb

ground beef

1

egg yolk

¼

cup

finely

very finely diced red onion. (you want it so small that once it cooks it disappears)

1

tablespoon

ketchup

1

tablespoon

dijon

2

shakes Worcestershire sauce

¼

cup

breadcrumbs

just enough to aid in binding

salt & pepper
Instructions
Mix together all ingredients gently. You don't want to mush and mash it.

Form into 4 equally sized patties. (You can definitely stretch it and get 5 out of this recipe)

Grill outdoors or cook in cast iron pan until done to your liking. About 4 minutes each side.

Top with your favourite toppings!
Nutrition
Calories:
340
kcal
|
Carbohydrates:
7
g
|
Protein:
21
g
|
Fat:
24
g
|
Saturated Fat:
9
g
|
Cholesterol:
129
mg
|
Sodium:
234
mg
|
Potassium:
355
mg
|
Fiber:
1
g
|
Sugar:
2
g
|
Vitamin A:
84
IU
|
Vitamin C:
2
mg
|
Calcium:
42
mg
|
Iron:
3
mg
Questions & Answers
Isn't this really a meatloaf recipe? Um, no. It isn't. But I can see the confusion. Just make them. Trust me on this.
What are the best hamburger buns? I used to be on a sesame seed bun kick, but now I only use brioche buns. I'm obsessed with them!
What if I want a homemade fermented, New York style, Jewish deli pickle to go with my burger? No problem. Just click here for my classic fermented dill pickle recipe, based on fermenting God, Sandor Katz's pickles.
Should you put lettuce on hamburgers? According to the late Anthony Bourdain? No. He has a point. If you don't eat the burger immediately the lettuce gets soft, warm and wilty.
Can these be frozen? Of course! Just mix the ingredients, shape them into burgers and freeze them individually on wax paper. Once they're frozen you can stack them and store them.
Tune in next week for the next big debate: What's better for you? Frozen or homemade ice cubes.
→Follow me on Instagram where I often make a fool of myself←