Take your pancake game up a few notches with pancake art. This is SUCH an easy technique with great results. Because we aren't all Picasso. Or Banksy. Or Mr. Dressup. Check this out ...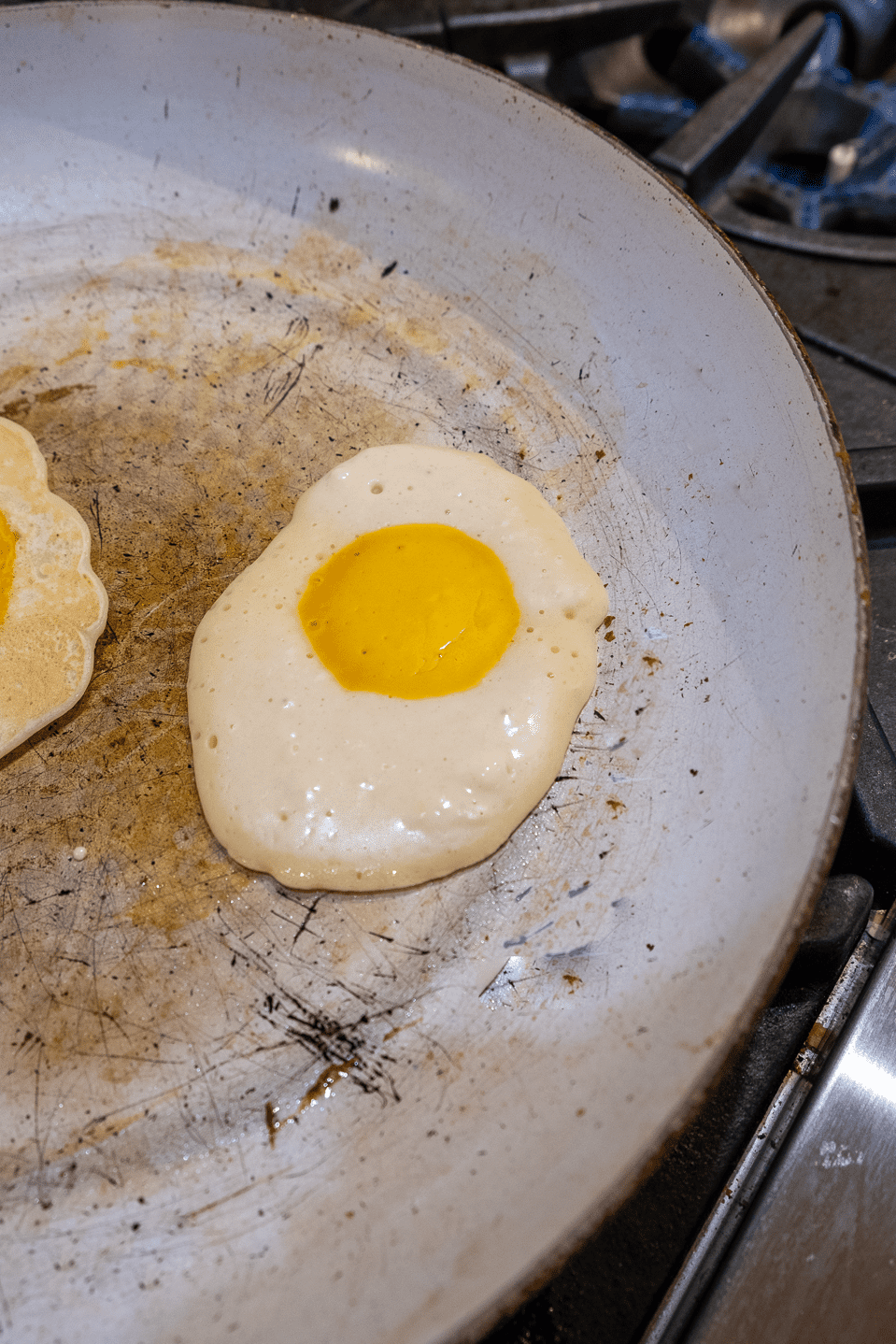 IT'S A FRIGGIN PANCAKE.
Not an overcooked fried egg. A pancake.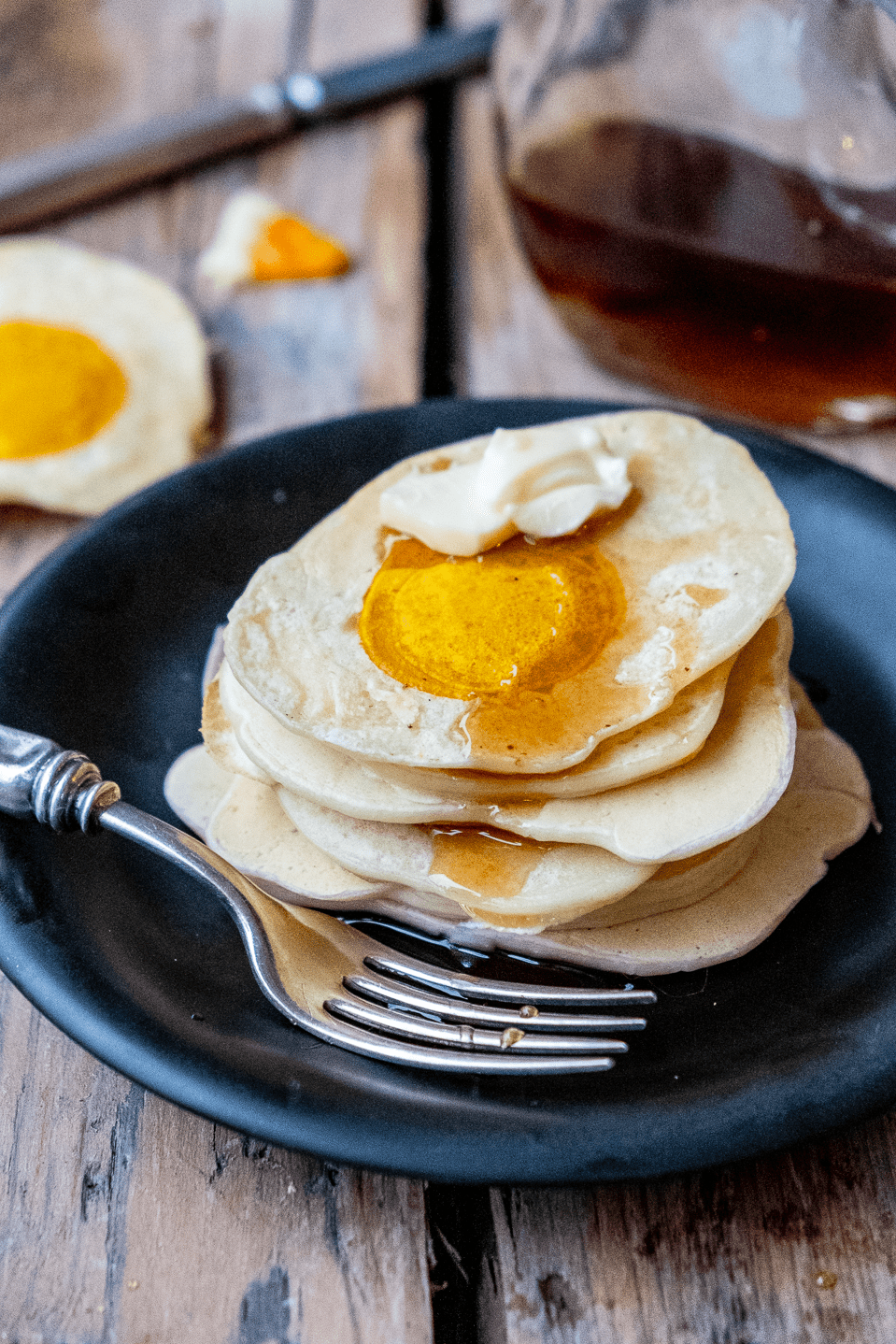 Because I made the world's easiest pancake art. The pancake egg. I made this design up, but I'm guessing I'm not the first to do it. I just don't want to Google it and find out I'm not as smart as I think I am.
There are two ways you can go about making artistic little pancakes. You can either use a box of pancake batter, which is perfectly fine, or you can use a homemade pancake recipe. I've put my pancake recipe at the bottom of this post but if you have your own favourite, just use that.
The one thing you'll have to do regardless of which you use, is thin out some or all of the batter. It needs to be quite runny for intricate designs or using in a squeeze bottle.
These types of pancakes are often done by people far more skilled than you or I so I wanted to come up with a few designs that the average person could actually do and get great results.
I'll give instructions on how to do each individually.
Easy Pancake Art (examples)
From easiest (and I think best) to most difficult, left to right:
Egg shaped pancakes, pancakes using no food colouring, pancakes made with outlines.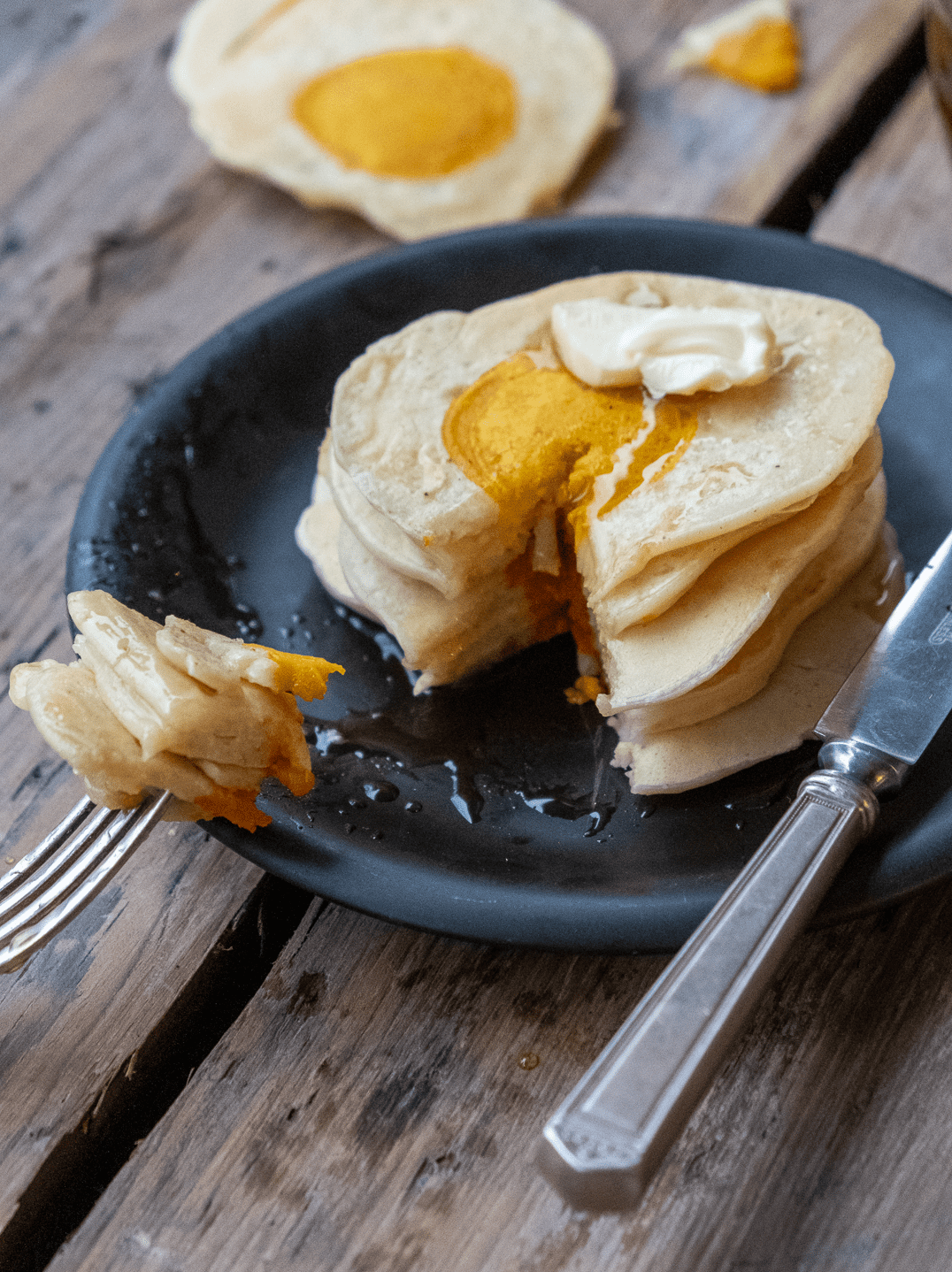 Materials
For "painting" with the pancake batter you'll need one or more of the following, with squeeze bottles being the best choice.
Squeeze bottles
Food colouring (optional)
Pancake batter
Liquid to thin batter (if your recipe uses milk, thin with milk if it uses water then thin with water)
Non stick pan or griddle
If you want to try this but don't have a squeeze bottle you can also make decent pancake art with:
a piping bag
a plastic baggie
a teaspoon
Your results will be a lot more precise with a squeeze bottle but unless you plan on starting a TikTok account that showcases clips from your new Food Network show "I'm the World's Best Pancake Artist" then I don't think it matters that much.
But if your plan is to do that, why are you reading a how-to blog about how to make beginner pancake art??
The Egg
Instructions
Mix your pancake batter together. It needs to be runnier than ketchup. If it isn't, add more milk or water (whichever the recipe uses)
Ladle ½ cup of your pancake batter into a bowl. Add enough yellow or orange food colouring to the batter to make it "yolk" coloured. Mix until well combined.
Add any flavourless oil to a non stick pan and heat over very low heat.
Using a teaspoon drop enough yellow batter onto the pan to make a yolk.
For thin pancakes spoon a circle of uncoloured batter around the "yolk".
For thicker pancakes you can ladle batter right over the yolk instead of spooning it around.
When the batter just starts to bubble up, flip the pancakes over and cook until done.
Are these as good as regular pancakes? They taste just as good as a regular pancakes, but because pancake art is made with thin batter, they aren't nice and thick and fluffy like the kind you'd get in a restaurant that has bench seating and whipped cream listed as a condiment.
The reason they aren't as big and fluffy is because a) the batter has to be thin to flow through the tip of a squeeze bottle and b) Even if you aren't using a squeeze bottle, like these teaspoon dropped eggs, you still have to add food colouring and mix it up until the batter is smooth, which thins it out.
Easy Art Designs - Emojis, initials, simple shapes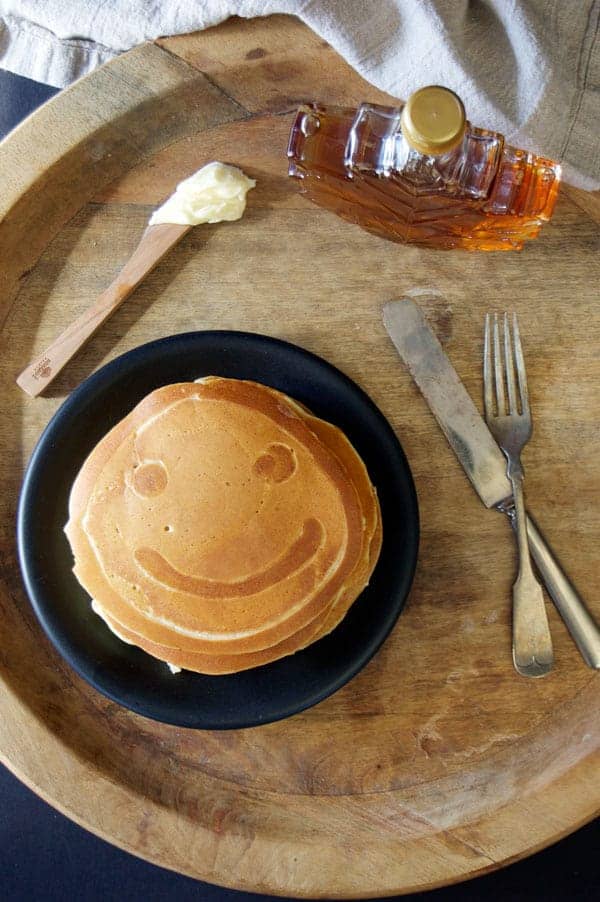 Everyone can draw a smiley emoji type face. These pancakes are particularly easy because you don't use food colouring to get a design. The colour difference shows up because the design portion cooks a little bit longer - therefore it gets darker.
Pancakes with faces smiling up at you. Good morning indeed.
Instructional video
Pancake Faces for Shrove Tuesday
EASY way to make pancakes way more fun. Pancake faces!
Instructions
Mix together the pancake batter.
Add a few small scoops (around ½ cup) of the batter to a small mixing bowl and whisk until smooth. It needs to be the consistency of runny ketchup. If it isn't add more liquid and mix.
Pour this smooth mixture into a plastic squeeze bottle.
Lightly butter or oil a non stick pan and heat over low to medium/low.
Squeeze your face design onto the pan. (monograms work well too)
Once the design starts to bubble, ladle the regular pancake mix over the face.
Cook until bubbles form, then flip.
Cook a minute or so longer then remove from pan.
Keep pancakes warm in 210 f degree oven.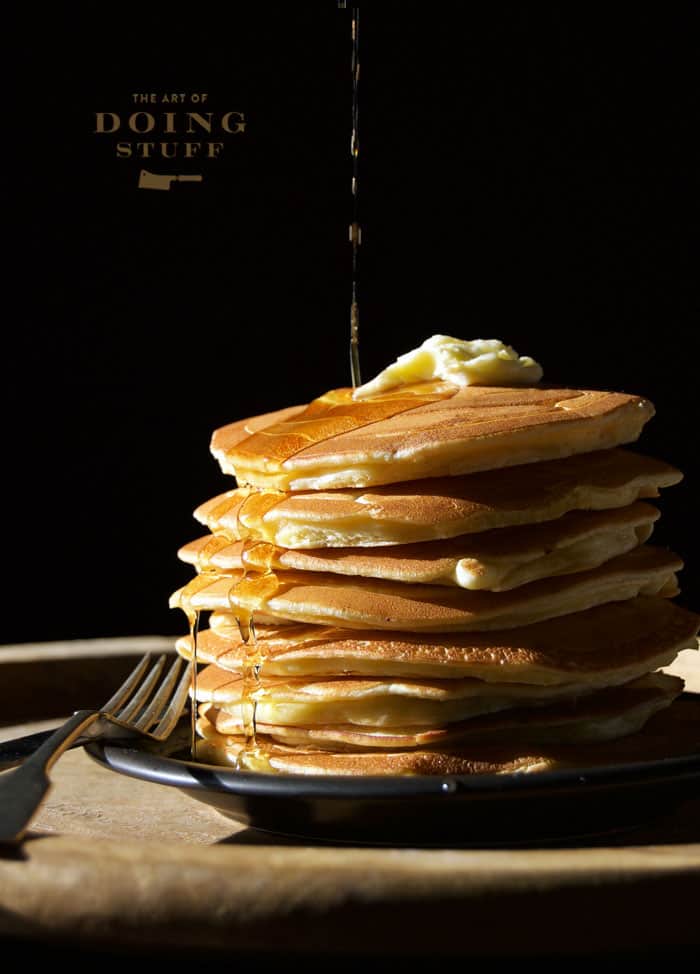 That, by the way, is a stack of face pancakes dripping with maple syrup that I made from my own maple tree and yes, you too can make your own maple syrup. It's not hard it just takes a lot of time.
If happy faces aren't your thing you can do all kinds of other stuff with this basic technique.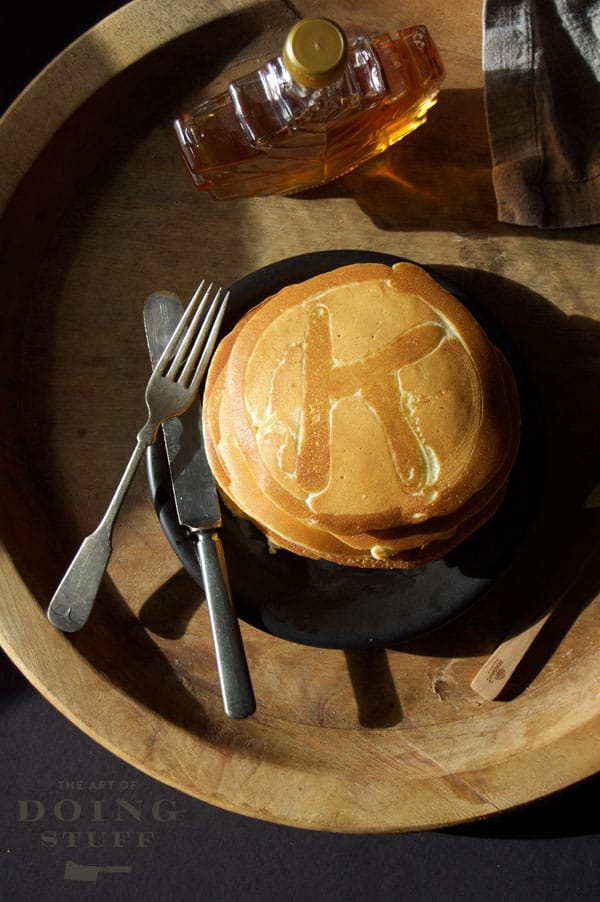 Or if you aren't into the intricate portraiture of a smiley face, you might want to go with monogrammed pancakes. Or a nice motivational message like you see above.
Pancake art can really be as elaborate or simple as you want and that's what's so fantastic about it.
You can get extra fancy if you want and do shapes.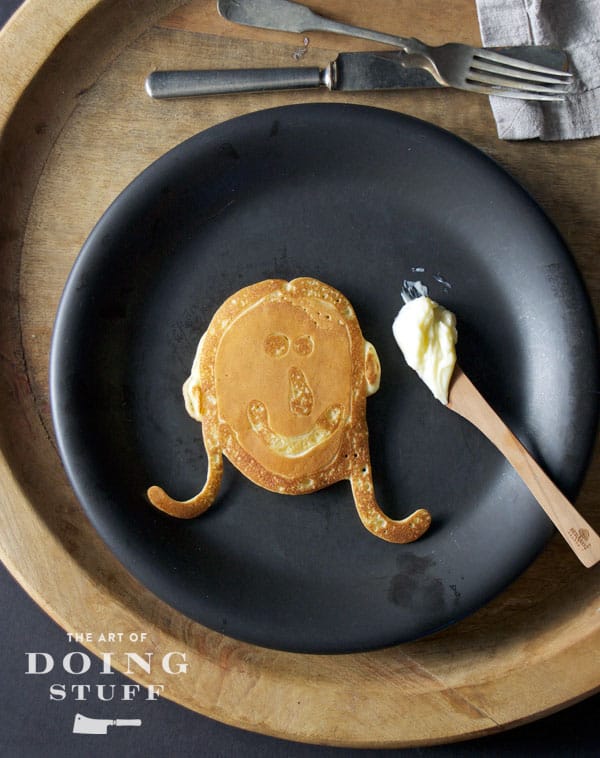 Finally, something a bit more fancy but realistic.
Line drawing pancakes
If you head to your pal Google and search for an image of something you'll be able to find either clipart or easy line drawings of almost anything. They make perfect reference patterns.
I searched lion and came up with this easy lion drawing.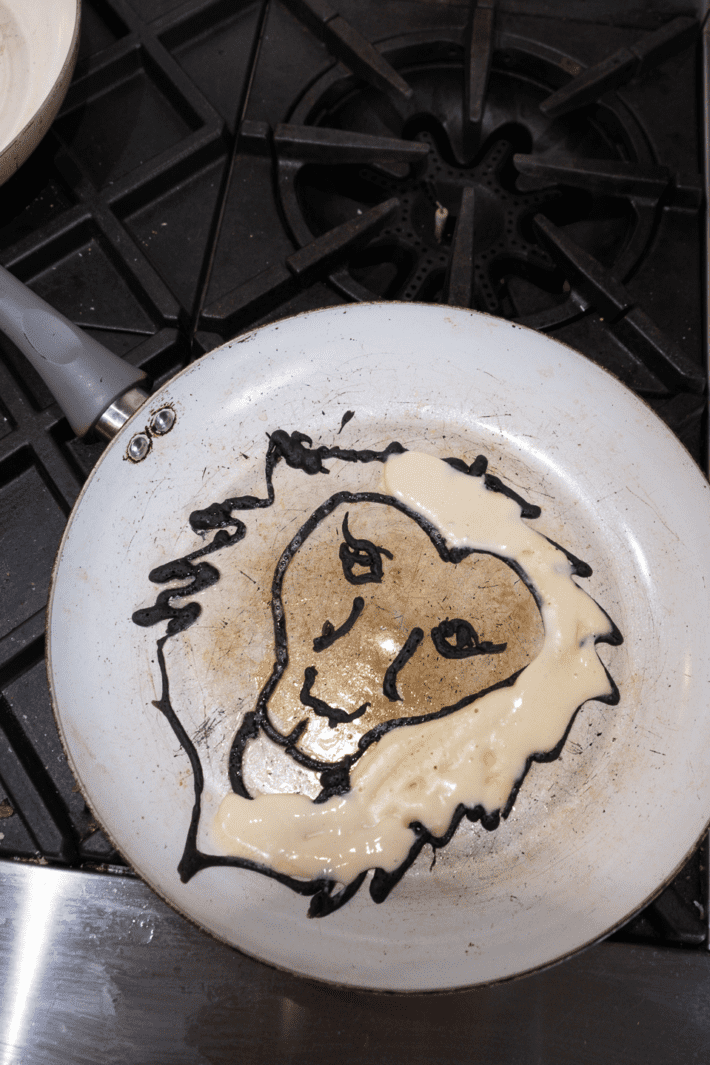 Does it look like a true artist did it? No. But it looks good and like something almost anyone could do, which is the goal here!
Instructions
Make your pancake batter.
Ladle ¼ cup of batter into a bowl and add 4 teaspoons of black cocoa.* Mix until colour is thoroughly dispersed and the mixture is smooth.
Add the coloured batter to a piping bag with a #2 piping tip (or any fairly small tip).
Heat your non stick pan and oil over low heat.
Using your reference photo, pipe the line drawing/outline onto the warm pan.
As soon as your outlines are done, spoon batter in between the lines or ladle batter over the whole thing.
Cook until the batter just starts to bubble then flip.
Cook for 1 minute or so more.
*Bulk barn also carries black cocoa
Food colouring
If you want colourful pancakes ladle ½ cup of the batter into a bowl and add your food colour. Mix the batter until it's smooth and the colour is mixed in.
I use Wilton gel paste food colour; their master set has 24 colours that include much more than your basic red, green and blue. It has ivory, peach, burgundy and 21 more nuanced colours.
The photo below shows a bit of this detailed colour chart from an Australian company for getting the nicest shades out of food colouring. These ratios are per 1 cup of icing. I know we're not dealing with icing here, I'm just letting you in on a good food colouring tip.
Black food colouring
You need to use SO much gel or liquid black food colouring that the resulting product always tastes like the plague to me. Food colouring isn't the best way to colour your food, pancakes or otherwise. There are two alternative ingredients I use for tinting things *very* black.
Activated Charcoal
Activated charcoal is perfectly safe and it's what I add to savoury dishes I want to darken. Things like bread or pizza dough. I add a small amount and keep building until it's the black I want.
2. Black Cocoa Powder
Black cocoa powder is a type of dutch processed cocoa powder. The processing is what neutralizes the cocoa and makes it less bitter and strong. Black cocoa powder is very dark in colour and tastes like cocoa.
It works WONDERS as a black food colouring. It will turn whatever you're trying to colour into a true black, as opposed to a sickly grey. Plus it adds cocoa flavour to the pancakes!
---
These are made for Sunday mornings and that one night you don't have to worry about what to have for dinner - Pancake Tuesdays.
There's nothing worse than waking up Wednesday morning and realizing you forgot Pancake Tuesday. Nothing.
Pancake Art Tips
Here are a few tips on getting the pancakes right.
Cook them on very low heat so they cook but don't darken too much.
If doing words or letters you have to do a mirror image of them (do them backwards) so when you flip the pancake over it will be readable.
Try to add allllll your filling batter at once and quickly. This way your pancake will have an even colour and not be splotchy.
Once your pancakes are bubbling that means they're ready to flip.
If the batter spreads out beyond your outline, just trim them with a knife before you serve them.
The Recipe
Easy Pancake Art
Basic Pancake Recipe. Nothing fancy. No weird ingredients. Just pancakes. With a TWIST!
Print
Pin
Rate
Servings:
8
pancakes (apx)
Ingredients
1

cup

all-purpose flour

1

tablespoon

sugar

2

teaspoons

baking powder

¼

tsp.

salt

1

egg

lightly beaten

1

teaspoon

vanilla

1

cup

milk

2

tablespoons

vegetable oil

or other light flavoured oil
Instructions
Mix together the flour, sugar, baking powder and salt.

In another bowl mix together the egg, milk, cooking oil and vanilla.

Add wet mixture to dry mixture, stirring just until combined. Your batter should be lumpy.

Add a few small scoops of the batter to a small mixing bowl and whisk until smooth.

Pour this smooth mixture into a plastic squeeze bottle.

Lightly butter a non stick pan and heat over medium/low.

Squeeze your face design onto the pan.

Once the design starts to bubble, ladle the regular pancake mix over the face.

Cook until bubbles form, then flip.

Cook a minute or so longer then remove from pan.

Keep pancakes warm in 210 f degree oven.
Nutrition
Serving:
1
pancake
|
Calories:
115
kcal
|
Carbohydrates:
15
g
|
Protein:
3
g
|
Fat:
4
g
|
Saturated Fat:
3
g
|
Cholesterol:
21
mg
|
Sodium:
81
mg
|
Potassium:
169
mg
|
Sugar:
3
g
|
Vitamin A:
90
IU
|
Calcium:
86
mg
|
Iron:
0.9
mg
When is Pancake Tuesday?
2022 - Tuesday, March 1st
2023 - Tuesday, February 21st
2024 - Tuesday, February 13th
2025 - Tuesday, March 4th
2026 - Tuesday, February 17th
2027 - Tuesday, February 9th
Now be a good egg and try it this weekend.