Just because there are no photographs to corroborate this story, does not mean it didn't happen.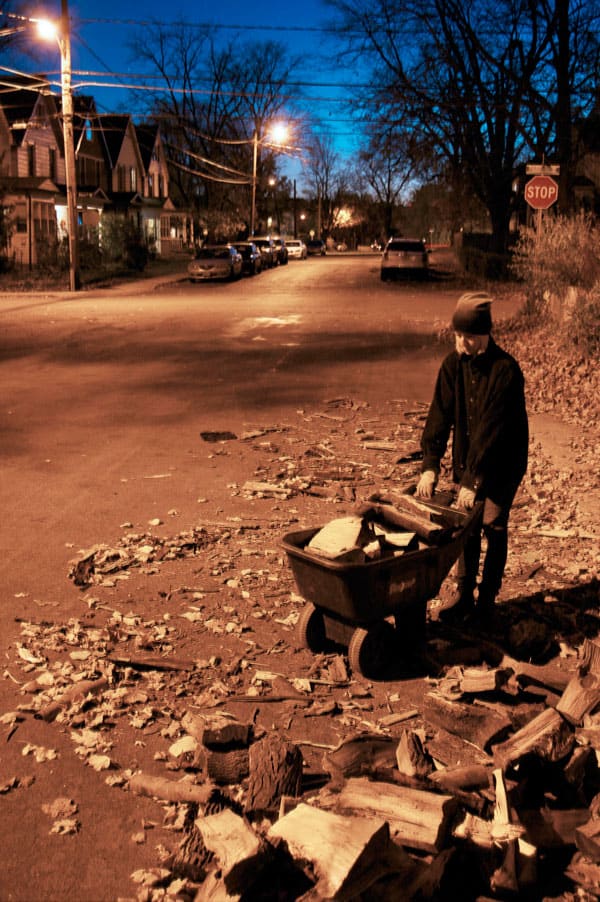 Wood stacking day/night from a couple of years ago.
Every year, at about this time, I have my winter fireplace wood delivered. It's a thing. In fact, it's exactly the same amount of a thing as delivering a baby. I say that with all the confidence of someone who has watched many television shows which feature babies being born. It invariably takes the length of time in between two commercial breaks.
Stacking 7 cords of wood on the other hand takes much longer and nobody stops to ask if you'd like an epidural. Which I would said yes to because that's the logical answer to whenever anyone asks you if you'd like an epidural. Yes, please, I'd like two.
To give you an idea of how much 7 cords of wood is, it's a very large pile. Large enough that you don't need to exaggerate its size. Also it doesn't change. You can pull wood out of it and stack it for hours on end and it will not get one square foot smaller.
I began my great wood adventure this year on a crisp Saturday morning. I worked all day and got 4 cords of wood moved from the road and driveway and into my backyard where I stacked it. When it was done, I came inside, had my dinner, went to bed and woke up to start doing it again.
Sunday morning meant another 3 cords of wood were being delivered because the theme of 2020 as we all know is Groundhog Day. I put my head down, hood up and started chipping away at the pile.
I was about an hour into my work when along came David.
Of course, at the time I didn't know his name was David, he was just a man motoring down the sidewalk towards me. Usually when I'm working like this I don't want to stop and talk to anyone. I just want to keep working so I can go inside drink hot chocolate and not vacuum.
But this day I stopped to talk because the man heading towards me didn't go around me, didn't cross the street and didn't look like he was going to be deterred. He stopped right in front of me and my wheelbarrow and said That's a good amount of wood you have there! I just chopped and stacked 3 cords myself.
I told him I was doing 3 cords today and did 4 yesterday. This made his face light up and the man said You're my kindda woman! Who do you get your wood from? What do you pay for it? Have you seen those wood stacking kits you use with 2x4s? I got a bunch of those this year and they were worth every cent. Do you ever have to split the wood or do you just throw it in full sized like that?
I think I forgot to mention that during this it was cold, raining, I was completely soaked, my hands were frozen, I was pushing a wheelbarrow full of wood and was also on the phone with my mother.
But I kept talking to him because it seemed like he felt like talking and much to my surprise I was liking talking to him. (There's another man who walks around the neighbourhood who wouldn't know anything about wood and very probably would be the type who converted his wood fireplace into a spin out cocktail bar that opened when you pushed a button.) At the very least this other man would definitely hire someone to stack his wood. I wouldn't have liked talking to him.
We discussed the wood and the benefits of a good splitting axe. We also talked about how the cost of wood is worth it because it's a form of entertainment in the winter and stacking wood can actually be very cathartic. This is when I found out his name was David. We were speaking long enough that it seemed logical that I ask his name and where he lived.
I'm David and I live in the board and batten house a couple of blocks over, I walk every day for 35 minutes and when I go home from here I'm going to split some wood, light the fire and watch some football. I had a stroke last year and I used to walk an hour a day but I lost too much weight exercising so much so now I'm trying to put some back on because my pants are too loose.
I commented that I was sorry about his stroke and asked how old he was. I'm 92 said David.
I blinked. A few times. Then I said way too loud "YOU'RE 92??" At this point I was somehow reminded that I still had my phone to my ear and I pointed to the phone in my hand and said Sorry, I'm just on the phone with my mother.
This interested David quite a bit. How old is your mother? What's her name? Would she like to come for a visit? I used to have a lady friend and we travelled around Europe for 12 years, but then she moved to Toronto. I like visitors. I'm just around the corner. Ask her. Does she want to come?
I immediately formulated a plan to move my mother to Toronto, if it turned out to be necessary.
I could hear my mother on the other end of the phone laughing and giggling.
Ohforcrissakes.
Being the only adult in the room apparently I gently reminded David that he couldn't visit with my mother whom he didn't know, had never seen and hadn't even heard of until 3.5 seconds ago – because of Coronavirus.
I'LL WEAR A MASK.
Yup. That was a logical response. A back and forth went on for a bit and I convinced him, I didn't think my mother was going to be coming to visit him that day so he should probably just split his wood and watch football. Not to be deterred he kept up his line of questioning and while pointing at the phone asked Is she slim?
As he smiled and started off on his way back home I watched him go and laughed. My mother was on the phone laughing too. All of us thought the entire episode it was just hilarious.
The whole thing put me in a good mood and helped me barrel through the rest of the day moving wood and stacking it. Around 4 o'clock I finished up and went inside to make my hot chocolate and not vacuum, wondering if I'd ever see David again.
That question was answered the next morning when David knocked on my door.
He wanted to let me know that if I had any wood that was too big to split on my own, to set it aside and he would do it for me. 92 year old David offered me an epidural.
I didn't accept his help. I thanked him but said it was O.K., I didn't need help. I said it nicely. And I've regretted it since.
So I'm going to keep an eye out for David and set aside some logs.
Because one of the best gifts you can give someone this holiday season is letting them know they're needed.
---
In case you were wondering,
these are the log stacking brackets that David bought this year.
Have a good weekend and thanks for reading my blog. I need you.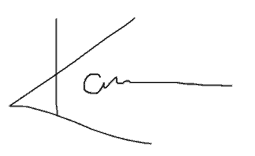 →Follow me on Instagram where I often make a fool of myself←