As it turns out 13 is the number of cheese dependant meals you can consume in one week without adverse effects. In case you were wondering, as I suspect you were if you're anything like me.
During this unique period in history, according to a nationwide poll in Canada, 22 per cent of those polled said they are drinking more alcohol. Not a surprise.
10 per cent are using more cannabis, and seven per cent are smoking more cigarettes than usual.
All due to our increased levels of stress after hearing that Megan and Harry have left Canada for America. WTF is with THAT? We welcome them, surround them with the strong, warm embrace of the Rockies and soothe them with whispers tinged with maple syrup scented breath. I mean honestly.
Me? I'm eating all the cheese.
In the past 7 days or so I've made macaroni & cheese, grilled cheese sandwiches, cheese souffle, chicken parmesan, and stood at the fridge door just eating cheese.
Not only does this help give me something to look forward to every day it cuts down on any time I would have wasted in the bathroom, allowing me to spend more time attending to my latest hobby, watching neighbours sit on porches.
The odd time we'll venture further out than our porches. See below for photo of a Corona street rave.
At this particular moment last Sunday exactly 5 neighbours (the total amount of people allowed to congregate) stood or sat on the street discussing the current situation. Which type of no knead bread we were making and what we were putting on it.
It was through this discussion that Laurel (the one in the hat) and I jointly came up with the idea of electric heated Snuggies that smell like warm bread when you turn them on.
I went for a few morning walks this week. I like to walk where I won't run into anyone because some time in the second week I lost all of my social skills. I'm afraid if someone said hi to me I'd skitter into the bush, dig a hole and live in it.
Moss. Nature's Lorazepam.
My Hunter boots have a leak. So that's something new and exciting.
In other new, but not so exciting news, all community gardens in Ontario have been shut down. I believe this was a misinterpretation of vague language, and am fairly confident that this will be resolved. Community gardens like mine and countless others across the country should be under the umbrella of the Ministry of Agriculture. We are producing food, which is an essential service.
I have made my thoughts known.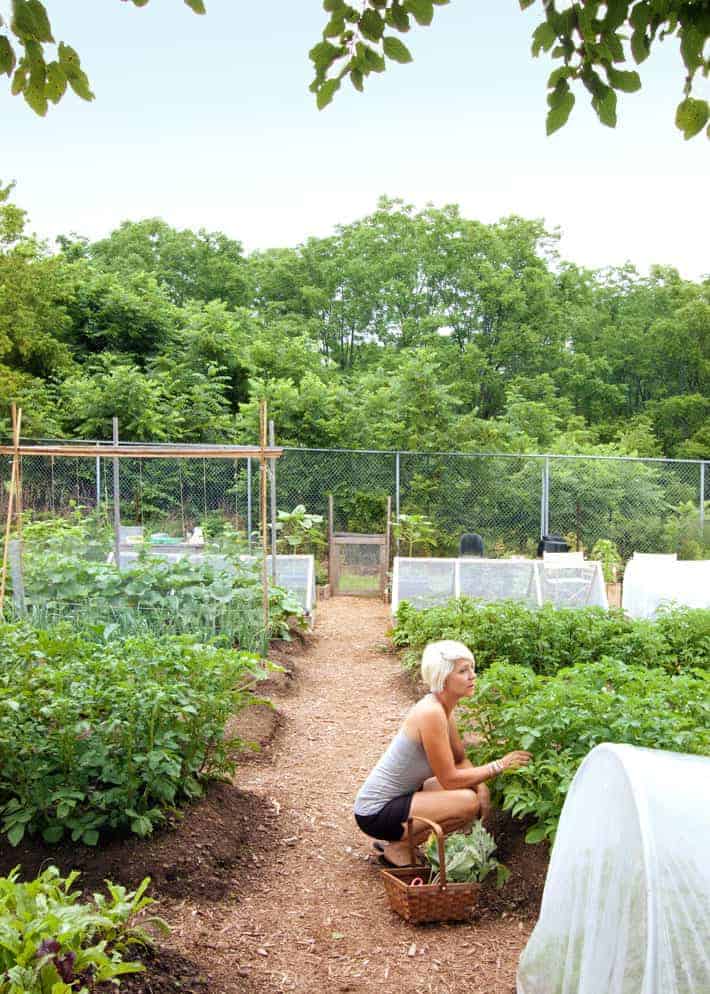 Aside from bad news there was good news as well. I got some new pinafores in the mail!
These showed up in the mail from my friend Tricia Rough Linen for me to test drive. Two new pinafore styles.
I am gravitating towards the denim look one. I'm keeping both of course, but it'll be my go-to. So that little thing made me very happy.
If this self isolation is to go on much longer (and it is) I will have pruned away every single thing in my garden to a nub.
This week after work I pruned my apple espalier trees and hacked away half of my climbing hydrangea.
You can see the chopped off portion on the grass.
And THIS morning I woke up to find a hat/basket filled with wild leeks on my front porch. Deposited by a neighbour I assume. :) This little bundle of delicacies is also known as Ramps. They need to get planted somewhere shady and wet.
I am SO excited to have them especially since the closure of my big garden.
Finally, the other good thing that happened this week was Tuesday IT WAS NEW BOOK NIGHT!
I narrowed my new book selection choice down to these four and then after a couple of false starts landed on Dear Edward which only a few chapters in, I am really liking.
What I did NOT like was Barbara Kingsolver's New York Times bestseller Unsheltered. I gave up halfway through which is something I RARELY do. Especially that far into a book. But the characters were so underdeveloped that I couldn't have cared less if they all jumped into a mass grave while beating each on the head. That would have been the highlight of the book actually.
Have a good remainder of your weekend and remember. Eat cheese.