I had a plantar wart on my foot. So I tried a drugstore cure to help pull out the root at home. Here's what to expect from using a Salicylic acid patch like I did.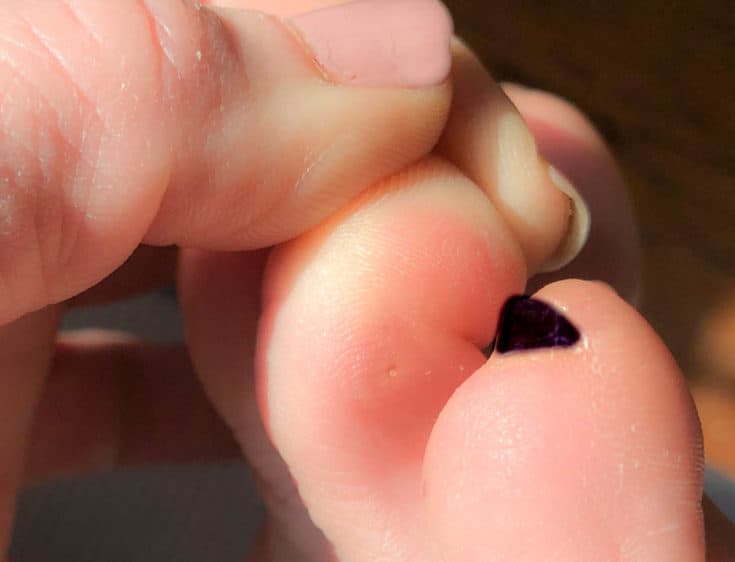 I blamed my plantar's wart on my unparalleled commitment to fitness. And therefore I blamed fitness for spending my Friday night pulling out a plantar wart root.
It's the kind of injury a 15 year old boy on swim team, or those elite marathoners who run until they poop in their pants would get.
With my running schedule amounting to chasing a rogue backyard chicken back into its (admittedly delightful) chicken coop I decided me getting a wart was probably just bad luck.
So the plan to terminate this little toe lump began. I'm not new to conducting medical experiments on myself.
There was the frozen yogurt tampon treatment for yeast infections for example. Or the continuously drinking water for a bladder infection treatment. Both are based on science and both work surprisingly well.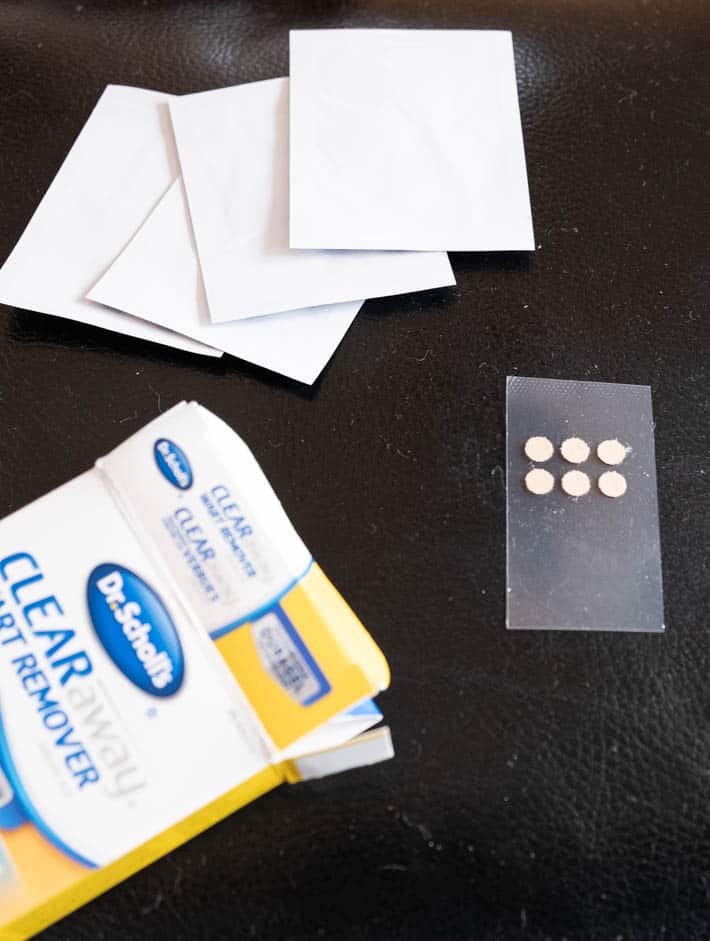 I remember being very young, maybe 7 or 8 and having a plantar wart.  It was on the bottom of my foot and had to be cut out by my doctor. This was back in the day when doctors actually doctored. Mine even knew how to clean out ear wax and give stitches. 
I wasn't looking forward to having a doctor dig a hole out of my foot so like a sensible person, I tried to dig a hole out of my foot myself.
Not with a knife, but with Salicylic acid, the active ingredient that gets rid of warts by killing the skin. It's a little more scientific than that but that's the gist of it. And it's much less terrifying than pulling out a wart with tweezers or a pin.
How to Get Rid of Plantar Warts
Buy a wart removal kit. They're all basically the same. My pharmacist recommended the cheapest one on the shelf because it came with a tiny Salicylic pad and bandaids which would work well for the bizarre "between my toes" plantar wart.
Remove the wart pads from the kit and peel one off. Put it directly over your (gross) wart and stick it down.
Cover your Salicylic pad with the provided bandaid. It'll either be a regular oblong bandaid or a round, soft pad bandaid.
Replace the pad and bandaid every 2 days until your skin has died and comes off naturally. You may need to pull the skin a bit, pulling the root of the plantar wart with it! Gross. Yet weirdly satisfying.
Don't try to just hack away at your plantar wart with a pumice stone, it won't get rid of it. You have to treat it, and a kit cure actually works to remove plantar warts. Which was shocking to me, I don't mind telling you.
Don't be alarmed if your wart fell off and left a hole. That's what's supposed to happen.
Pulling out root with tweezers
After treatment if the wart doesn't come out with you can now proceed with a set of tweezers. The wart pad will have deadened the wart root, so you'll be able to easily pull it out with a set of tweezers. For really precision tweezing, buy tick remover tweezers!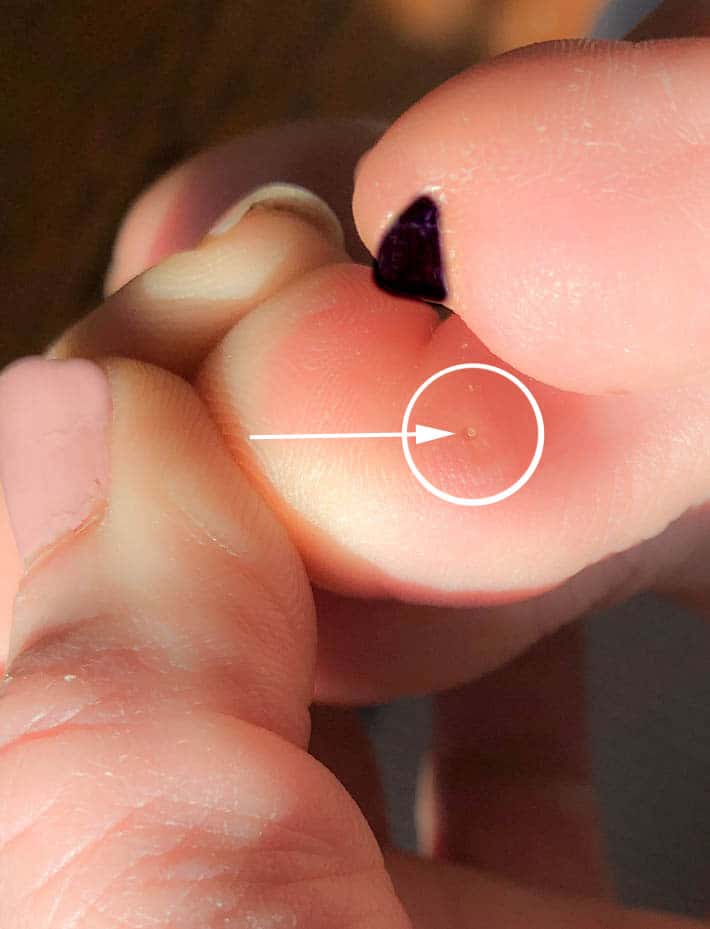 What causes plantar warts
Plantar warts are actually from a viral infection. They develop when cuts or cracks on the bottom of your feet come into contact with human papillomavirus (HPV.) The virus enters your body through the cut or crack.
There are more than 100 strains of HPV with only a few of them causing plantar warts on your feet. Other types of the virus will only cause warts on the hands, mouth or ... private parts.
You're more prone to a warts if you have a weakened immune system.
Identifying a plantar wart
You can identify a plantar wart aka verruca by the tiny circle like a pinhead with a minuscule black dot in the centre. It isn't the wart that causes pain, it's the callous that builds up around it.
The typical signs and symptoms are pain at the area of a circle like hard callous and of course what makes them unique is that they grow inward so you won't see the typical raised bump typical of other warts.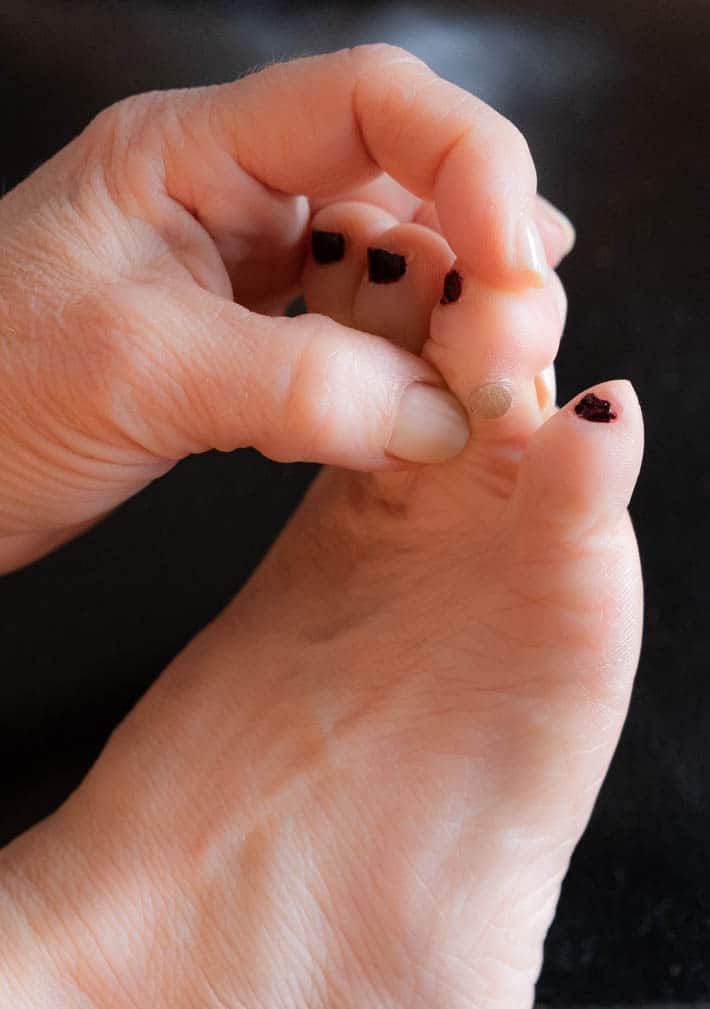 The Salicylic acid pad placed over the ... let's call it a beauty mark from now on ... I just feel better about it that way.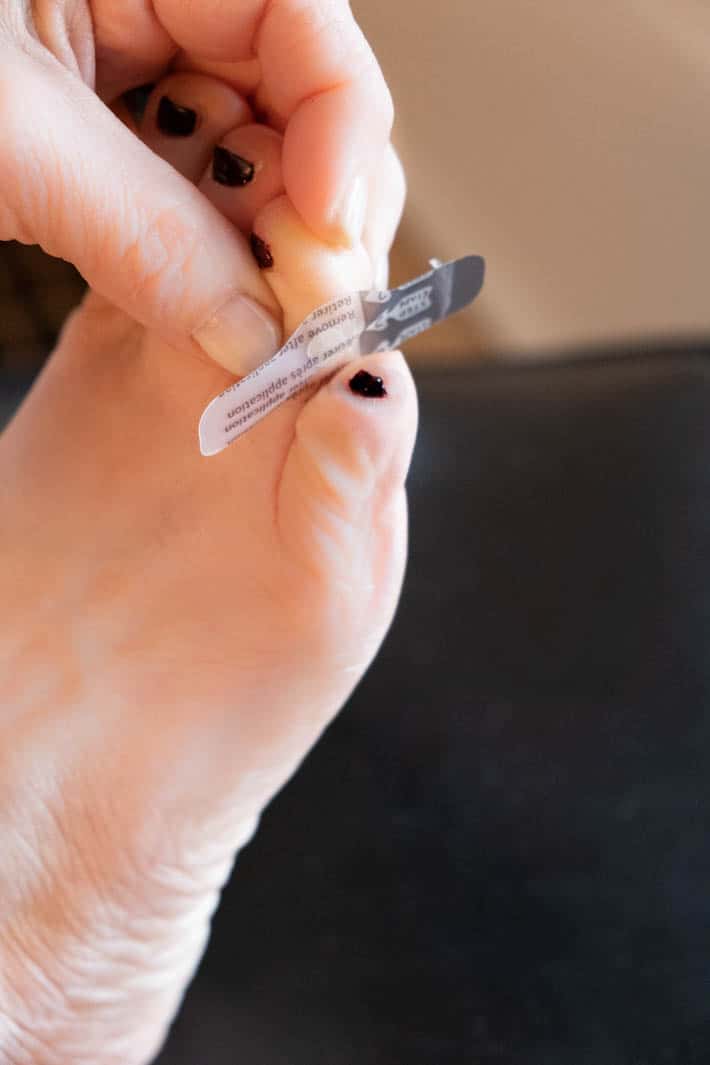 I used this Dr. Scholl's kit and the bandaids are perfectly clear, great for wrapping around a toe. Probably not so great for the bottom of your foot. This kit would be better for that.
There's also a LOT of talk on the Internet about people wrapping their feet in duct tape to get rid of plantar warts. I decided I wasn't so poor that I had to Red Green my way out of a wart. I could spend the $10 on medicine.
Alternative methods
A 2010 scientific study on plantar wart treatment proved that they are equally likely to disappear within 13 weeks using any of these 3 methods:
Salicylic acid (like you see me using here)
Cryotherapy (liquid nitrogen)
Ignoring it
That's right. Warts, but only a plantar wart specifically, is as likely to go be gone in 13 weeks whether you use an acid patch, liquid nitrogen or do nothing at all.
Also, as far as alternative methods go, these are great substitutes for shaving cream if you ever run out.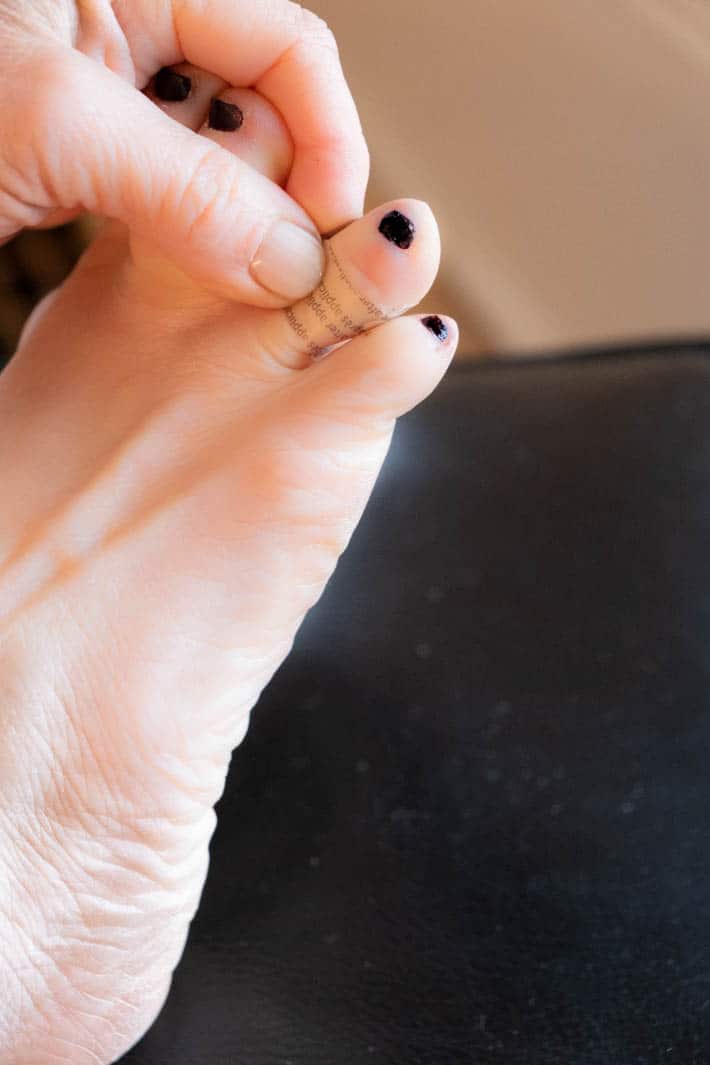 You just stick the bandaid down and then pull away the wrapping.
You can't see it at all. NO one will know you're treating ..... a beauty mark.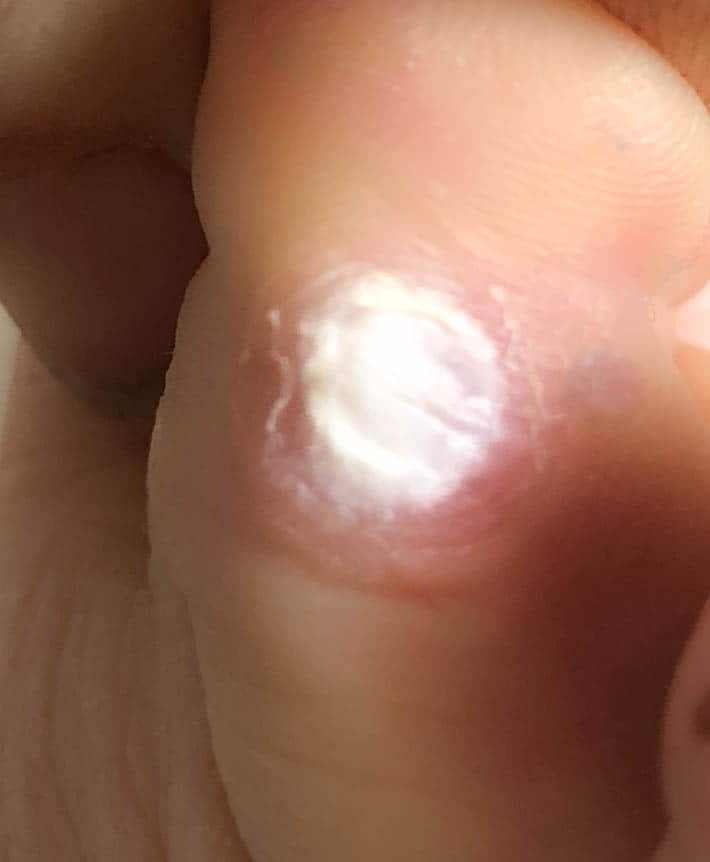 Results
After a few days your skin turns white and eventually just pulls away with your body, the root of the plantar wart attached. You're welcome for not including that photo.
What you're left with is a small hole where the dead skin has pulled out, and some pinkish skin underneath. It all fills in by itself within a few days in that magical way skin works.
---
Because it regenerates itself when we cut ourselves wide open, we forgive skin for also drying, sagging, wrinkling and flapping.
What's the fastest way to get rid of a plantar wart?

Both cryotherapy (liquid nitrogen) and Salicylic acid work within a week. If you're more comfortable with having a doctor keep an eye on it, go the cryotherapy route. NOTE: Your plantar wart may require a few treatments to get rid of it for good.
Can you really get one from walking barefoot?

Oh yes you sure can. Especially in warm humid areas like swimming pools or change rooms with showers because the HPV virus that causes plantar warts THRIVES in those conditions.
Do you have to remove a plantar wart?

Not really no. If it's hurting you then, yes by all means have it removed or remove it yourself. It may come back the same way a dandelion does if you don't get the whole root.

If it isn't causing discomfort you can leave it and within a year or two the wart will have run its course and disappear forever.
All went well and my plantar wart was gone, until a few weeks later it seemed to come back. I couldn't really see it but it felt the same as it did when I thought I had that elite runner's injury. So I put another pad on it and started the treatment over again just in case.
THIS time I got no root, and just ended up with a raw toe which probably had thin, sensitive skin after being killed off just a few weeks earlier. I may have jumped the gun on retreating.
So just be careful of that.
Do I recommend these wart treatments? Yes.
Update: It's several years later and there has been no recurrence of the beauty mark.
If you're a fan of hot dogs I have an instant heartburn cure for you and an immediately way to stop the burning if you get hot sauce in your eye. All tried and tested by me in between my relentless fitness regime.
→Follow me on Instagram where I often make a fool of myself←