To freeze peppers all you need to do is - freeze them. Bell, hot or sweet peppers don't need to be boiled or steamed or blanched in any way before freezing them, so if you're a self proclaimed lazypants, peppers are your preserving pals.
You're gonna have to go easy on me today because even though I'm talking about roasting peppers and sticking them in the freezer, it's not what I'm *thinking* about.
You see my peppers are roasted and frozen which means I'm thinking about the next stuff I need to preserve and hoard until winter; potatoes, sweet potatoes, onions, carrots, beets, cabbage, squash ... Pretty much every vegetable I grow in my garden gets saved or preserved in some way.
It's what causes me to develop my famous autumn eye twitch.
It's a code-red level of emergency preparedness normally only seen in squirrels.
O.K., just in case you aren't a fan of freezing for whatever reason, if you have a bunch of red peppers NOW IS THE TIME to revisit THIS POST FROM A FEW WEEKS AGO!
Instead of freezing red bell peppers, you can dehydrate them and then grind them INTO PAPRIKA!
But let's get back to you. You want to save some red peppers aka capsicum do you? There are a few ways you can save them but my favourite is roasting then freezing them so let's start with that.
Roasting Red Peppers
This is my favourite way to preserve peppers mainly because I really like fire. Plus of course roasting peppers until the skins are charred gives them a delicious toasty, smoky taste that's perfect with the sweet flesh.
Grab your red peppers. Wash and rinse them.
Lay the peppers on a dish towel and dry them completely before charring them.
3 Ways to Roast Peppers
BROIL the peppers in an oven.

GAS STOVE FLAME charring on the stovetop.

BBQ on a high flame.
BROILING: Place the peppers on a tray (they're going to release a bit of juice) and stick them in the oven so the top of the peppers are about 4" from the broiler. Broil, turning the peppers as needed so all sides are evenly charred.
GAS STOVE: Set the gas burner to low/medium and put your washed pepper directly on the grate. You can roast as many as 4 peppers on a single grate.
These peppers are not ready. They're at the beginning of their roasting.
Roast peppers (whether in the oven, BBQ or on the stove) until the entire pepper skin is blackened. Once an entire side is charred, turn it to char that next side.
When all the sides are charred remove them from the heat and put all the peppers into a bowl with a plate on top or another heat safe container to steam.
DO YOU HAVE CAST IRON STOVE GRATES? This is how I keep my cast iron grates black.
That STEAM is what will make removing the pepper skins easy. Dirty, but easy.
RESIST THE URGE TO SPEED THINGS UP BY RINSING THE PEPPERS🌶 UNDER WATER.
You'll lose all the flavour you worked to get by charring the peppers.
You're gonna want to. Halfway into the first pepper you're going to want to pick it up and take it over to the tap and shove it under running water. Do. Not.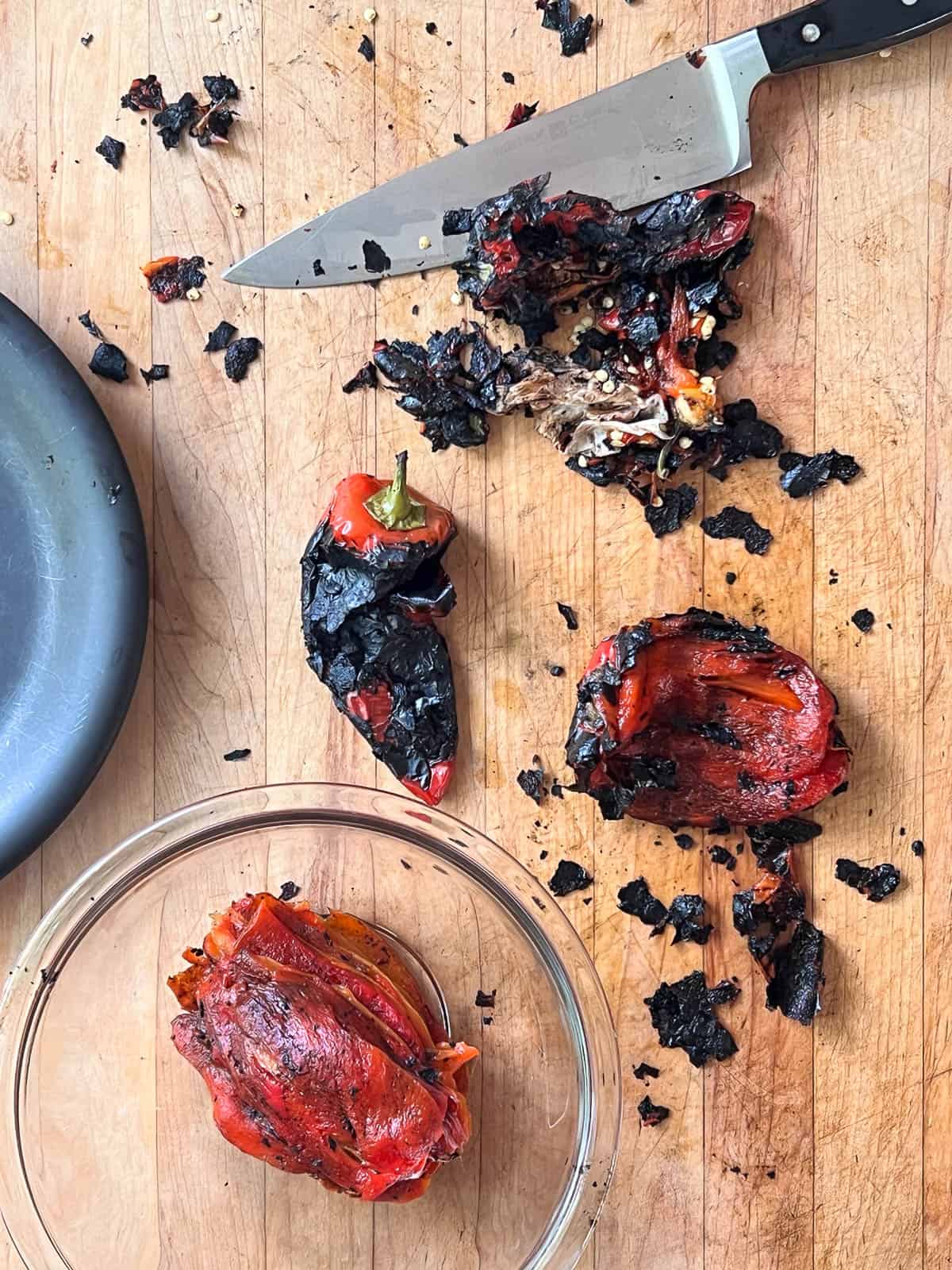 HANDY TIP - Keep a bench scraper nearby and scrape your countertop clean after every pepper.
Once the peppers are cool enough to handle wipe the skin way with your fingers or a paper towel. It will be messy. M.E.S.S.Y. But resist the urge to clean the skins off with water. You'll wash away all the flavour you just created by roasting.
Once the peppers are skinned, cut them into slices, remove any seeds and membrane and put them in a bowl for now.
Tray Freezing
Tray freezing is where you take whatever it is you are freezing, in this case peppers, and place them on a lined tray, making sure they aren't touching and freezing them.
This way once they're frozen and ready to package you have individual servings or pieces that won't stick together or clump in the freezer. They're easy to pull out one at a time.
Tray freezing is a GREAT method for individual balls of cookie dough, slices of bacon, and pretty much anything else you can freeze.
Dry the skinned peppers with a paper towel and put them on a waxed paper lined baking sheet or plate. Freeze.
Once the peppers are frozen solid, tap off any ice that accumulated and put them all in a baggie or glass storage container and put them right back into the freezer to store.
Whenever you want a roasted pepper you can just grab one from the baggie in the freezer, each will be separate and easy to remove.
TIP The best way to cook vegetables that are frozen is to cook them from frozen. Do not let them thaw before cooking. This gets rid of the water in the vegetables quickly in the pan or over and helps them maintain a better texture when you cook them.
How to Freeze Peppers
O.K., let's say you aren't a fan of charred peppers or you don't have time to char them. NO problem. You can freeze peppers without doing that.
** Hot peppers can be frozen whole. Just wash & dry them before putting them in a baggie in the freezer.
Wash and dry peppers.
Cut the stem off, slice the pepper in half and remove the seeds and membrane.
Cut pepper into slices, diced, or leave whole halves and tray freeze.
Once frozen solid, put them pepper pieces into a baggie or glass freezer container.
I'm glad I just wrote that because as I mentioned I roasted all of my peppers, but I have a favourite soup recipe that calls for 1 diced red pepper. I make it in the winter ALL the time so I'm going to take the 4 most recent peppers I picked and dice and bag them.
When winter arrives and I'm making soup I can just grab the bag of 1 diced pepper from the freezer and add it to the soup.
The soup is Fire Broth soup by the way and it's filled with vegetables, a few hot peppers and Italian sausage. It's a delicious filling soup for winter.
BOOK RECOMMENDATION: If you don't like canning (because yes it is a bit of a pain and for some people terrifying) the book Freeze Fresh by Crystal Schmidt is excellent. It shows you how to freeze just about any vegetable that you can grow plus it includes recipe ideas.
I'll be using the frozen roasted red peppers in my quick chicken and pepper salad with goat cheese, on pizza and in omelettes through the winter.
I'm so excited about everything I'm freezing this year - because I'm an admitted freezer dork - that I'm completely redoing my already organized freezer this week.
I should finish that just in time for my end of fall nervous breakdown.