25 things I routinely freeze that you may or may not have thought about freezing yourself.  
Some women have a well organized shoe closet, I have a well organized freezer.  My love of food being greater than my love of shoes.  And I have some footwear I'm pretty fond of.  I can open my freezer door any day and know instantly what's in there and what I have to choose from.  Looking for the tortellini I made 6 months ago, BAM there it is.  Sausage?  BAM!  Everything is stacked and labelled in clear containers.
I freeze everything I possibly can for two reasons.  So it doesn't go bad sitting in my fridge and so if I can always have random ingredients I may not use all of the time on  hand.  Galangal anyone?
If you've ever thrown out a log of goat cheese because it turned on you before you could finish using it ... this post is for you.
25 things you might not have known you can freeze.  Or maybe you did because let's face it, you're pretty clever - but hopefully there's at least one thing on here you weren't aware of.
---
1. Whole Tomatoes
Freeze tomatoes whole. Just stick them in a container or even a plastic bag, skins and all and forget about them. When a recipe calls for tomatoes, you have them. Cut them when they're partially frozen for easy dicing or let them thaw for more of a whole stewed tomato thing. (they slip right out of their skins when they've thawed) Perfect for soups and stews.
2. Garlic - Around February or March even the best stored heads of garlic will start to think about sprouting. If you've grown your own garlic the thought of wasting any of it is cause for temper tantrum.  O.K., just some tears. At the very least a frown and poking the person nearest to you with a stick.
Stick whole cloves of garlic in the freezer at the beginning of the season so in April, May and June you still have a garlic stash to grab. (you can freeze it any time before it goes soft and dry but the fresher it is when you freeze it the better the quality will be)
3. Pizza Dough - I make a lot of pizza dough as you can imagine.  See my backyard pizza oven here as proof. I like to make my dough fresh but always keep at least 4 balls of frozen dough in the freezer in case of a pizza emergency.  Like what if Chris Isaak shows up one day and wants pizza and I don't have any dough made? What the hell then? Honestly.
---
4. Eggs
I wrote a post a few years ago about how to freeze eggs. But the gist of it is, you just crack the eggs, mix the whites and yolks together like you're making scrambled eggs and then freeze them.  Don't stir them vigorously though. You don't want to incorporate any air or bubbles because that'll make them rubbery and tough.  Freeze in food safe containers or in an ice cube tray.
3 Tablespoons of egg mixture = 1 egg.

5. Whipping cream - Whipping cream is a miracle dairy product. You can boil it, scorch it, or freeze it and it isn't bothered one bit by any of it.
6. Milk -  The trick to freezing milk is to let it thaw slowly in the fridge and to give it a shake to break up any bits that have solidified.
---
7. Coconut Milk
I've taken to using ½ cup of coconut milk in my Overnight Oatmeal recipe.  That means I'm always left with part of a can which I sometimes use and sometimes don't use during the week.  Enter ... freezing the coconut milk.  It freezes perfectly. I just measure it out into ½ cup servings and stick it in the freezer door.
8.Ginger - I was the goon standing for ½ an hour picking out the smallest piece of ginger in the produce aisle because I know I'm never going to use a piece the size of a cob of corn. Now I pick whichever is the freshest and store the rest in the freezer.
---
9. Goat Cheese
Game changer.  Goat cheese freezes perfectly.  Use whatever you need when you first open it then immediately wrap the rest of it and store it in the freezer.
10. Cooked Pasta - I don't do this personally but apparently freezing cooked pasta is a thing.  I do however freeze cooked lasagnas and other meals that have cooked pasta and they freeze well.
11. Cooked Rice - Ditto for rice. Although I have frozen rice I don't do it regularly. It does indeed work though.
---
12. Tomato Paste
Because how often does a recipe call for an entire can?  Rarely.  Just plop it by the tablespoon on a piece of wax paper and stick it all in the freezer. Once frozen take it off the paper and store it frozen in a baggie.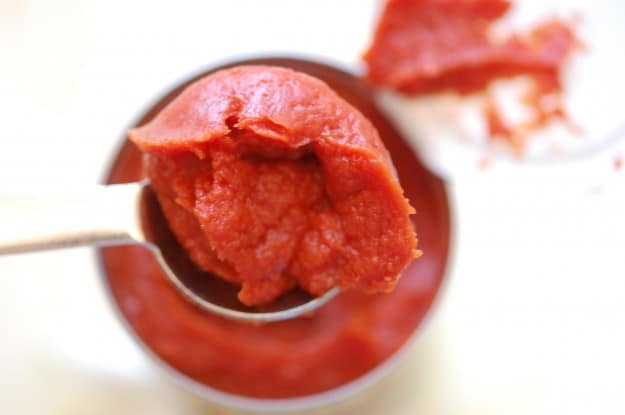 13. Chocolate - If you buy lots of Halloween candy and are sure to hand out all the stuff you don't like first, hoarding all the chips and chocolate bars for yourself, you'll be pleased to know you can freeze all those mini (or maxi) chocolate bars.  Chocolate chips too.
14. Chicken Carcasses - My freezer is always filled with carcasses from those pre-cooked grocery store chickens. I buy them when I'm in a rush, eat about half of them and then toss the other half into the freezer.  When I have 4 or 5 of them in there I pull them out and make chicken broth. Here's my chicken broth method and recipe.
---
15. Wine
I would like to take a moment right now to acknowledge the thought that just went through your head, "WHO has leftover wine to freeze???".  K. Good, now that we got that out of the way I can tell you who has wine leftover.  Me. I don't drink wine. I think it's pretty gross.  There are a select few vintages I like but for the most part I'd rather have a whiskey. Or beer.  Or if we're being honest, a Diet Coke.
If you use wine for cooking, freeze it in an ice cube tray for use in recipes.
If you drink wine but can't down the whole bottle in a night because you aren't 20, store the rest of it in the freezer. (don't do this with an unopened bottle or you could end up with an exploded bottle of wine)
Before your amateur sommelier head explodes you can read all about this method here. 
16. Pesto - Make huge batches when the ingredients are in season and freeze them in ice cube trays. When they're frozen take them out and store them in a baggie or Tupperware bin.
17. Tortillas - I must eat an inordinate amount of Mexican inspired food because I'm always in need of tortillas. But I rarely use a whole package of them.  Any unused get stored in the freezer in their original package.
---
18. Flour, Oatmeal, Grains etc.
O.K.  Remember that Overnight Oatmeal I'm so fond of? Well I went to make it a while ago and just about barfed when I saw it was filled with grain weevils. Filled might be an exaggeration.  I saw 2.  I noticed them before I ate it.  I now keep my oatmeal in the freezer. I think the fact that I still eat oatmeal is a testament to my love of oatmeal.
19. Nuts - Nuts have oil and nuts will go rancid. Any nuts I only use occasionally I keep in the freezer.
---
20. Whole Peppers
Peppers are prolific.  One plant will fill a wingback chair with peppers.  I just freeze them whole the same way I do tomatoes.  (not including the ones I make into Jalapeño poppers.)
21. Cold Cuts (pastrami) - That's right.  I like me some nitrites and nitrates every once in a while.  Sometimes a lady just needs to tuck into a pastrami on rye without worrying the world is going to end. But I'm notoriously terrible at knowing how much to ask for at the deli counter so I always end up with too much.  Into the freezer it goes until the next time.  You'll have to dry them with a paper towel, otherwise they're fine.
---
22. Donuts
Krispy Kremes, Tim Hortons, chocolatae or sugar glazed - it doesn't matter. If it's a donut, you can freeze it.
23. Yogurt - This one I don't do but have planned on doing it for years if that makes any difference. So I can't comment on how the consistency or texture is after freezing. If you have popsicle molds, just fill them with yogurt, stick a popsicle stick in it and you have an instant frozen yogurt.
24. Bread - You probably already know this one but bread freezes BETTER than it fridges.  Keeping bread in the refrigerator will make it dry out and go stale. Keep it in the freezer and it'll stay fresh.
25. Birthday Cake - Sometimes the urge to eat a birthday cake comes over you even though it isn't anyone's birthday.  And you only eat ½ of it, alone on a Saturday night.  Freezing the rest of it accomplishes 2 things.  It preserves it perfectly AND it hides the evidence that you bought yourself a random birthday cake to eat alone on a Saturday night.
---
→Follow me on Instagram where I often make a fool of myself←