How to make homemade mayonnaise with an egg, oil, lemon juice, salt, & dijon. This is really good mayo and if you have an immersion blender you can make it in about 2 minutes.
Yes you really can make homemade mayo in about 2 minutes. That is not a blogger 2 minutes, or an I'll be there in 2 minutes. It's a real, honest, set the timer for 2 minutes, 2 minutes.
Remember, we're making mayonnaise, NOT Miracle Whip, so there are only 4 ingredients (plus salt). This is the difference between Mayonnaise and Miracle Whip.
For instance on my homemade chicken burgers (above) Miracle Whip would be gross. I also think it would be gross to use Miracle Whip in or on hamburgers, chicken salad, coleslaw, or anything else that is edible. It might be O.K. as a face moisturizer, I'm not sure.
So I might be biased.
This homemade mayonnaise recipe is a 1-1-1-1 ratio.  Kind of.  Everything is a different measurement but they're all 1's.

Why Not Just Buy Mayo?
Let's get this out of the way. Homemade mayonnaise manages to be tangy and rich with a creamy texture in a way store bought could never be. It's all about the mouth feel. Once you taste it you'll understand what mayo is supposed to taste like.
The How to Video
Here we go! The world's easiest and most fool proof mayonnaise but it DOES REQUIRE one special tool. And without it, you're sunk.
You're not sunk, this tool just makes making mayonnaise easy, plus clean up is easy.
Enter the immersion blender. It's easy to clean, you can add all your ingredients at once (instead of having to drizzle the oil in with a thin stream), plus it makes perfectly emulsified mayo in record time.
You can also use a food processor or hand whisking to make mayo. Just don't hand whisk if you have carpel tunnel syndrome. Or rotator cuff issues. And if you can't do the flexed arm hang for upwards of 4 hours you probably want to pass on hand whisking as well.
It's the immersion aka stick blender that will turn making mayonnaise from a chore into something as fun as ... I don't know, as fun as a good sneeze?  
---
Ingredients
1 egg room temperature
1 tsp dijon mustard
1 tbsp lemon juice
1 cup of light tasting oil vegetable oil
1 pinch of salt
Instructions
Crack one room temperature egg into the blender's cup. Any tall and slender container will do. Make sure you don't break the yolk.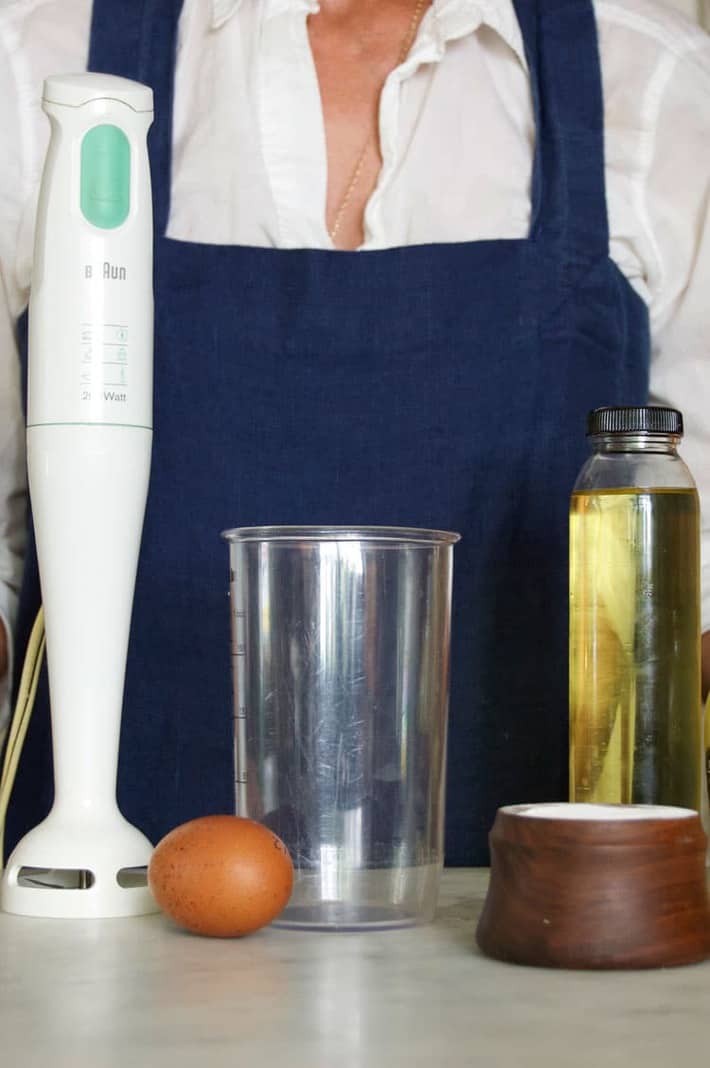 Add 1 healthy teaspoon of dijon mustard.
Add a tablespoon of lemon juice. Bottled is fine. Seriously. Don't worry about it. Who are these lunatics who demand fresh lemon juice for everything?? Screw it.
Add 1 cup of neutral tasting oil like canola or vegetable oil. Let the canola oil hating begin ...
Yes you can use olive oil if you want to but it will taste weird. Trust me on this.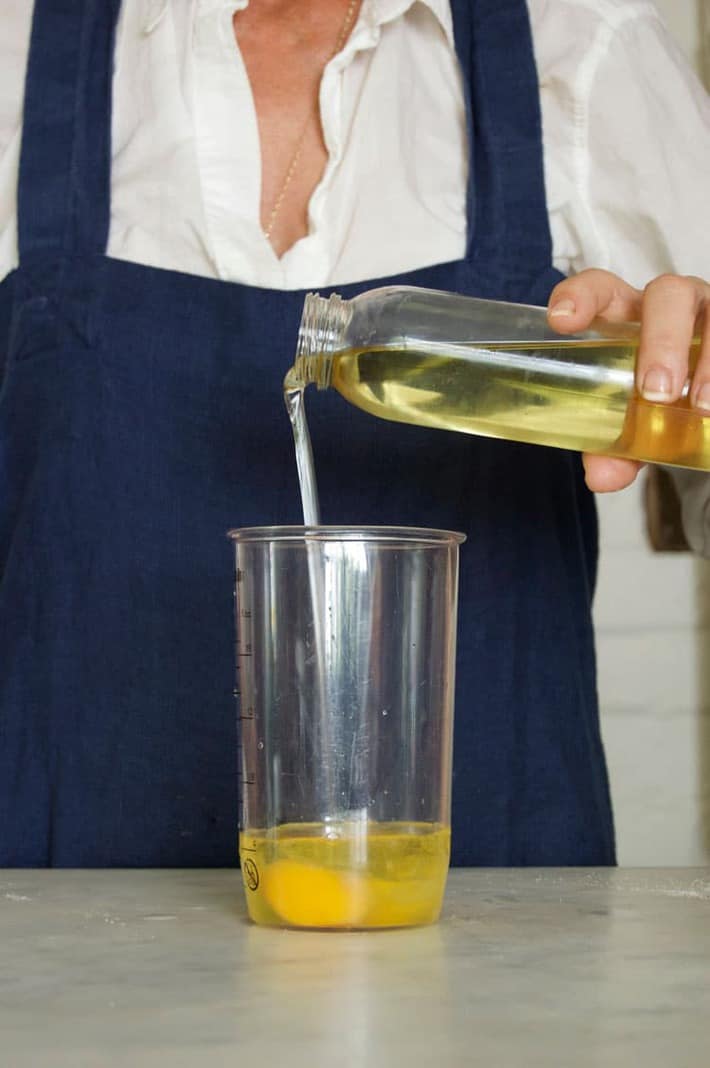 Place your immersion blender's blade DIRECTLY over the yolk, so it gets encased in the bell of the blender.
See? The yolk is right inside.
Turn the blender on while holding it firmly down on the bottom of the container. DO. NOT. MOVE. IT. Don't whirl it around, don't lift it up and down, don't MOVE it. Just keep the blender over the yolk on the bottom of the container.
Once no more oil is being mixed in, slowly raise the blender straight up. This will suck the oil on top down below. You want to try to maintain suction. You'll get to a certain point where the suction breaks and then, and ONLY then can you move the blender up and down a few times to make sure all the oil on top is mixed in.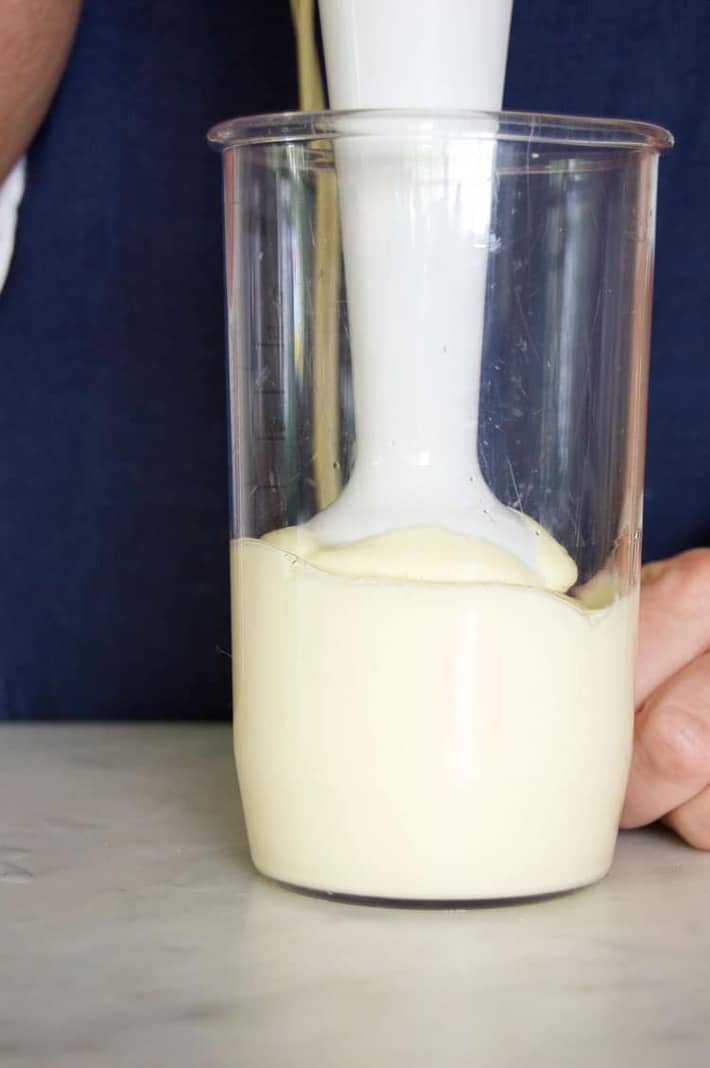 Add a pinch of salt. Whirr with blender quickly. Taste. Add more salt if you want.
---
That's it. It'll be thick and rich right from the get go, but once you refrigerate it it gets even thicker. THIS is the only mayonnaise I use now because it's so easy to make.
(total lie - I sometimes buy mayonnaise)
Mayonnaise from the store is insanely shelf stable and keeps in the fridge for about as long as a mummy will keep in a crypt.  Which seems strange for something made out of raw egg.  Suspicious even.
But that's the reason I also use store bought mayonnaise.
Every time I make the mayonnaise I just add a piece of masking tape to the top of the jar with the date I made it and the date it'll be expired by. You think you'll remember when you made it and how long it'll last but you won't.
I guarantee you won't. You can't even remember what you had for dinner 2 nights ago.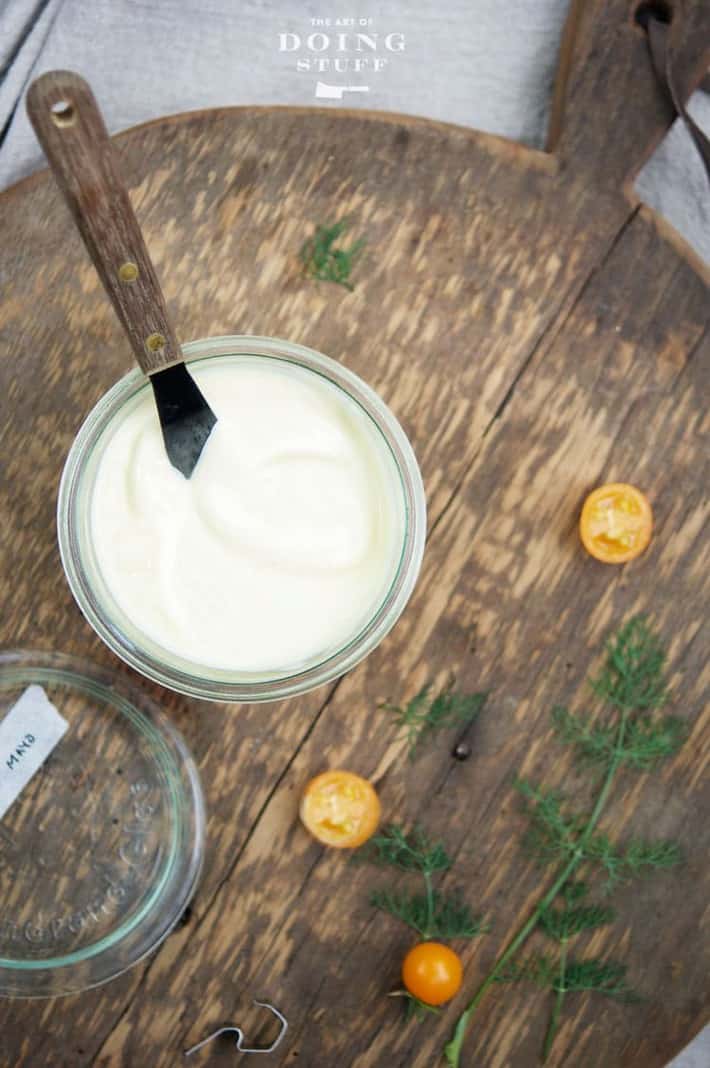 Ingredients
1

egg

room temperature

1

teaspoon

dijon mustard

1

tablespoon

lemon juice

1

cup

of light tasting oil

vegetable oil

1

pinch

of salt
Instructions
Add all ingredients to container of immersion blender (or wide mouth mason jar).

Place blender directly over the egg and hold in place touching the bottom of the container.

Keeping the blender touching the bottom of the container, turn it on and mix until the oil stops incorporating.

Slowly raise the blender from the bottom of the container, maintaining the vacuum, to incorporate the rest of the oil.

Once the vacuum seal is broken, mix up and down a couple of more times and you're done.
Nutrition
Serving:
1
tablespoon
|
Calories:
128
kcal
|
Carbohydrates:
0.1
g
|
Protein:
0.4
g
|
Fat:
14
g
|
Saturated Fat:
1
g
|
Polyunsaturated Fat:
4
g
|
Monounsaturated Fat:
9
g
|
Trans Fat:
0.1
g
|
Cholesterol:
10
mg
|
Sodium:
7
mg
|
Potassium:
5
mg
|
Fiber:
0.02
g
|
Sugar:
0.04
g
|
Vitamin A:
15
IU
|
Vitamin C:
0.4
mg
|
Calcium:
2
mg
|
Iron:
0.1
mg
You can thank Betty for this post. My mother asked me 14 times how to make homemade mayonnaise from scratch. She was here one day as I was doing it and she was stunned, amused and amazed at how easy it is to do when you know a couple of tricks.
The only troublesome trick is you have to remember those couple of tricks.
Betty - What was it again? A Tablespoon of dijon?
Karen - No. No, a teaspoon.
Betty - O.K., but a cup of sugar, right.
Karen - OMG NO. There's no sugar in it.
Betty - O.K. so dijon, vinegar, and oil. I feel like I'm missing something.
Karen - The egg. The main ingredient is the egg. And there's no vinegar, it's lemon juice.
Betty - Oh that's right. I can't ever seem to remember this. Now why is there no sugar in the cake?
Karen - Because it isn't cake. It's mayonnaise.
Betty tends to think about 17 things at once and therefore has trouble focusing on simple tasks like remembering recipes or listening to entire sentences.
Like the glass Weck Jar? Me too. Get 'em here.
Like the round cutting board?  Make one yourself for about $5!
What's the best oil to use?

I know people hate vegetable and canola oil but they really are the best tasting oils to use. If you're going to be persnickety and insist on the inclusion of olive oil, make sure it is a very light olive oil.
How long does it last in the fridge?

O.K. I'm going to be honest here. I won't eat it after 1 week. But most recommendations agree that homemade mayonnaise will last 2 weeks in a refrigerator.
Can I use something other than a raw egg?

Try substituting the egg with ¼ cup of milk or ¼ cup of aquafaba aka the liquid on top of a can of chickpeas!
If you already own an immersion blender and you haven't been making mayonnaise this way I'm kindda stunned you're still here reading these final sentences.  Grab that blender.  It's time to make cake. ;)