Dear men,
The ladies and I are going to discuss lady things today. And quite frankly I don't think you men are woman enough to deal with it. So please enjoy this video of a Monster Truck rally while we discuss Diva Cups.
Years ago I was wandering around my local health food store looking for cheese making supplies. The store is in a very old building in town complete with creaky wooden floors. It's the kind of place that, even though it isn't very big, you can't help but wander around. It feels serene, and calm and cozy being in amongst all the bins of coconut flour and raw nuts.
This particular day there was no music playing in the store and the only sounds were the shuffling of feet, the sound of scoops hitting the bins and those wonderful creaking wood floors.
And of course my screaming. My top of the lungs, tonsil revealing, primal screech.
You see, as I was wandering the aisle of essential oils and organic soaps I came across a site so shocking that a bunch of terror got all mangled and twisted inside of me until it forced its way out through my mouth in the form of a scream. A scream was better than a massive toot I suppose.
What I saw was the Diva Cup for the very first time. It had to be 12 years ago and these were not well known. I learned they were one of apparently many brands of "Menstrual Flow cups". Now, I had no idea these things existed and I can assure you my scream wasn't a scream of excitement. It was a scream of horror.
What is a Diva Cup?
Staring me in the face was a clear silicone cup that was meant to be pushed up your hoo hoo and extracted when it was full of your womanly deposits. Basically you're turning yourself into a human Dixie Cup dispenser, only instead of water or Kool Aid the Dixie cup is filled with the blood of your menstrual flow.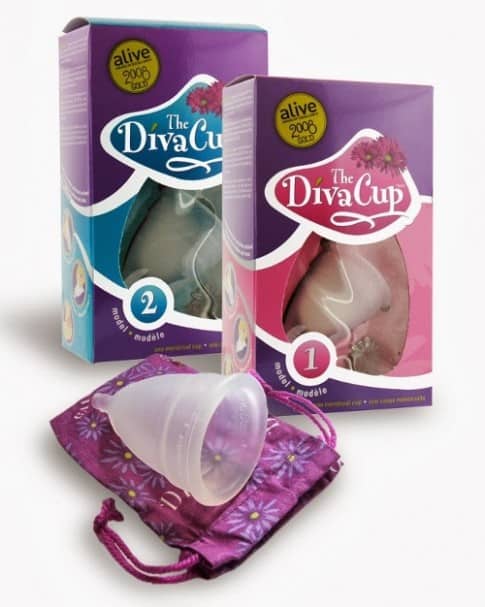 It looks like the nipple of an overbred dog.
I immediately thought it would make a great post topic but couldn't bring myself to buy the thing. I just couldn't.
Fast forward to 2014 when I heard a couple of people, for some reason, mentioned they had used and loved the Diva Cup. I found this hard to believe, what with it being a silicone cup that held your period blood like a cherry cordial.
So I went out and bought myself a Diva Cup. I did so without screaming, all in the name of science.
The benefits of the Diva Cup are the low cost of $32 for almost a lifetime of use. They were $25 when I first tried it in 2014 by the way. So that's about the price of a few boxes of tampons/pads. Even though they're made from silicone which does not ever, ever biodegrade, the makers still claim it's better for the environment than flushing/disposing of the thousands of bleached tampons we go through in our lifetime.
Read this post on the only kind of toilet paper to use if you need a reminder on why you shouldn't flush tampons by the way.
Welcome to my menstrual Diva Cup adventure.
This is how it all went down.
Just days after buying my Diva Cup I felt that tiny little cramp in my gut letting me know I was a grown up lady woman.
Turns out I had just eaten too much Shepherd's Pie. But two days later the cramps were back and the main event was on its way.
Since inserting the Diva Cup involves pushing it into yourself with your fingers, I wanted to make sure I got in there before my fingers came out covered in uterine lining. So into the bathroom I went, armed with the Diva Cup, a full sheet of instructions and very clean hands.
How to Use a Diva Cup
To insert the silicone cup you roll it up until it's small enough to fit. There are two sizes. One for women under 30 and one for women over 30. The over 30 cup is bigger. I'm assuming the makers figure at that age we're so stretched out down there you could drive a train though us because these cups are BIG. Intimidatingly so.
But I rolled it up and got it where it's supposed to be. Once you get it up there you grab the base of the cup and twist it 360 degrees. This ensures it's fully open and suctioned to your insides. I managed to accomplish this on my first try and was desperate to tell someone about it but there wasn't anyone around.
I wasn't terribly worried about losing it up there but that seems to be a fear for a lot of women. Not to worry. It won't get lost.
So there it was. The Diva Cup. In my vagina. Wayyyy up in my vagina. Turns out the Diva Cup is actually more comfortable to wear than a tampon.
Why? Because it stays in place.
Have you ever noticed that after wearing a tampon for a while it tends to decide it'd like a good look at the world? It slowly starts working its way down towards the door until it's just a strong sneeze away from flying out of you.
The Diva Cup doesn't do that. It's obedient. The Diva Cup stays where the Diva Cup is put. More on that later. You really can't feel it at all. There's no itching, or pulling or attempts at escape.
So far so good with the Diva Cup. Did I mention it has handy measurements on the side of it you can see exactly how much fluid is in there? Because it does. Incredibly useful for anyone who likes to keep track of how many ounces of blood they shed a month. These are probably the same people who keep their scabs in a jar and have a laminated bowel movement chart.
You can wear the Diva Cup for 12 hours at a time at which point you have to take it out … and empty the reservoir. This is where the Diva Cup lost me. Removal was difficult. Very difficult. I'm sure it gets easier with time but it was slightly painful and kind of like pulling a turkey out of your nostril.
In fact, when it finally popped off I'm pretty sure my nose whistled.
But that wasn't the worst part. The worst part was emptying the blood streaked cup of woman goo into the bathroom sink and rinsing it out.
I know this is where a lot of you will be thinking "How awful for Karen that she's so out of touch with her womanness that such a thing bothers her. A woman's period blood is a miracle of life to be revered and marvelled at.".
I know there are those of you thinking this because that's exactly how other women who reviewed the Diva Cup describe the experience as. They liked the cup dumping. It fascinated them. You know what fascinates me? Magic Tricks.
I couldn't bring myself to put the cup in again and instead put it back in the box and slipped it to the back of the cupboard.
The one other caveat to the Diva Cup that even those who love it say is an issue, is public restrooms. If you need to empty your cup while at the mall or your favourite local restaurant you'll need to dump the cup in the toilet, pull up your pants, get yourself back together with one hand because the other hand will be holding the blood stained Diva Cup.
Once you're back together you'll need to dart to the sink and wash out your cup in the public restroom sink, all the while your face getting hot and your pits getting sweaty worried that someone will wander into the bathroom to a horror show.
Is your cup rinsed? Good. Now it's back into the stall to reinsert the Diva Cup.
I just couldn't handle it. But I have to say there are many of you who will be able to handle it. You'll think it's great and life changing like the other women on the Internet. Like the 10,000 people who reviewed the Diva Cup on Amazon with almost 5 stars. The women who say they couldn't live without it.
To you I say, you're more woman than I. I have no doubt you also would have handled donating blood far better than I did. It's a bit blurry but as far as I remember my blood donation involved a prayer circle and a stretcher. You can read about that proud moment in my life here.
Do I recommend the Diva Cup? Yes. That probably surprises you but it just wasn't for me. I know it wasn't for me because I got gaggy and almost fainted. So there's that. I know that other women won't be bothered by it at all.
And to you women I have one more thing to say. Please don't try to change my mind. Please don't try to convince me I didn't give it enough of a shot. Much like Brussels sprouts, it won't matter how many times I try it … I'm never going to acquire a taste for menstrual cups.
As luck would have it I am currently moving out of my Diva Cup years and into my coffee cup flying across the room and exploding into shards as it hits the wall because I can't sleep and am so tired years.
I resisted the urge to use my Diva Cup as a change purse and eventually threw it out.
I now buy my cheese making supplies online.