And they look fan-freaking-tastic.
Crispy-crunchy or spongey-chewy, these treats, like the mind of a newly initiated cult member, can be molded into whatever you want.
I know a lot of people look forward to my Halloween posts because I have a bit of a love affair with the dark side. But you can use this same recipe in any silicone mold if you're of delicate breeding and find skulls distasteful.
YOU KNOW THOSE SILICONE ICE CUBE MOLDS YOU USED ONCE AND THEN STUCK SOMEWHERE? Yes, you can use those molds (as long as they're silicone) for this recipe.
All silicone molds are oven, microwave and freezer proof.
Ingredients
All your 1950s basics. Wheat flour, peanut butter, canned vegetables and egg.
canned beets
flour
egg
peanut butter
See recipe card for quantities.
Instructions
Add 1-2 tsps charcoal to 1 cup flour.
2. Mix until completely combined.
3. Add 1 tablespoon peanut butter and 1 egg to ½ cup pureed beets. Mix.
4. Add wet mixture to centre of flour mixture.
5. Mix together by gradually pulling in the flour as you stir.
6. It should look like a very sticky dough now.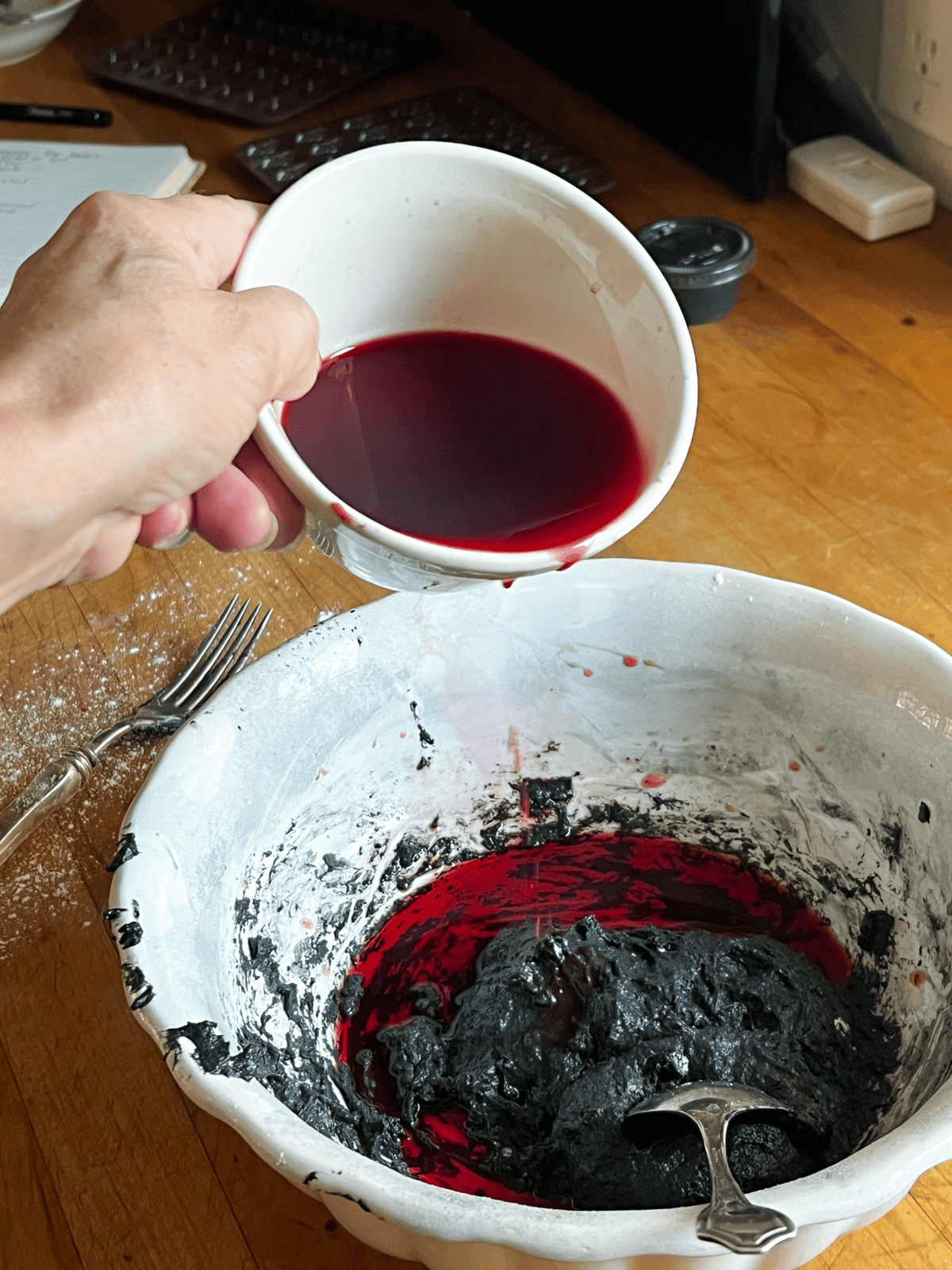 7. Add in enough of the reserved beet juice and mix until you get a smooth pancake like consistency.
8. Grab your silicone skull molds.
9. Place them on a baking sheet.
10. Pour ¼ of the batter onto each mold.
11. Spread it with a frosting spatula or knife so it fills each skull cavity.
12. Bake at 350 for 15 minutes. Remove from molds after cooling a bit.
13. Rebake directly on pan for another 15 minutes for a crunchy treat.
Substitutions
Flour - for dogs with sensitivities, instead of wheat flour, you can use oat flour
Beets - swap out the beets for any pureed vegetable like pumpkin or carrots
Charcoal - if you leave out the charcoal your dog cookies will take on the colour of whatever vegetable you add. Light orange for carrots, or pink with beets ...
Storage
A chewy treat will be cooked after 15 minutes but remember chewy treats have more moisture and won't keep as well. If you want them to keep for more than a few days, refrigerate them.
A crispy treat will have no moisture and won't mold. If they are crunchy all the way through they'll have a much longer shelf life than the chewy treats. This means they can be kept in an airtight container on the counter for weeks.
Either crispy or chewy treats can be frozen indefinitely.
See this Kong filler recipe on my website if you prefer no bake treats.
Is Your Dog Farty?
Activated charcoal treats are good for gassy guts.
Obviously I'll be bagging a bunch of these as a Halloween treat for Lip's crew of canines; Sterling, Boo Boo, Charlie, Quinny, Levi, Zuzu and Major.
They're just a standard, run of the mill gang, but these treats I predict will have cult-like status in no time.