Comfort foods that'll make staying home this winter a little more bearable. All easy to freeze, reheat and scarf down while pulling your bra out through your sleeve.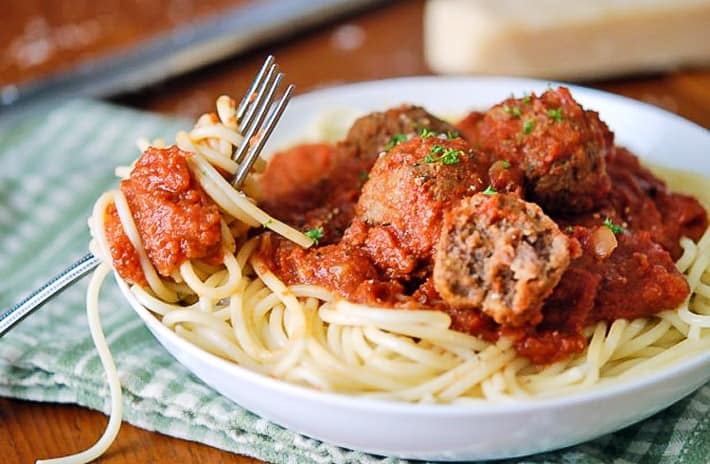 Even if I have 72 big snowfalls to shovel, 7 cords of wood to chop and am forced to jump up and down 25 times to get my jeans over my thighs every time I put them on - the winter exercise I get doesn't even come close to my summer exercise. Even with The DIY walking desk I become a bit lumpy in the winter.
And that's O.K.
It's part of what I love about living in an area of the world that gets 4 distinct seasons. You have 4 distinct lives. There's spring life (happy and optimistic), summer life (sweaty and exhausted), fall life (exhilarated and nesting) and winter life (cocooning and lumpy).
Although this year I'm working on a new project so in addition to cocooning and lumpy, my winter season is going to be frantic. It's kind of a big deal actually - but still a secret - so I'm needing MORE and more food that will be comforting and perfect for freezing so I can have quick meals on hand.
December 21st marks the very first day of cocooning and lumpy. The first day of Winter.
Each season also has its own clothing and food requirements. For instance, thou shalt not feast on stew in summer. Because, gross. A thick, heavy, bowl of stew sitting in your gut makes it really hard to chase fireflies. And yuck. That's meat sweats on top of humidity sweats and that's just stupid.
But a warm, nutritious bowl of stew with root vegetables on a cold winter's night? That make sense.
---
Comfort Food Recipes
Today I'm going to load you up with some of my favourite comfort food recipes that you can make over Christmas and also freeze for later this winter.
You probably won't want to eat them in January because January is the month we traditionally pretend to go on a diet.
---
It's all about what goes on top! O.K., well it's not ALLLL about what goes on top, but when that something on top is pumpkin and bacon caramelized in brown sugar it's worth a lot. Also there's fried sage leaves so there's that.
This pumpkin soup (which is also a squash soup) is full of pumpkin flavour with hints of nutmeg and apple. It's really good.
TO FREEZE
Freeze soup individually in storage bowls or baggies.
Freeze toppings (caramelized bacon & seeds, fried sage leaves)
---
I mean seriously.
Once I whip up my first pan of Martha Stewart's gooey macaroni & cheese, I know my new life has begun. It's usually around the beginning of November. The lightweight blanket on the sofa gets tucked away and the thick, fluffy one pulled out. The heated floors in the kitchen are turned on, the flannel pajamas that smell like drawer after being in hiding for 6 months make their first appearance and I start adding more butter to my grocery list.
This post on Food52 outlines exactly how to make Martha's Mac & Cheese with beautiful photos.
TO FREEZE
Scoop individual sized servings into freezer containers. Reheat gently in microwave. And some milk if it seems dry. Once it's heated through put under the oven broiler to re-crisp the croutons.
---
I plan on filling the next 6 months or so with bowls of comfort food. It's a well known fact that comfort food almost always comes in a bowl. At least true comfort foods do.
My chili gets made regularly in the winter and I'll happily eat it for 3 nights in a row. Anything left over gets put in these small glass bowls and put in the freezer. I like them because the lid is raised instead of depressed so when the food expands in the freezer there's room. I don't always have bread in the house so I make sure I include a couple of slices of bread in the freezer with each serving too.
TO FREEZE
Freeze in glass freezer bowls or baggies.
If you don't always keep bread in the house, stick some toast in a baggie along with the chili in the freezer.
---
Classic Beef Stew
Let's all ignore the fact that this photo looks like, well less than appetizing.
BUT it's a well known that the uglier the stew, the more delicious it is.
I don't use a strict recipe for stew, but I basically follow the America's Test Kitchen cookbook beef stew recipe. It's out of print but you can get a used copy here.
SINCE it's out of print, I'll share the recipe here. I change it a bit, but this gives you a good base.
The next time I make stew I'll try to get my shit together enough to do a post on exactly how I make it.
TO FREEZE
Toss into glass freezer bowls and stick in the freezer.
I'll be honest, it doesn't freeze the greatest, . Only because the potatoes can (but don't always) get weird and grainy.
Whenever I worked out of town shooting one of my television shows, I made sure I was booked a room with a kitchenette so I could bring all of my own food. The reason for this was twofold - I was given a food per diem by the network or production company and if I brought my own food I could squirrel that money away to buy jelly beans. Secondly, I didn't want to eat garbage the whole time I was working.
Even though it is a tiny bit weird after freezing, I still brought this stew as part of my preprepared frozen meals whenever I shot a show out of town.
---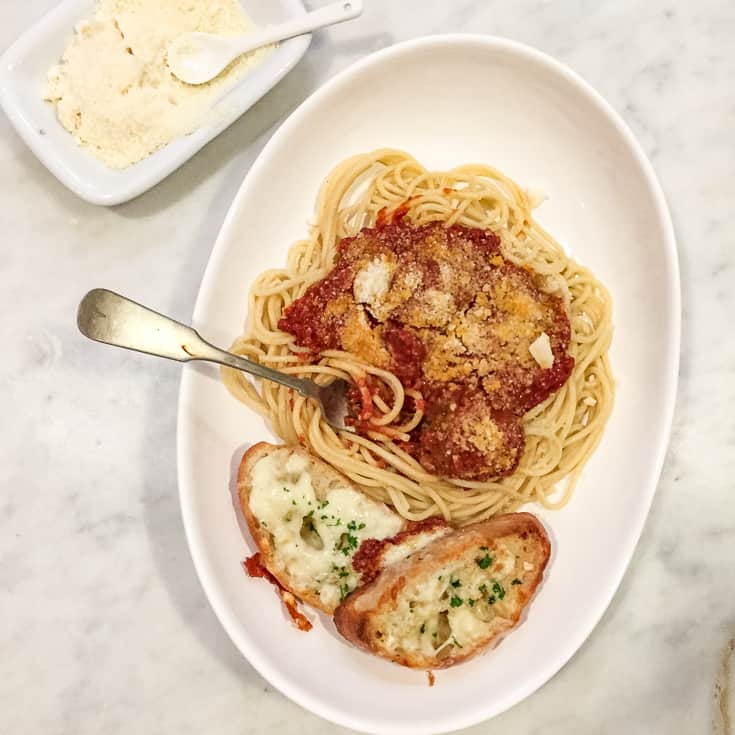 Again, an old, bad Instagram food shot, but I cannot stress enough how delicious this recipe is.
You can completely change the flavour of it just by changing the length of time you cook it. Cooking it longer will take it from a bright, tomatoey flavour to a dark, smoky tomato flavour.
It's made with tomato juice.
And the meatballs are cooked entirely in the sauce.
Why? Because Canadian tomato juice is made of 100% tomatoes that have been pressed. The exact thing you make when you press tomatoes for canning at home. Because of that, Canadian tomato juice is the best substitute for a tomato base to almost anything. I press my own tomatoes so I use those in the recipe instead of tomato juice.
In the US, however, most tomato juice is made from concentrate (tomato paste + water) but the results should be the same.
Delicious. And if you're worried about the meatballs being pale and brown, they float a bit to the surface as the spaghetti sauce is roasting (didn't I mention it's a roasted spaghetti sauce?) and get beautifully browned.
TO FREEZE
Put in glass freezer bowls. If you have leftover garlic bread, wrap it in tin foil and freeze that with it too.
I'm not one for freezing pasta but the sauce freezes like it was born to be frozen.
---
Because they're all things you can freeze in a bowl, they're also things you can share with someone. Plus if you're having a stupidly busy winter night of doing puzzles and watching snow fall everything can be thawed and reheated faster than you can say Shit, someone's at the door, where's my bra?
Those meals will be on rotation, interspersed for the foreseeable future and I'm smiling like a lunatic just thinking about them.
Which is unfortunate, given that I'm currently at a funeral.
My condolences to Mother Nature on the death of fall but congratulations on the resurrection of winter.
---
If you're someone who read this post to the very end I have something special for you. I've been working on something for the past few months that I'll be making public in the New Year. I can't tell you anything about it but I guarantee it will be fun.
If you want to be the first to find out about my new project click here.
DO YOU WANT TO BE THE FIRST TO HEAR ABOUT MY NEW PROJECT?