I've been giving away a lot of flowers and bakin' pie. That about sums it up. No need to read further.
What did I tell you? And yet here you are demanding I stretch this out. But I'm telling you, I gave away a lot of flowers and I baked a pie. I mean really that's it. At least those are the things I remember. If I were to think about it more I suppose I could come up with a few other things.
Oh! I ate a lot of my Halloween candy this week. So points for me. I STILL have Halloween candy available to eat! That's impressive. We're 2 weeks into October and normally I'd have eaten the entire box of 95 mini chocolate bars by the end of September. Sure it's because I also bought mini Pringles and ate a case of them but an accomplishment none the less.
The worst part is I hid the Pringles on myself. I knew where I put them of course but I really thought my plan would work. Out of sight out of mind. I honestly thought my bedroom was a good hiding place on myself.
I probably wasn't going to go to the trouble of dragging the box out from underneath my bed was I? That'd be kind of pathetic. As it happens, I patheticed 32 containers of Pringles.
More than once I've thought about not writing this Sunday post, but instead keeping a diary outlining the weird shit that happens around here every single day – because it does happen. Then I would just publish my diary every Sunday. Easy.
That way all of us would be informed about everything I did.
Oh God, that sounds horrifying. And boring. Cancel diary plan.
O.K., so I see you're still here, expecting words in between these photos. I'm sure because I teased you with that suspense filled Halloween candy story, you think I'm holding out on you and I did more than give away flowers, bake a pie and eat Halloween candy.
But I didn't.
Actually I did attend a ZOOM meeting with my local dahlia society and learned about how award winning dahlia people do their stuff. O.K., so let's talk about the Dahlias up top as long as you're still here. I've discovered that I really, really like a collection of vases for displaying dahlias as opposed to actual big-ass arrangements. Those are good too, but this does a better job of showing each bloom off.
THE DAHLIAS
I knew that was your next question. I'm basically psychic. HOLDDDDDDD on. Does thinking about something count as doing something? Because I've been thinking about the fact that I'm excited about digging my dahlias this year.
If you grow more than 1 dahlia you know that digging them up is the grossest job. You have to dig them up and wash them off then store them. You can divide them before or after you initially store them. I always divide my dahlia tubers closer to spring but this year I've decided to do it right after I wash them off (as my dahlia society people do). And even though it's a tedious job to split them I'm SO EXCITED to know how many MORE I'll have for next year.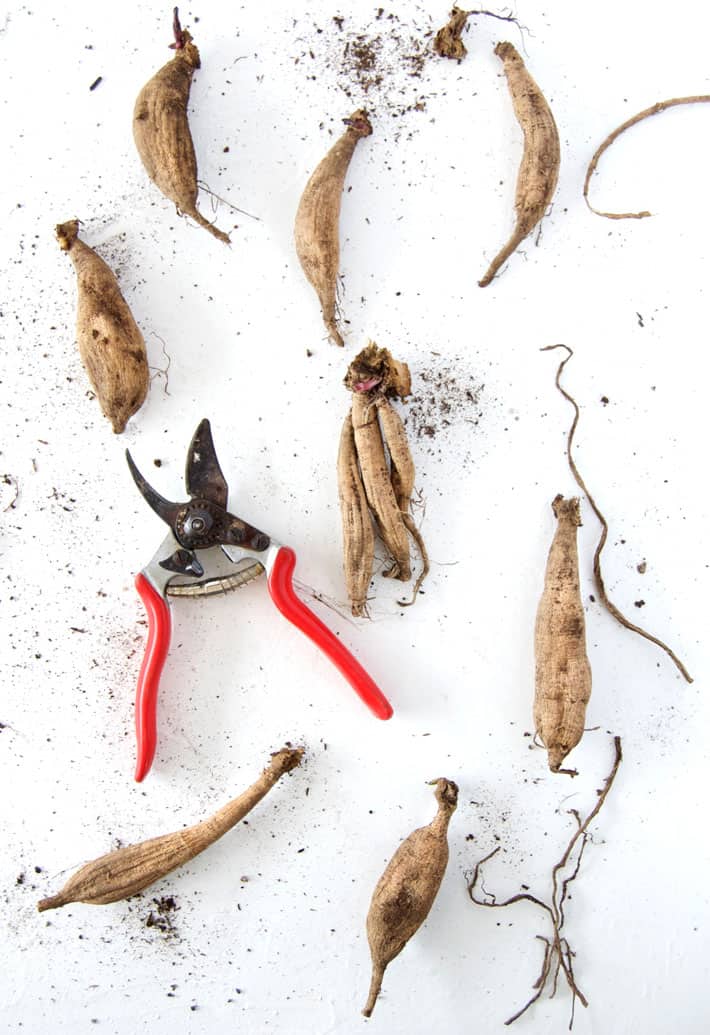 Learn how to divide dahlia tubers in my post here.
For those of you who don't know, when you plant a dahlia, you plant a tuber (like any of those up above) but what you dig up at the end of the season is a whole clump of tubers. That means your dahlia stash quadruples at the least.
Keep that in mind when you buy dahlia tubers. You might need 10 of them to fill a big border around your house, but if you can wait just one year, that one tuber you plant could very well end up giving you the full 10 (for the price of one).
SOFA
Have you been wondering lately if I ever got my English roll arm sofa? Because I haven't. Nope. I'm still sitting on my sectional sofa. Why you ask? Ohhhhh so many reasons.
I love the English roll arm sofa. That's a well known fact. The one above is my idea version of it. But here's the thing. They're deep. A bit deeper than my room can actually accommodate. You can find a few that are less than the standard 41″-43″ deep but they also don't look quite as good.
ALSO and this is really what's giving me pause … the arms, the things I love most about the sofa, are low. The placement of my sofa in my room means I'd be laying on it to watch television as opposed to sitting. Those arms? There's nothing to lean against. My head would loll off the end of the couch like a a Slinky.
Therefore I'm open to branching out. Even though it's my ideal sofa. It's not my ideal sofa in this room.
Enter – Ikea.
This week this ad showed up on my Instagram feed. (I guess more things went on this week than I initially thought). Anyhow, when I saw this ad on my Instagram page I was quite excited. I liked the sofa, it had more arm to rest my head on plus I liked the kind of grubby looking slip cover.
I had already made plans to buy multiple slipcovers for it on account of all the money I'd be saving by buying an Ikea sofa instead of a higher end sofa.
Ikea no longer sells this sofa.
If I don't find the perfect sofa soon I'm just going to line up a bunch of bean bags along the wall in my living room. Pleaseeeeeee I just want the hunt to be over. The best gift in the world right now would be to open my eyes and see the perfect sofa materialize.
I'm exaggerating about that being the best gift. Obviously a sloth is the best gift.
ENGLISH COTTAGE GARDEN
Coming up on Monday I'll be featuring my front yard English cottage garden – Year 3.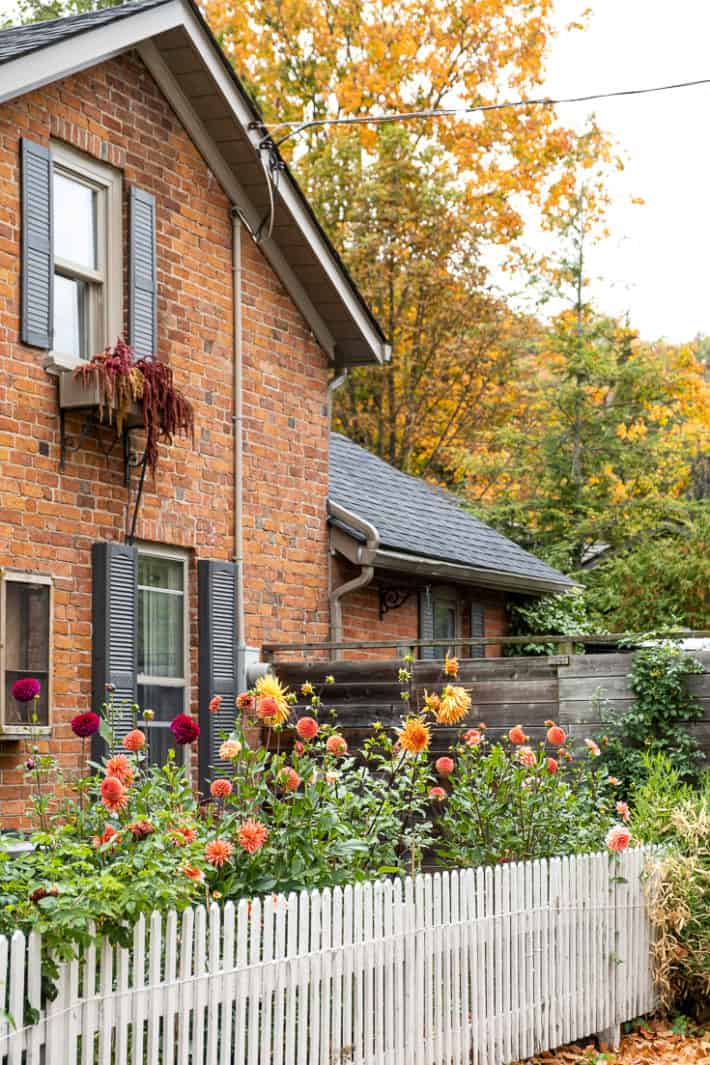 It's starting to actually look like an authentic English cottage garden. And all it took was 152 dahlia tubers.
Not really. I planted 30 tubers, but not all of them survived.
It's currently 10 o'clock at night and I'm about to start setting the table for Sunday's Thanksgiving dinner. It's me and Betty. And yet I'm preparing pretty much the same amount of food as I do when I have 12 or 14 people. And that means LEFTOVERS. Want a tip? Make a lot of extra mashed potatoes. Just load up on the mashed potatoes. Then turn those into mashed potato pancakes.
See? Flowers, pie, candy, dahlia, sofa. That's it.
Also I got engaged.
WAIT. No, sorry, my niece. My niece got engaged! I definitely would have remembered if I got engaged because I'd be wearing an engagement sofa right now.
Have a good remainder of your weekend and Happy Thanksgiving to everyone across Canada from coast to coast.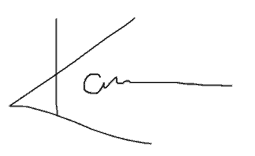 →Follow me on Instagram where I often make a fool of myself←