If you still haven't been filled with the feeling of Christmas it is not your fault. It's just that kind of year. For those of you reading this post in the year 2040, just so you know - 2020 was a real struggle. Keep on scrolling, I've got a booster shot for Christmas enthusiasm.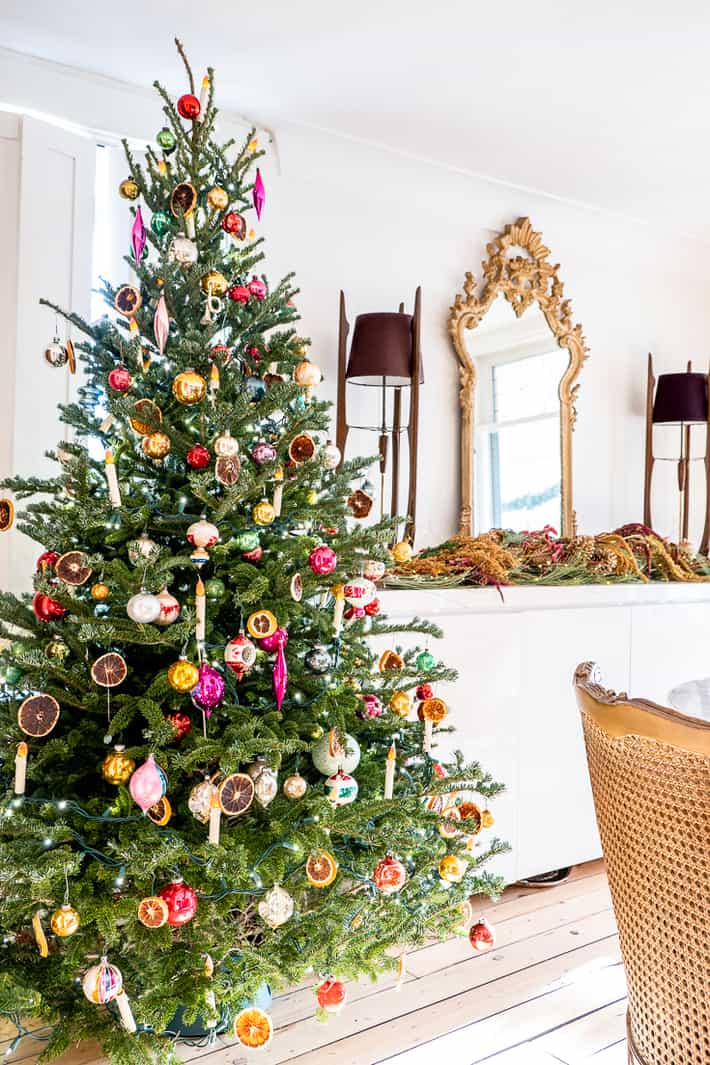 Listen, I've got to tell you - it appears as though the amount of bows you use in decorating is directly proportionate to the amount of deadly virus floating through the air.
That's just kind of a warning that I've gone bow crazy this year. Which, as someone who isn't a fan of bows, means more than 1 bow.
O.K., let's get this tour underway. As always my Christmas tree is in the front hall and it's covered in my dried orange slices and antique Christmas balls. The lights are regular LED lights that I've fit with homemade Christmas tree candles.
Nuts fill a low bowl on the table because cracking nuts and having their shrapnel-like shells shatter around the room for you to step on later is a very good way to forget about other bad things for a while.
The Victorian Christmas Tradition of Dried Flowers.
For the first time I planned ahead and either dried or preserved a lot of the flowers from my garden. I then used them around the house in greenery for a Victorian feel.
On the buffet I intertwined Hot Biscuits Amaranth, Celosia, and Opopeo Amaranth with garland and pine cones.
The rest of the preserved flowers are going to show up in a bit, when we get to the dining room portion of the tour.
The living room has been given a winter makeover with really just the odd touch of Christmas garland and - yup - bows.
The bows you'll see throughout this post I made with red velvet fabric my mother was getting rid of. I like the way actual fabric bows, fall and droop.
For a wintery, cozy feel I've set sparkly pears in a modern dish with legs, threw some extra blankets into the room, added a couple of board games around the room and more candles.
Things like plaid throws and wood skis really fill up the space and make it feel Christmassy and cozy, but they're things I'll feel good about leaving out for the entire winter season, not just the month of December.
The bows and garland drive home Christmas and w hen they're added to a wintery room, make it feel like the holidays.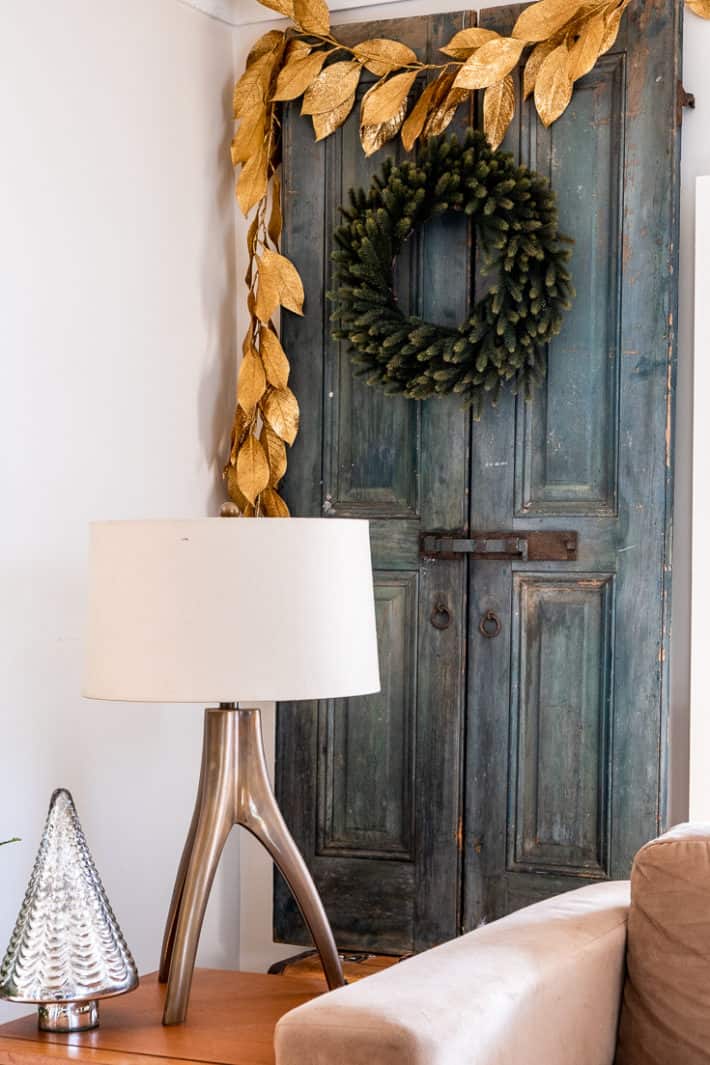 If you're an Art of Doing Stuff addict then you might notice that these doors are new. They're authentic painted wood shutters complete with the original hardware. I just bought them this month from a longgggg time friend whose father had them shipped from France years ago.
I wasn't even going to buy them. I did a lot of hemming and hawing about how I didn't really have any need for painted, antique wood shutters from France and where would I put them anyway.
I was such a dummy.
Anyhow, the good news is I smartened up and bought them. For now they're leaning against a corner wall, propped up on some old suitcases behind the sofa.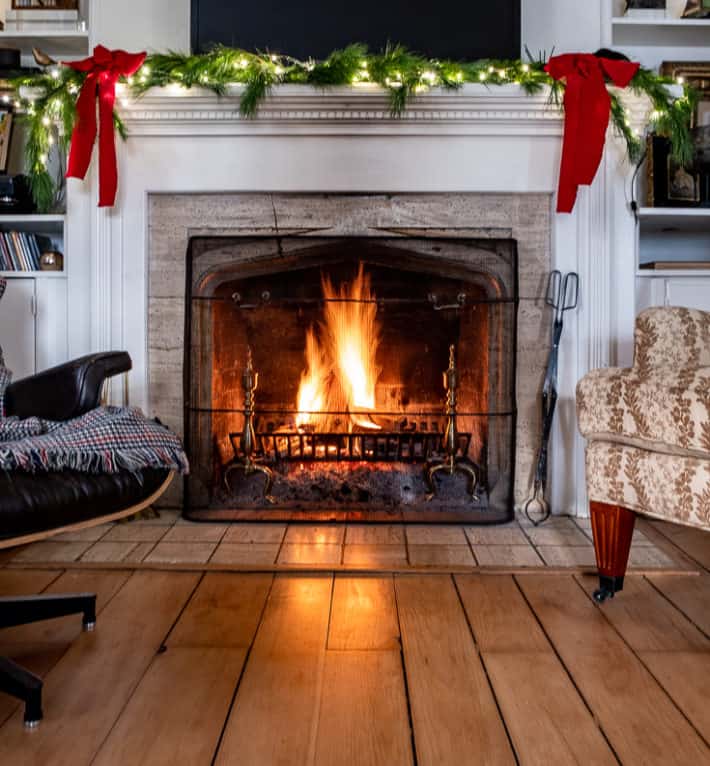 I think we can agree all this fireplace needs is a dog laying in front of it.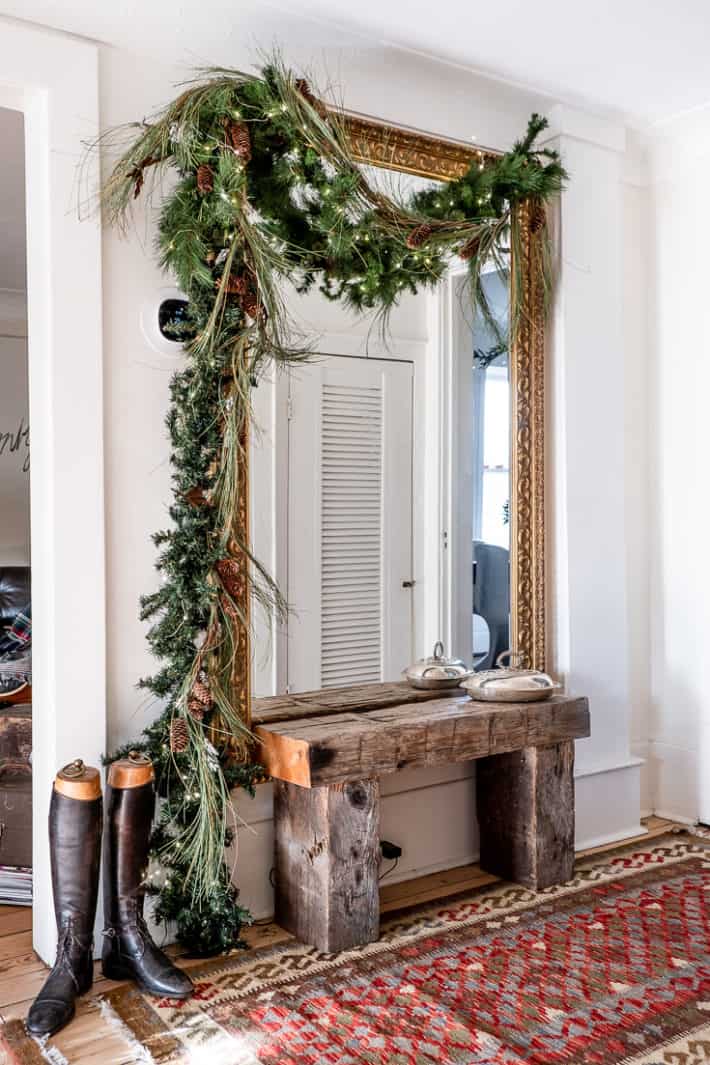 After a year of hiatus, the garland is back on the big mirror. If you look closely to the bench underneath there's a silver domed dish. Under that dome is a squirt gun. No there isn't. It's filled with After Eight mints. At least it was up until about 4 hours ago.
O.K., we're going to walk down my enormous 2' long hall and enter the dining room.
Here there's fake garland from Ikea running from the light in the middle of the dining room to each corner. It's lit with these copper wire lights which are the ONE thing you should buy for Christmas decorating. You can do ANYTHING with them and they'll warm your house up all cozy-like. Scrunch the wire lights under a glass dome, run them on top of cupboards, if they're battery operated like these you can put them under the skirt of your table to make it glow down, run them around the interior of your windows ... it's never ending.
Other than my Christmas tree lights, these are the lights I use on everything.
The dining room's full on Victorian look is courtesy of the the silver meat dome, the clementine oranges and the candelabra wreaths which are filled with more preserved flowers from the garden.
And yes. I know. There's a deer's head on the wall which you absolutely ___________!!! (insert love or hate in that space because I know it's one or the other)
If this were a normal year I'd have an imitation pigs head with an apple in its mouth under that dome. But it's not. No one will be coming to my house, casually lifting the dome to see what's underneath and screaming in horror - so why even bother?
Again, the red velvet fabric bow on the end of my saddle which is also fancied up with some a live evergreen swag.
Here you can just get a better look at the candelabras. The actual candelabras I got at the Christie antique show in Canada.
O.K., backing up into the kitchen.
The worn, metal bells hanging from the drawers are from my sister's store. The garland on the top of the hardware cabinet is just individual sprigs all laid in a row with my favourite copper string lights. And to top it all off the pig has a massive red plaid bow which I acquired at a rather exclusive Dollarama store.
I have somehow LOST a mini Christmas tree. I used to have 2 of these little trees from Ikea, but I must have eaten the other one last year in some sort of faux evergreen craving.
Mercury glass Santa Claus found at a garage sale about 10 years ago for $2. I know because the price tag is still on the bottom of it. Am I the only one who does that? I almost always tape the price tags of things I've bought to the bottom of it so I can remember what I paid for it.
Is that weird?
Oh look. Another bow. Along with a box there are store bought cookies. Bought. From a store. That's right. I bought cookies that were ALREADY ASSEMBLED!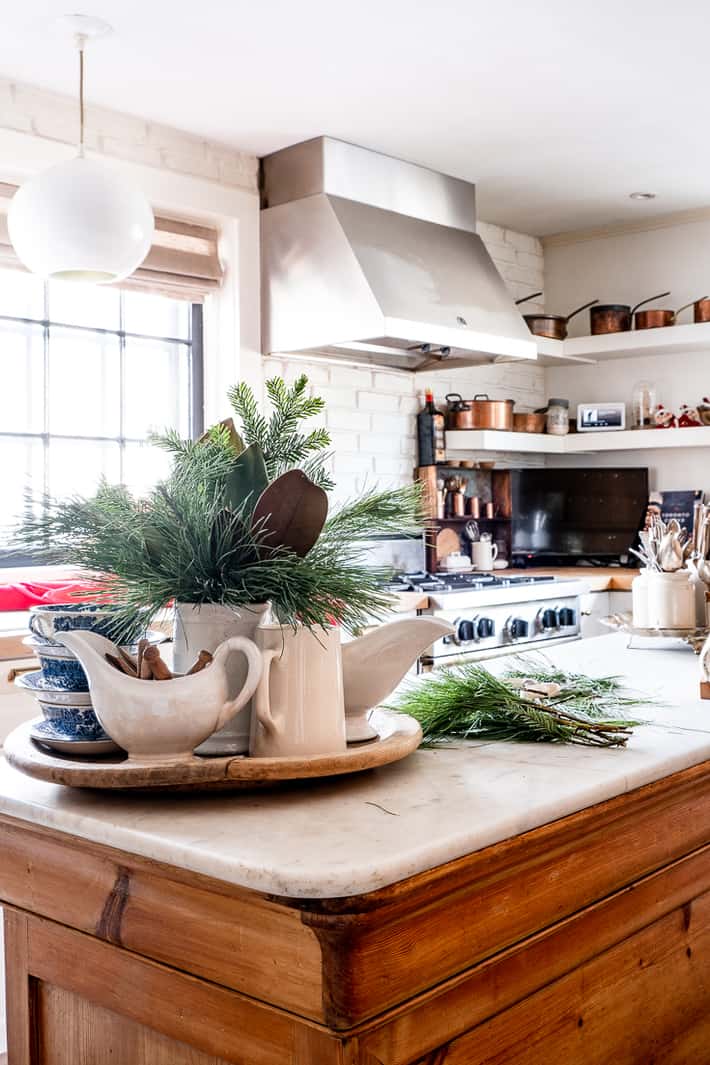 If you don't have a lot of time or energy or money, evergreen branches are the other thing you can use to make your house feel instantly like the holidays.
You don't even have to be talented to arrange them. They kind of arrange themselves. Just cut the evergreens, strip the needles that are below water and stick them in a vase, jug, glass or bowl.
Drop a red bow on it or scatter a few oranges around and you're done.
Did it help? Are you feeling a little more inspired to get your house ready for Christmas? Or more inspired to actually embrace this season?
With less travelling, less visiting and less pressure this year actually has the potential to be the most relaxing Christmas you've ever had.
You just have to wrap your head around it and look forward to different things. Instead of a big family dinner, look forward to staying in your pajamas, making yourself your favourite dinner or appetizers, and laying around doing absolutely nothing more than relaxing.
Go for walks in the cold so you can experience the crushing warmth and coziness when you walk back in your house.
Do a jigsaw puzzle.
Eat your decorations.
Change what you're looking forward to instead of being miserable over how things won't be the same.
When in doubt or feeling down - take a booster shot.