Jalapeno hummus that'll kick you in the pants. Pair it with some toasted pitas or tortillas and it's a healthier alternative to chips and dip. Although chips and dip will always be #1 in my heart.
Raise your hand if you hate it when a grocery store (or any other store for that matter) introduces you to something, gets you hooked, carries it for a few months and then snatches it away.
My hand is raised. Really high. I think I may have pulled an armpit in fact.
I can't even begin to tell you how many times I've stood in a clothing store himming and hawing over whether or not to buy a pair of jeans only to find out months after buying them that I can't live without them. That they are my favourite article of clothing in the whole wide world.
The worst part is ... we never seem to know when something is going to be a "favourite" of ours. It's a gradual thing, a realization that comes on slowly. I usually come to the realization once I notice I've been wearing said article of clothing for 3 months straight and only reluctantly wash it in the middle of the night so I know it'll be ready for wear the next morning.
I've had certain jeans that I routinely thought if I didn't own them I would have to go around in my underpants because there was nothing else I could fathom putting on.
The worst part about the best pair of jeans? They always die. The worst part about them dying? They always die after you can't buy them anymore. Even worse than that, is when you go back to the store to buy another pair a year or so later and you jump for joy because the store appears to carry the jeans, but when you try them on ... nope. They're not the same. For no apparent reason, other than attempting to ruin your life, the manufacturer has changed something about the jeans. Same colour, same label, same name ... different jeans. Stupid jeans. Ugly jeans impersonating your perfect jeans.
It's like when Great Lash mascara changed their packaging a little but said they didn't change the formula, when obviously they did because you never see Great Lash mascara on the "best buy" list of mascara's anymore. Yes. It's just like that. Only different because mascara can't make your bum look good. Usually.
A year or two ago I got hooked on Jalapeno Hummus. I first tried it during one of those trips around Costco when you go in for a massive package of boneless, skinless chicken breasts and leave with enough stuff to start your own Costco.
I brought the Jalapeno Hummus home. I was intrigued. When I tried it, my taste buds danced and sang and lit up like a rainbow. They do that all the time when I really like something. Gradually other grocery stores started carrying Jalapeno Hummus. Different brands and different makes ... EVERYONE wanted in on the booming Jalapeno Hummus market. Apparently I wan't the only one who liked this stuff. I bought it every week for about a year.
And then one week my grocery store didn't have it. I shrugged it off. They were probably just sold out of it.
And they were. I was right on that account. What I wasn't right about was thinking they'd carry it again. For a couple of months I went from store to store, frantically looking for an appearance of my Jalapeno Hummus. It was gone. Vanished. I couldn't find it anywhere.
For some reason my Jalapeno Hummus appeared to have gone the way of the Grape flavoured potato chip. One moment it was on the shelves ... and then it was cruelly snatched away.
On the off chance the very same thing has happened to you, I would like to introduce you to my solution.
Homemade Jalapeno Hummus
You'll need pickled jalapenos and a container of regular hummus. (or make your own hummus)
Drop a blob or two of hummus into a bowl.
Grab yourself a few slices of pickled jalapeno.
Mince your slices of jalapeno. The amount you need depends on the amount of hummus you're making. Plus, it depends on how hot you want your hummus to be. Some like it hot. I'd be some.
Dump your minced jalapeno into your hummus. Add it gradually so you can taste test as you go along.
Also dump in a tablespoon or so of the juice from the jar of pickled jalapeno peppers.
This is an advanced technique, for this obviously advanced recipe that involves both chopping and stirring. Actually sometimes chopping is hard. Like in the case of a mango.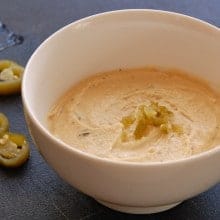 Jalapeno Hummus with a KICK.
This Jalapeno Hummus is a good substitute for regular hummus when you're looking for a bit of a kick from your snacking food. You can make your own hummus or just do what I do and start with a container of premade from the store.
Print
Pin
Rate
Ingredients
1

cup

hummus

1

tablespoon

pickled jalapeno
Instructions
Finely chop 2 tablespoons of pickled jalapenos.

Stir jalapenos into premade hummus.

Add 1 tablespoon of liquid from the jar or can of the pickled jalapeno peppers.

Stir and taste. If you'd like more heat, add another tablespoon of jalapeno.
Nutrition
Calories:
137
kcal
|
Carbohydrates:
11
g
|
Protein:
6
g
|
Fat:
7
g
|
Saturated Fat:
1
g
|
Sodium:
393
mg
|
Potassium:
186
mg
|
Fiber:
5
g
|
Vitamin A:
110
IU
|
Vitamin C:
0.5
mg
|
Calcium:
31
mg
|
Iron:
2.1
mg
Mix it all up and top it with a few bits of minced jalapeno peppers.
Just to be fancy. 'Cause this is obviously a fancy recipe.
Serve with warmed pitas. Or ... if you want to stay with the "fancy" theme, toast the pitas a little in the oven.
Ironically, this homemade Jalapeno Hummus is even better than the stuff I used to buy.
I can't say the same thing about the homemade J Brand jeans I tried to make.
→Follow me on Instagram where I often make a fool of myself←