Even if you don't like vegetable gardening, you might like this new perspective on my community garden.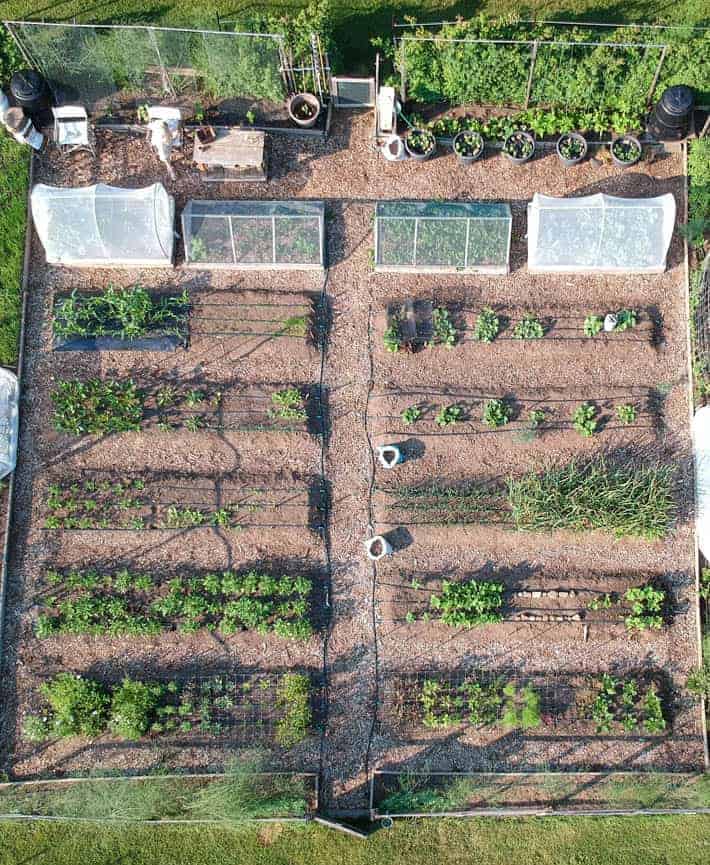 Yup. It's true. After debating about it for a couple of years I finally bought a really tall ladder. Just kidding. I bought a supertall selfie stick. Just kidding. I bought a drone. That's it. No more "just kiddings", I really did buy a drone.
I'm basically exactly like Amazon.
After being jealous of other gardeners' drone shots I bought one myself. I do mean actually jealous - like the kind where you could stab someone's eyes out with the closest knitting needle and not even the drone owner's eyes, just whoever happens to have the misfortune of being near you. More on the drone and all the eyeballs I saved by doing so, in an upcoming post.
But for now, back on firm ground, welcome to my mid July 2019 Community Garden. There have been some early successes, failures and wtf's.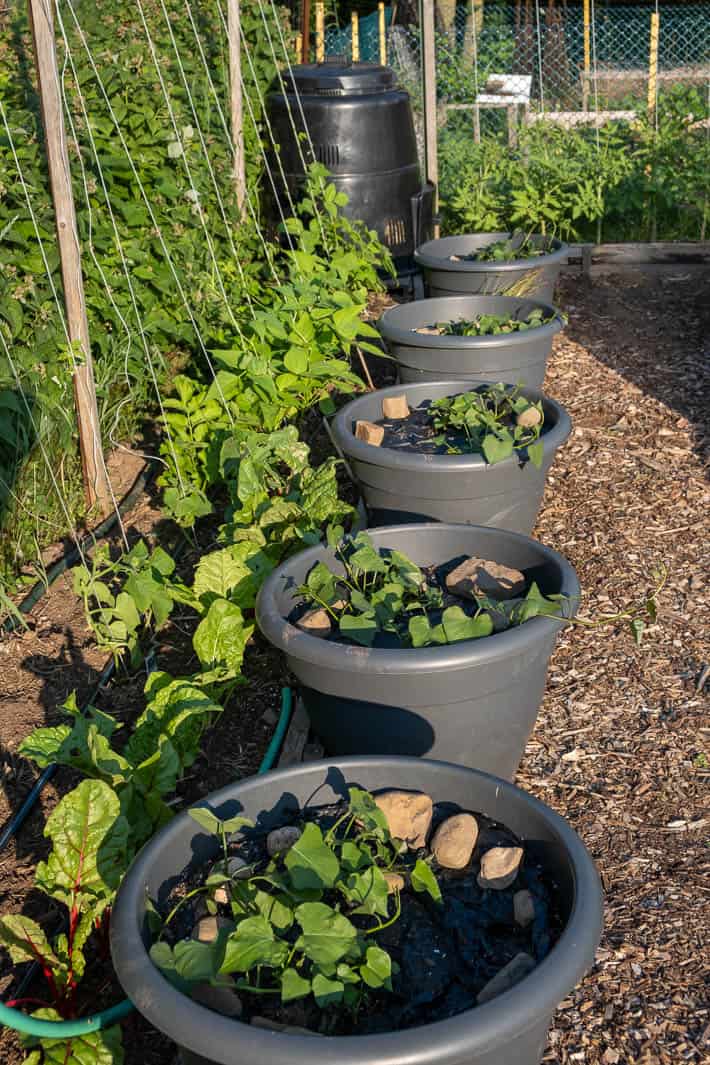 I got a little overzealous with my cruciferous plantings this year ( as one does ) and by the time I'd planted all my kale, broccoli, cauliflower, cabbages, Brussels sprouts and more - I realized I didn't have anywhere left to plant my sweet potatoes.
So into these very large, very useful pots from Lee Valley they went. The pots are black which is perfect for sweet potatoes because they like the heat. I just covered up the soil with some thermal plastic and held it down with one of my most important garden tools - big, dirty rocks.
Big, dirty rocks are perfect for a) holding black thermal plastic down b) holding floating row cover down and c) playfully hurling at people in that carefree, fun, summertime way.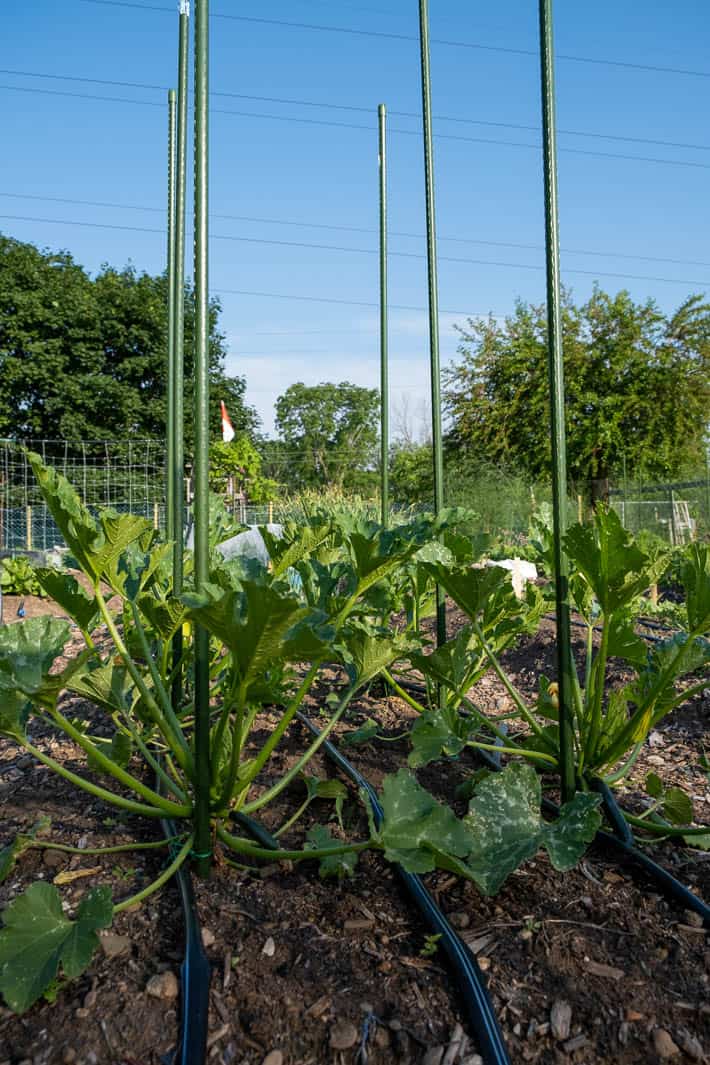 Powdery mildew has set in on the zucchini plants before a pickable zucchini has even arrived. Zucchini can withstand a fair amount of powdery mildew before they finally croak luckily.
Also, note that I stake my zucchini plants and don't let them sprawl all over. Staking keeps them tidy, helps limit the powdery mildew and allows the zucchini to grow straight down.
How to Stake Zucchini
You can read my full, in depth tutorial on how to stake zucchini here.
But in a nutshell:
Stick a stake in the ground.
As your zucchini grows, tie the stem to the stake.
Continue tying the stem to the stake as the zucchini grows.
Remove all the leaves below the lowest growing zucchini. Just cut the leaves off right at the stem where it isn't hollow anymore.
Eat the first 25 zucchinis then start dropping them into open car windows.
My leeks are just about to the point where I'll dig them up and replant them like I showed you here.
The two flower beds I planted are just starting to show some action. Poppies are still going strong and I'm beginning to question my overall ability to make day to day choices in my life. Because if I've gone this long without growing poppies who knows what else I've been doing completely wrong.
This is a variety called Bridal Silk from William Dam Seeds which I grew from seed indoors. You aren't supposed to start poppies indoors for the most part. They go into shock when you plant them out. But I've never EVER had luck direct seeding poppies so this year I started them all indoors and they all did fine once I planted them outside. They were a tiny bit shocked for a while but they got over it.
Like me when I see the price of celery, but really need to buy celery.
What you're looking at here is my wheat field. I will soon harvest my own wheat, thrash it, remove the chaff and grind it into flour that I will turn into exactly 4 buns. If this works for me I'll eat Laura Ingall's bonnet.
String training. You know it's the only way to grow tomatoes and beans and cucumbers, right?
If you haven't heard me blabber on and on about how great the string method is (especially if you like a tidy, in control garden) read this post.
I even string trained Idris Elba once.
I would like for you to take a look at the beds on the right. Then count up two. See those rocks? This represents the 4th great use for big rocks in a garden.
There lies my cemetery of chick peas. Not a single one even broke the soil. Bless their hearts.
The drip irrigation system I installed in 2017 is still going strong as are all of the hinged hoop houses.
The Tam Jalapeños that almost weren't. I didn't have an easy time starting these seeds that were probably about a decade past their germination prime.
But I kept at it because they're a less hot version of Jalapeño pepper which I need for making my 38 calorie Jalapeño Poppers. Hot peppers are a crapshoot no matter what. Their heat is partly due to their variety but also weather and water. So unless you're growing them in a controlled environment of some sort you won't know exactly how much heat the pepper is going to have.
I don't know this cucumber by any name other than a Danish cucumber. It's HUGE and white inside and is used to make traditional Danish pickles called Asier. I'll need about one cucumber (kind of a gourd really) to make approximately 9,874,306 jars of pickles. So if you need a cucumber that could feed the entire crowd at Coachella, let me know.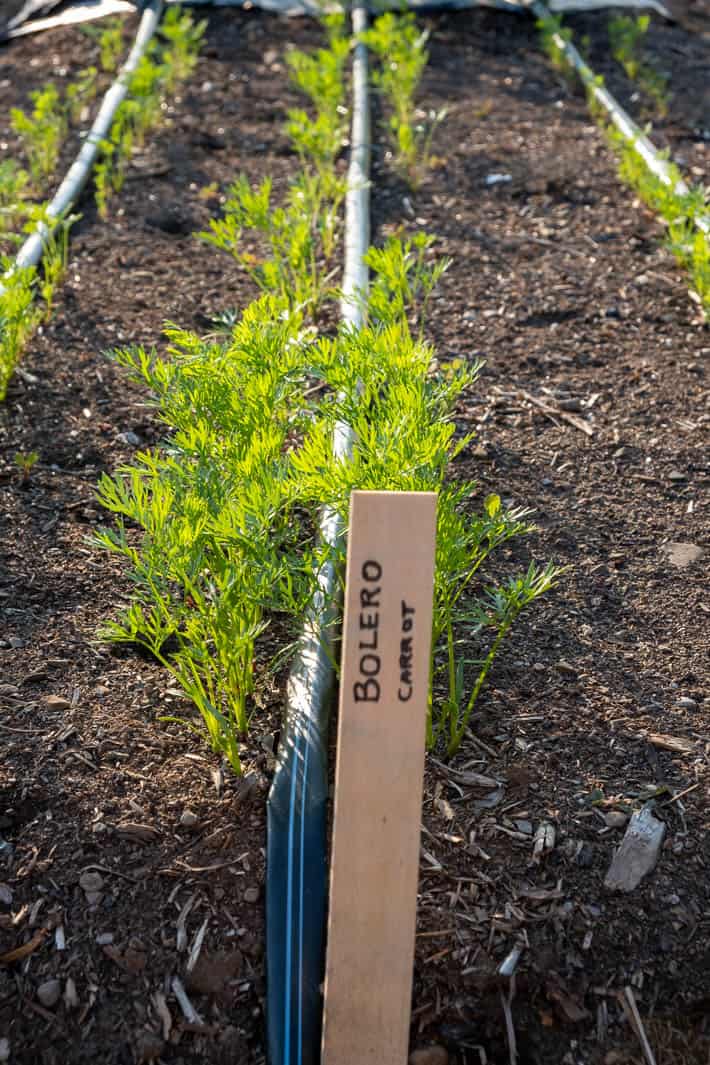 No joke. I am STILL eating these carrots from last summer's harvest. I just stick them in a box of peat moss and put them in my mudroom. Other varieties get mushy after a few months (purple carrots get mushy the fastest) but these last FOREVER.
It's not huge, but I'm trying to think only good thoughts for my Luffa plants. I have 5 or so growing along the back wall of my garden. Just in front of them I've stuck shallots.
This wall of chicken wire is where the luffas will be growing and hanging off of (hopefully). Those are my garden chairs that I never sit on.
And if you think my plot is neat check out the plot to the left of me. Mine is the double wide in the centre. The plot to the left of me is owned by a landscape designer and it's like a park. I mean it is meticulous. People literally stop and gasp when they walk past it.
Swede Midge damage
Here's a possible wtf. I don't know if you're familiar with Swede midge but they're assholes. The Swede midge is a tiny flying insect that lays eggs in the growing point of brassicas. They then hatch and the larvae eat the growing tip which mutates your plant entirely. The growing tip dies off and your plant just doesn't grow or if it does it looks like a horror show. They overwinter in soil so even covering up your crops like I did with netting might not guarantee a clean crop. What I don't understand is usually the entire crop is ruined. For me half of my black kale has distorted, browning growing tips.
I don't care all that much because kale - gross. But still, I do eat it in salad and like it that way. Or completely covered in peanut sauce.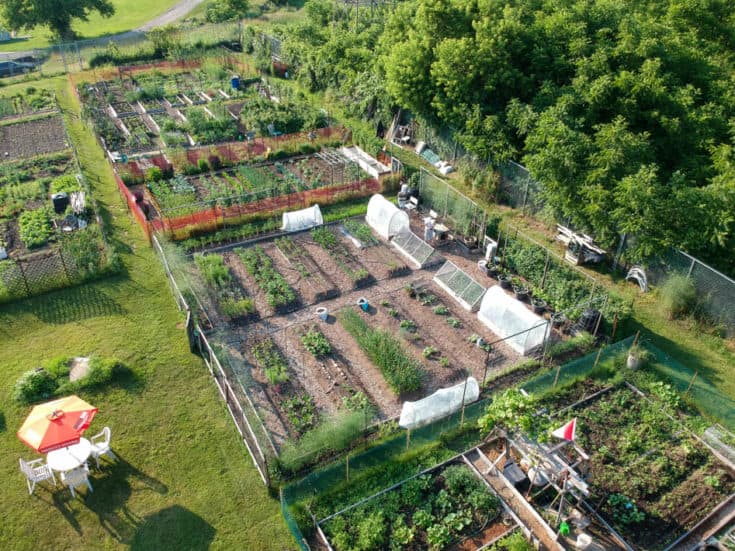 There you have it. Another perspective of my therapists office. Soon the garlic will be harvested and winter wheat planted in its place. Give it 2 or 3 more weeks of growing and all that brown will be full of green.
As will my belly.
Have a good weekend!