Fall soups to warm you from the inside out this season. A delicious black bean perfect served with a crusty roll and lime juice, Roasted Pumpkin with candied bacon and pumpkin seeds, Potato Leek and more …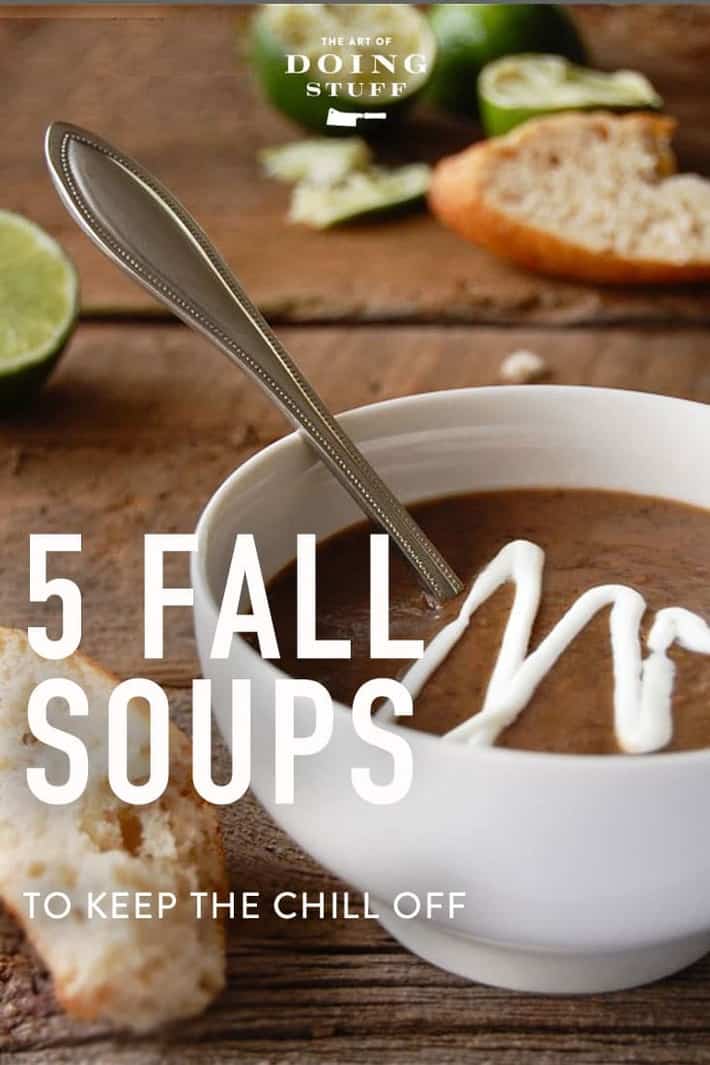 I know you're thinking this is going to be a super-boring post about soup, because how interesting can soup be? But you'd be wrong in thinking that. Very, very wrong. Soup, as it turns out, has a very interesting history, none of which I know about.
I think there's something in there about nomads and broth and the invention of stain remover but you don't need to know about the interesting history of soup to enjoy it so why even bog yourself down with that kind of information? It just takes up brain space that could be better used for remembering phone numbers, birthdays, and the release day of new tv series. That's for the 1% of you. The other 99% of us have cell phones for remembering all of that stuff which is why our brains are now the consistency of soup.
I eat soup all season long but I definitely eat more of it during the fall and winter because a big bowl of soup just seems to warm you from the inside out. Like heartburn with flavour. I generally think of simple vegetable soups as summer soups (think asparagus or broccoli) and heavier, more complex soups as my winter soups. Plus winter soups are usually made out of wintery ingredients like squash, potatoes, carrots and other rooty stuff.
I have 6 soups that are in constant rotation in my kitchen from around October to March. All of them are hearty enough to be an entire meal and all of them are easily adapted to be either vegetarian or vegan.
I always start with a chicken broth base for my soups. So that's the major change you'll have to make if you're going the whole no meat or animal products route. Just change up the chicken broth to vegetable and you're done. Also you might want to omit the sausage from the Fire Broth soup, but that's totally up to you and how dedicated you are as a vegan. You might be one of those sausage eating vegans for all I know.
PUMPKIN SOUP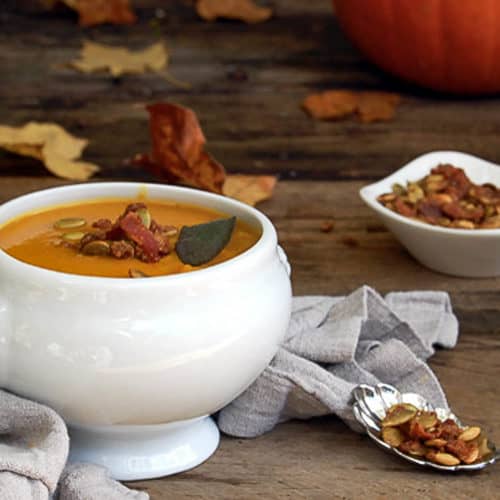 This pumpkin soup recipe is one I stole from an episode of Masterchef Australia, where coincidentally they're just moving away from soup season. I guess that's not a coincidence so much as a never changing event based in the astronomical science of the Northern and Southern hemispheres.
TIP: Don't even think of making this soup without making the bacon and pumpkin seed topping. Just don't. Also when you're at the grocery store pumpkin seeds might be labelled Pepitas.
This Smoked Tomato Soup recipe I stole from a cooking class I went to many years ago. I like to steal soup recipes whenever possible. It's a very inexpensive hobby. This tomato soup has KICK. It's smoked tomatoes and roasted red peppers with a huge hit of hot peppers. It is not meek. It is not for the meek. This is the kind of soup that a) takes a bit of time and b) is worth it.
TIP: You can smoke tomatoes in a regular BBQ just by adding some woodchips that have been soaked in water and wrapped in tin foil. Punch a few holes in the tin foil so smoke can escape and then lay the packet below the grill but above the actual burners.
If you know me you know I like my potatoes. Actually people who don't even know me know I like potatoes. I've never been told but I'm sure I smell like them. In a good way. This is a NO MEASURE potato leek soup recipe. You cut up some potatoes, a couple of leeks then add enough broth to cover everything. The recipe has the full details.
TIP: Only blend potato soups gently, for a very small amount of time and on low speed otherwise you'll end up with a gluey mess.
Carrot soup can be bland and boring. Szechwan carrot soup is not. This soup has carrots of course, but it also has hot pepper flakes, a lot of ginger and peanut butter to give it more flavour than any other carrot soup you've had.
TIP: If you rarely use ginger but sometimes do, grab a hunk of it next time you're at the grocery store and freeze it. It freezes perfectly and you'll never be in that whole "CRAP … all I need is a piece of ginger to finish this recipe" spot again.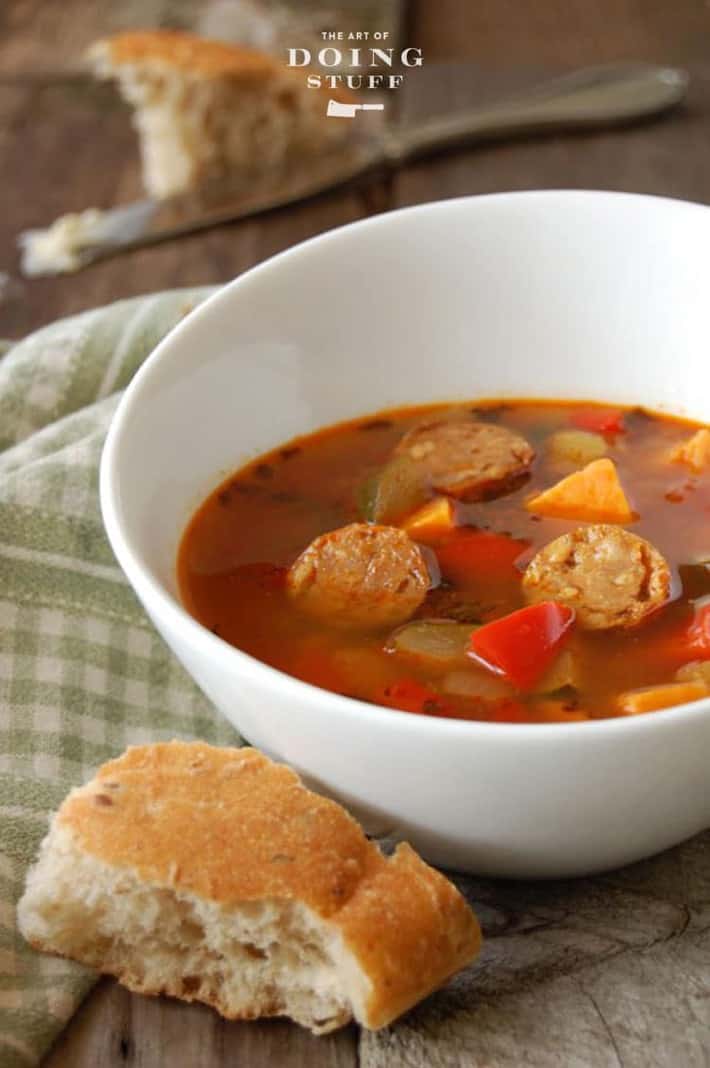 This sausage and vegetable soup is one I stole from a moment in time when I was doing a Paleo challenge with a Crossfit group. I've since denounced both insanties but continue to enjoy the soup. While sitting quietly. Eating hunks of bread chased with a mashed potato milkshake.
TIP: If you don't want to eat Fire Broth soup for the rest of your life half this recipe.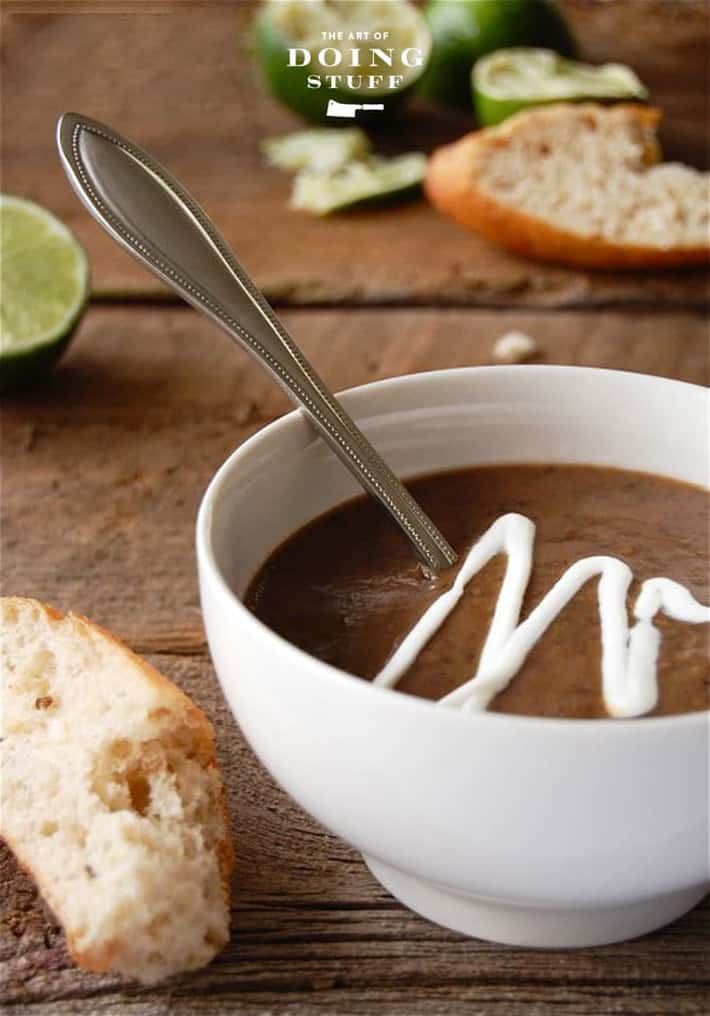 I can't even begin to tell you how many black bean soup recipes I tried before finding one that was really, really great. THIS Black Bean Soup one is really, very great. It's easily one of my favourite fall soup recipes. t's base is an Epicurious recipe that I fiddled with a few times before deciding I didn't need to fiddle with it anymore. It has a deep, dark, black bean flavour with hits of cumin, lime and a base of orange juice.
TIP: This is not a first date soup. It's made entirely of beans. It may not even be a first anniversary soup.
I need not worry about that. Tonight … it is Black Bean Soup. Idris is away.