Growing your own food is easy - once you know what you're doing. Technically you're just pushing a tiny seed into the soil, but the more you know about that seed, soil and the plant that sprouts out of it, the more successful your harvest will be. Here are some of my best vegetable gardening tips.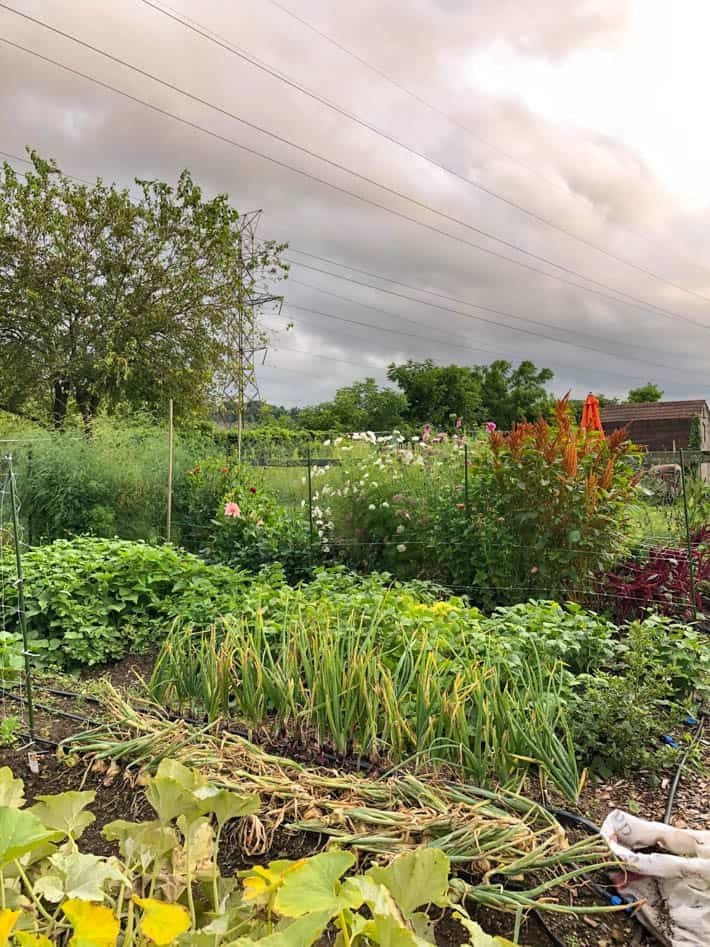 YOU. YOU THERE. You really can grow your own food. NO, stop. Stop arguing with me this instant, you really can grow your own food. NO you don't need a green thumb, that concept is stupid, nobody has magical plant powers anymore. That was something that only happened in the olden days when we used chemical fertilizers.
In case you forgot, check out Part 1 of Grow Your Own Food right here. So, how's it going? Did you try to grow your own food on the first go around? A lot of people let me know they tackled growing pea shoots. Here's a little tip about that. You can also grow pea shoots outside in your garden and harvest them all summer long. Just plant a whole bunch of peas in a row and harvest the shoots as they grow. Just nip them off with scissors or your fingernails. The more you pinch them off the more they'll grow. Eventually they'll get leggy and start to want to grow actual pea pods but until that time you're picking shoots for an unbelievable tasting green for your salads. They taste just like peas!
Are you ready to take on more? Lucky for you, I've got plenty more where the first batch came from.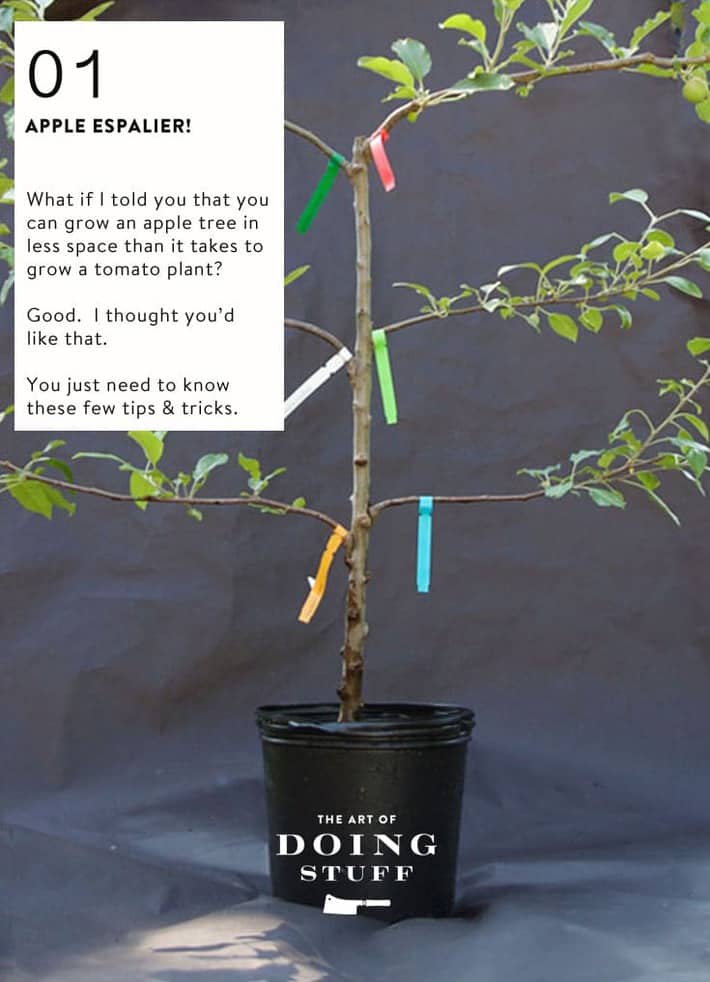 It used to be you could only get espalier apple trees if you grafted them yourself or bought them from a high end nursery for a high end price. Now big box stores carry them. I bought 2 espaliers from Home Depot last year and both made it through the winter perfectly and are flowering like crazy. Not only that, but most espalier apple trees for sale now have 4-6 different varieties of apples grafted onto them. Mine have Jonagold, MacIntosh, Gravenstein, Fuji, Royal Gala and Braeburn.
If you're thinking of getting an espalier apple tree or are considering any fruit tree for a small property please, PLEASE read Grow a Little Fruit Tree. It has an insane amount of information that's easy to consume and remember about how to keep fruit trees small and why buying one that's on dwarf stock doesn't mean diddly squat. A dwarf tree can still grow 20 ft high unless you know the right way to prune it.
Get the info on how to plant an espalier tree.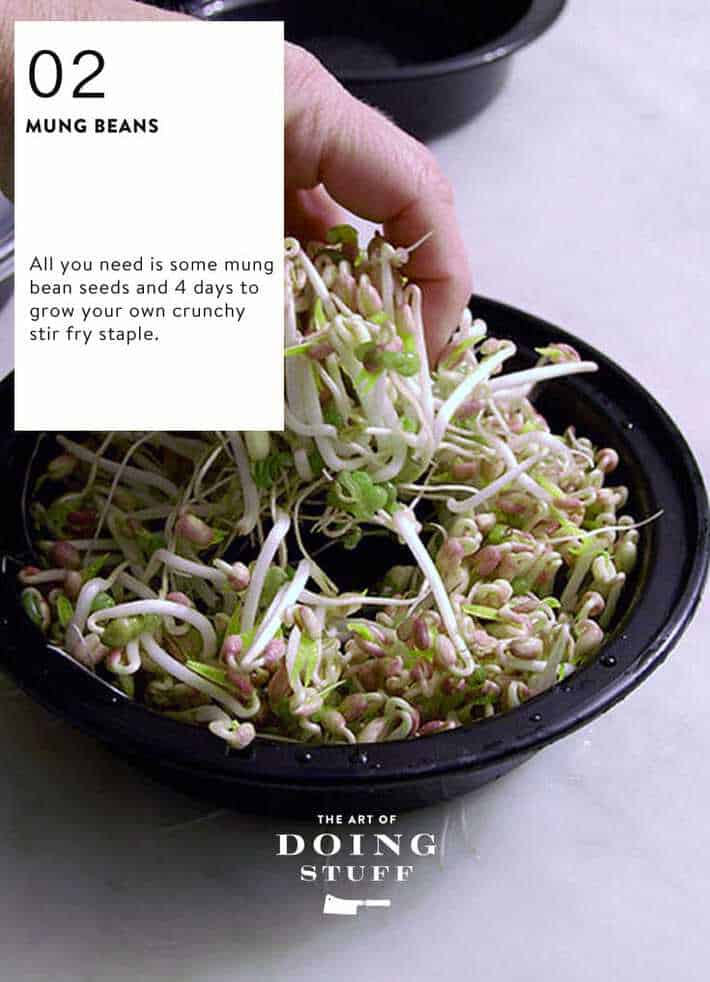 No yard, garden or balcony? No problem. You can still grow your own food. Mung bean sprouts grow in about 4 days and don't have that weird musky taste that some supermarket mung beans have. You can get mung beans for planting at just about any bulk food store and sometimes grocery stores even carry dried mung beans. In this post I show you how to make your own mung bean growing container and all the tips you need to grow, thick, long rooted mung beans.
Get the info on how to grow Mung Bean Sprouts
Garlic Scapes are the whirly things you see starting to grow out of your garlic around the beginning of June. They're beautiful and ornamental and you might even want to leave them on your garlic, but don't! You need to pinch them off for the health of the plant andddddd so you can make the world's best pesto with them. Garlic Scape pesto is hands down my favourite pesto. It has a mild garlicy flavour with a slightly brighter taste than a regular pesto. It's insanely delicious.
Get the info on Garlic Scapes and when to trim them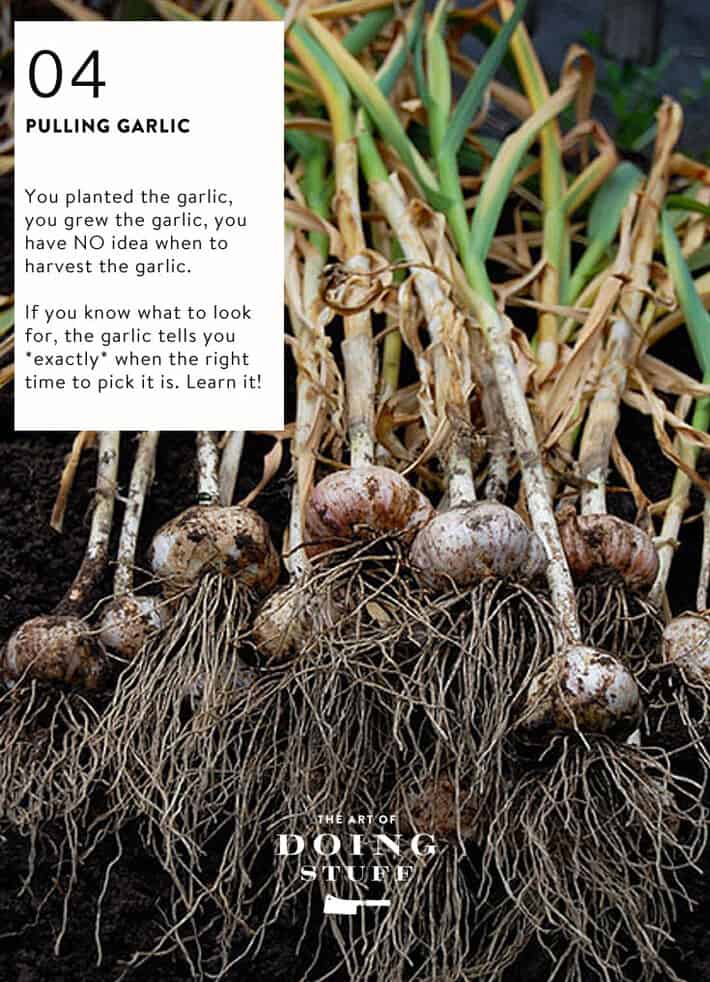 Once you pinch your scapes off, it won't be long before your garlic is ready to dig up. But how to know exactly when to pull it? If you pull it too early you won't have fully formed heads that are as big as they could be. But if you leave it too late your garlic will dry out and the cloves will start to fall apart from the head. This one trick is the easiest way to know exactly when to dig up your garlic.
Get the info on how and When to Dig up Garlic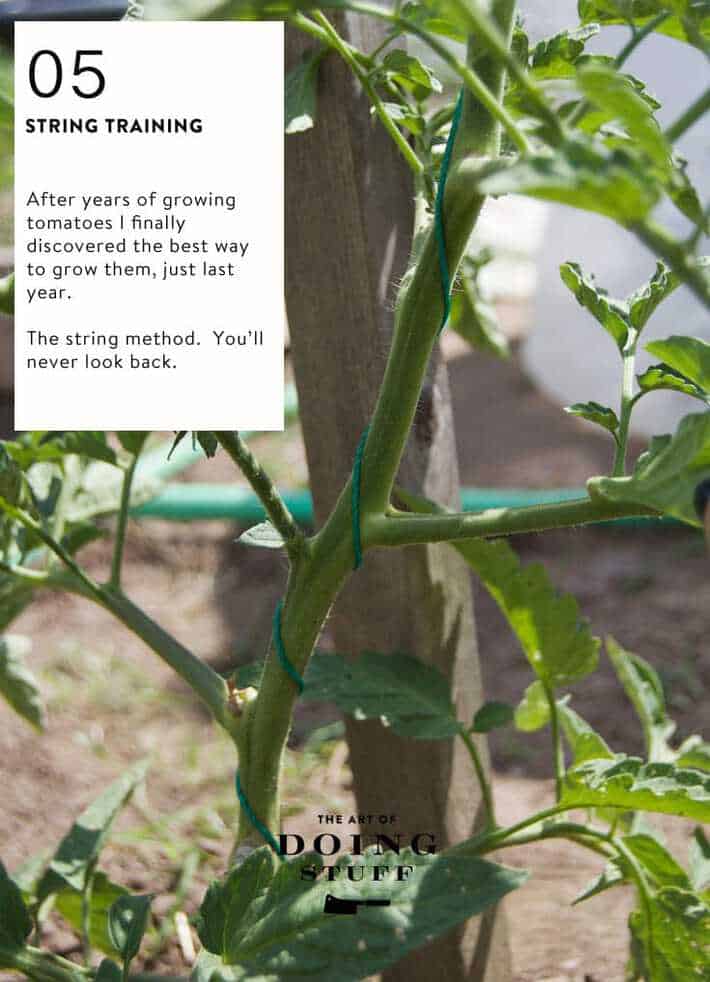 If you only grow ONE vegetable in your garden chances are it's a tomato. Tomatoes are the most popular vegetable in the world to grow. That's a made up statistic but one that I feel pretty confident backing. The only problem with tomatoes is they're big and sprawly and tend to be a little bit bossy in the garden. Over the years I've tried a few different methods to contain them with some success. The Florida Weave is a fairly good method. But last year I discovered the genius of the string method, the method commercial tomato growers use and I was sold.
In fact I was so sold on this method that this year I'm going to expand its use to my cucumbers and squash plants.
Get the info on String Training Tomatoes part 1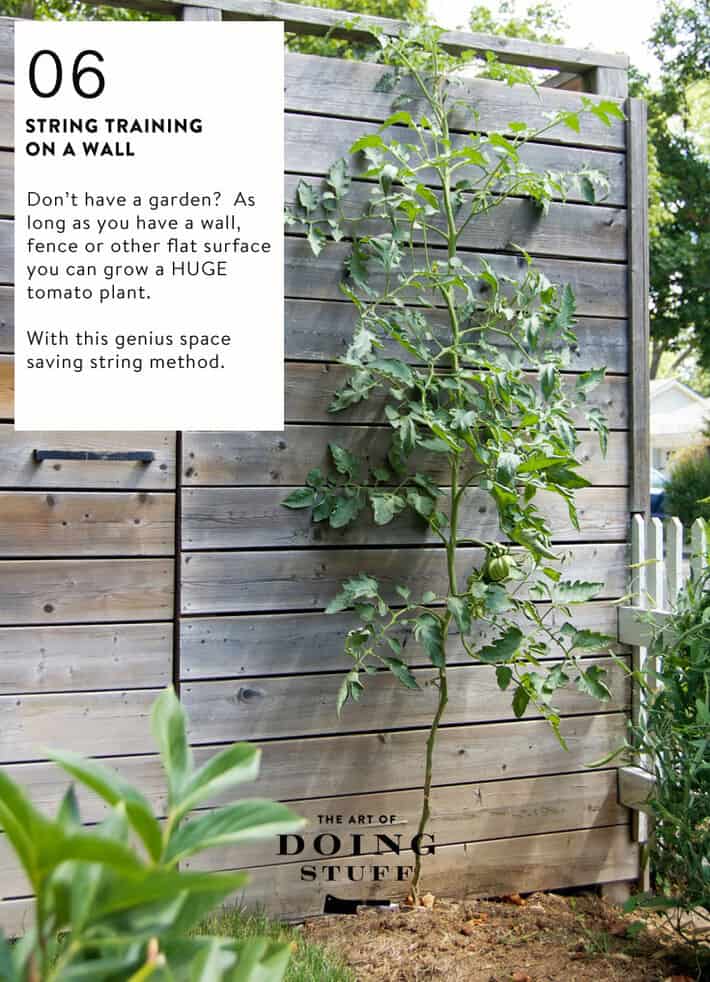 So what do you do if you don't have a garden for vegetables? If you have a wall and a pot that's all you need to grow a huge tomato plant using the string method. It takes up almost no space, grows especially well if you have it against a south facing wall of your home because of the extra heat it gets and you can even grow it on your driveway if you plant the tomato in a large pot. Just shove the pot up against the house or garage wall, screw an anchor into the brick or wood like I show you here and run a string down to the tomato plant from it.
Get the info on String Training Tomatoes on a wall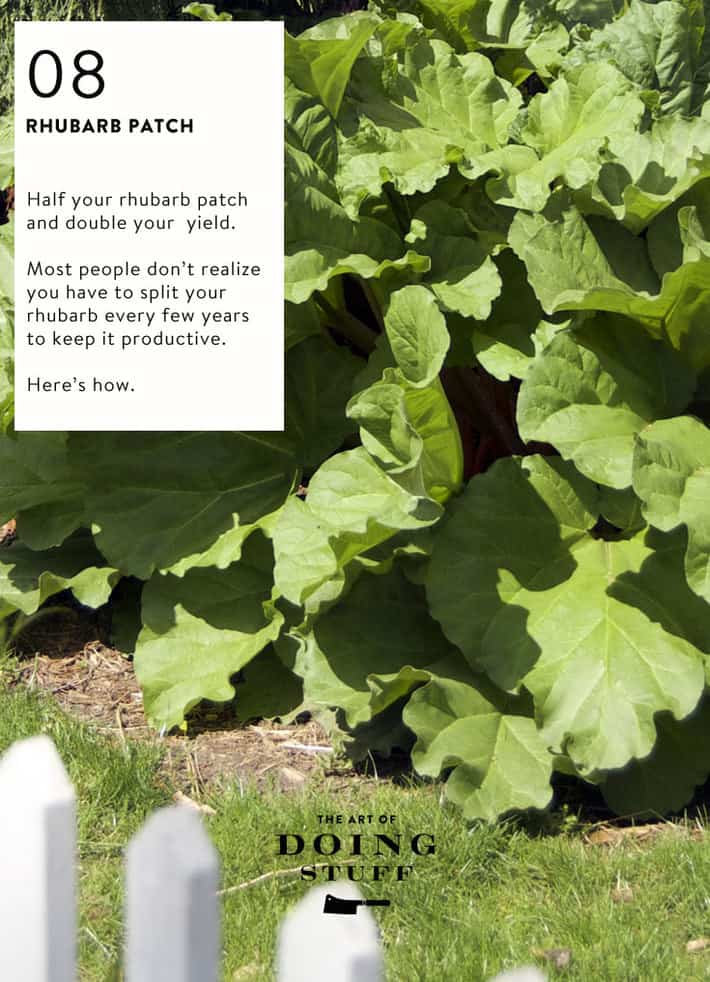 If your rhubarb patch is looking a bit sickly chances are you can bring it back to life. Most people don't realize you're supposed to split your rhubarb. If your patch is giving you sad little stalks split it this fall or next spring and watch it come back to life like a teenage boy after 3 months on Accutane.
Get the info on splitting your rhubarb patch.
Next month I'm going to delve into the world of pests, but we won't talk about those things now, because May is a time for hope in the garden. June? June is traditionally the time for death and despair, otherwise known as voles and flea beetles.
Happy growing.