The good, the bad and the ugly in my community garden this season. I've had pests, weeds, disease and the oglibatory snake filled compost pile. How I still managed to get a huge harvest.
Listen up. Your vegetable garden doesn't have to be perfect to produce.
Yeah, it's great when all the beds and paths look like a cartoon drawing of a vegetable garden - but sometimes it just doesn't turn out that way because you're a human person with busy days filled with stuff to do.
You're not royalty with servants and chefs and an appointed tomato hornworm squisher.
Sometimes your garden just isn't Camilla Parker Bowles ready. This year my garden wasn't even Parker from Gold Rush ready. But I still have enough zucchini to build a raft out of.
I have spent many, many full days trying to weed this garden and get it under control all summer. And yet it still looks like this. And if I'm being honest, the right side of the fence has fallen down.
I propped it up for the photo. Because I'm lame like that.
Why the struggle?
Philip the gregarious standard poodle is the main reason. He takes up a lot of time still. Plus because of Philip the gregarious standard poodle I've had to add a weekly physiotherapy appointment to my list of things to do.
As I've mentioned, this community garden of mine is a large vegetable patch, clocking in at 40' x 40'. It's surrounded by conservation area that's brimming full of raccoons, mink, weasels, voles, rabbits, skunks and possums, who even though they never make a reservation, wander in every night for dinner.
For those of you who just want a look around the garden here's the entire thing in a 2 minute video. For the rest of you, the rest of the post is filled with tips and a close look at most of what I'm growing.
The August Garden in Photos
The squash bed is doing great but I'm a bit confused because I haven't seen any evidence of vine borers. My squash plants always get vine borer in July at which point I cut the stem open and pull the vine borer out.
I can't help but think they're somehow tricking me.
The cabbage has been covered with row cover, which is great, but only if you don't trap a cabbage moth IN the row cover. Which I did. A few times. So the cabbages are mangled and filled with cabbage moth poop.
---
The best way to keep moths and bugs off your plants is with a hinged hoop house like the one I made a few years ago.
---
The potatoes, had a major fight with a gang of Colorado Potato Beetles but they're on the rebound and will do fine.
---
If you have Colorado Potato Beetles, hand picking them off is the best way to go.
---
Potato Varieties I'm growing
Kennebec
Burbank Russet
Amarosa
Peruvian Purple
The Carrot germination was sporadic. I tried planting my carrot seed deeper this year to see if I could get away with not putting boards down to keep them dark and damp until they germinate.
It didn't work. HOWEVER, trying new things that sometimes fail is what leads to discovery.
This is how you're supposed to grow carrots, and I should have just continued on doing it this way.
My compost pile has never been better. It grows by the day. But that could just be the growing mound of snakes in the centre of it.
I haven't turned my pile in a month (bad Karen) partly because of time and partly because I think it's probably housing a variety of things that sneak, crawl and sometimes bite you.
I vow to turn my compost pile this weekend. And video it because ... that's going to be entertaining.
I've Stopped Using Plastic Compost Bins
I have a post on how to hot compost, which is sort of what I'm doing here at the garden. Last year I ditched my 4 compost bins and instead moved to a big pile.
You don't need to cover a compost pile, you don't need it to be in a plastic bucket or bin. If you can stand the look of it you just need to pile everything up like you see here.
The bigger the pile, the more quickly it will heat up and decompose.
WHY do it this way?
Because composting in plastic compost bins isn't practical when you have a big garden with lots of debris (weeds and crap).
An open compost pile like this is easier to maintain because it's so much easier to turn it and water it when it's not contained by a plastic bin.
My hinged hoop houses are in need of a bit of attention but they're still working well.
Hoop House #1 contains sweet peppers and lettuce.
Hoop House #2 contains hot peppers and broccoli.
However, I, because I'm lame, ordered pepper seeds of off Amazon in the spring. I couldn't find a supplier anywhere else for this particular pepper seed; they were all sold out.
I ordered "Sweety Drop" pepper seeds, also known as Biquinho. They're tiny peppers the size of a fingernail that are both hot and sweet. You most often see them pickled in jars or at antipasto bars.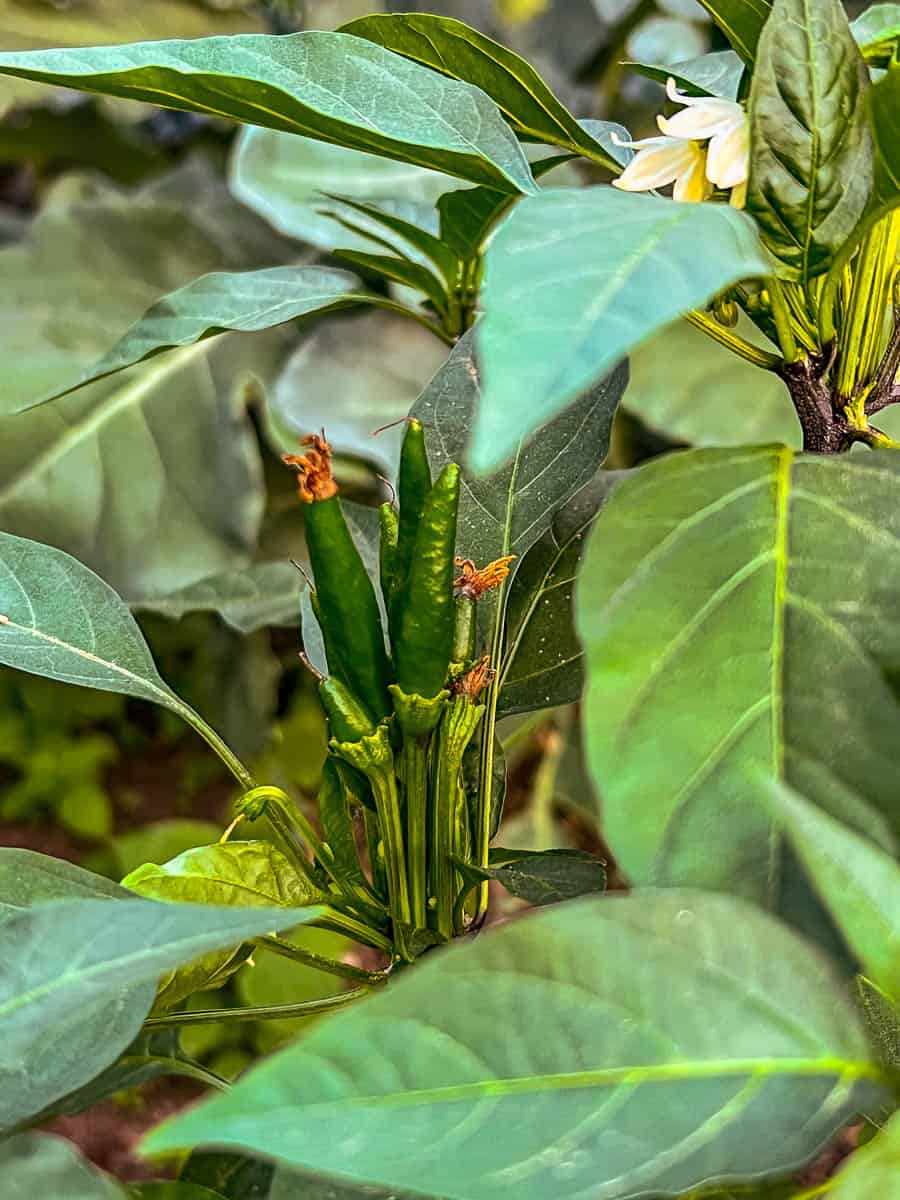 4 months later I've come to find out that the 3 Sweety Drop plants I grew are in fact, random hot Thai chili peppers. And they aren't even the same. All 3 are different varieties of hot peppers. None of which are Sweety Drop.
The broccoli has done beautifully. No complaints about the broccoli. I already have 4 servings of broccoli cheddar soup in the freezer for winter and another 2 heads to roast for the winter as well.
Broccoli Trick
When you cut the head off of your broccoli plant don't abandon it! It will continue to put out shoots of small broccoli heads/florets.
The same is true for cabbage. Cut the cabbage hear the base of the soil and 2 or 3 small new cabbages will sprout from the stem. THESE second cabbage heads are actually a much more manageable size.
Tomato row is succumbing to blight as it usually does this time of year but plants are still generally healthy and the tomatoes are coming in.
You can see the string trellis method for the tomatoes I'm always blabbing about below.
Tomato Varieties I'm Growing
San Marzano (paste tomato)
Purple Boy
Oxheart
Brandywine
Yellow Pear
Generic beefsteak
Black Krim
Juliet (pictured below)
A couple of random heirlooms - I won't know what they are until they ripen, lol.
Pests and Problems
Every year it's a struggle. You are not alone. Even with my experience, my tricks, my hoop houses ... I always have failures.
Bacterial Wilt showing on English cucumbers - caused by cucumber beetles.
Green bean seedling with the tip eaten off by a rabbit. I've had to plant green beans 4 times this year because the seedlings keep getting eaten.
Weeds in my strawberry bed that I can never seen to find time to get to.
Powdery mildew has struck the zucchini plants. I'll spray this weekend with what I recommend in my powdery mildew post.
Cabbage moth damage is always worse on green cabbage.
Red cabbage on the other hand is way less attractive to cabbage moths.
EVEN though I had the pepper plants in a hoop house, EVEN though I did my best, it looks like pepper flies made their way in. The pepper fly lays an egg on the top of the pepper. When the larvae hatches it eats its way into the pepper where it then eats the inside of the pepper before exiting through a hole that it chews itself out of.
Flowers
Tucked into my garden are dahlias for cutting that I don't have room for in my front yard plus a ton of self seeded amaranth and celosia.
I grew a row of the Queen series of Zinnias.
Queen Red Lime
Queen Lime
Queeney Lime Orange
I direct seeded them a bit late so they're slow to bloom. Plus I pinch them back which slows their bloom time by another 2 weeks. BUT it will produce more lateral branches, more flowers and longer stems in the long run.
The flowers you see in the background are not my flowers. They belong to the perfect, park-like garden beside mine. I just get the view.
It's a fair trade. I get to see his perfect garden with floral border, he gets to see my snake pit.
Last year the squash patch was home to a turtle laying eggs. I had to call the turtle watch people who came and dug up her eggs so the aforementioned raccoons, skunks, weasels etc wouldn't eat them. If left alone the eggs would have been devoured by morning.
Squash Varieties I'm growing
This year I'm just growing 2 varieties of winter squash, which is less than my usual 4 or 5. So these two are obviously my favourites, because they're the 2 I chose to grow.
Jarrahdale
Autumn Frost
These photos are of the Autumn Frost squash. The one on the left is in my garden right now and the one on the right is a perfectly preserved Autumn Frost squash from LAST year that I pulled out of my pantry yesterday.
After almost a full year the Autumn Frost winter squash is still perfect. How's that for a long storage squash? They're also a good individual sized squash for eating.
The Jarrahdale (below) are much larger and keep really well. They have an orange flesh and grey/blue skin.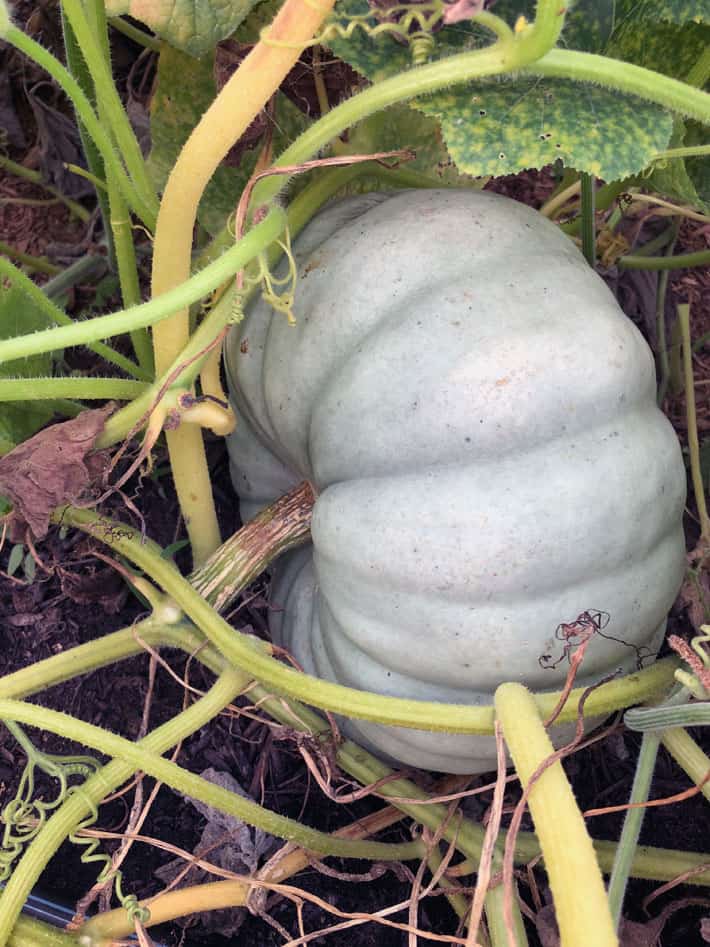 Swiss Chard has actually done better than it normally does in my garden with little insect damage.
Swiss Chard Tip
I've found chard likes to be planted fairly close together. And if you want a colourful harvest, grow the variety "Bright Lights". If you want a LARGE harvest grow the traditional white swiss chard.
The best option is to do what I've done here - growing both so you have both a large harvest and pretty colours.
Second Plantings
Green Beans
Cabbage
Broccoli
Carrots
Beets
All of these things other than the second planting of carrots have gone in in the past couple of weeks.
I've done second plantings of a few things. Sometimes because rabbits got the first planting.
It's a bit late but I'm still going to plant some lettuces and radishes.
The final things I'll be planting this year will be my garlic crop for next year which needs to get planted in the late fall. Here's how to grow garlic which you should read up on because like I *just* said, you need to plant it this fall if you want to harvest it next summer.
The other final thing I have to plant which will go in the empty bed above is my spring wheat. Because yes you CAN grow wheat in a small garden.
The first planting of beets are ready to pull but I'm keeping them in the ground for a little bit longer. They'll store better in the dirt than they will in my fridge and it's still too hot for them to go into my long term vegetable storage cupboard.
The onion and leek bed is good, not great. I forgot to side dress the onions with bone and blood meal (which helps them bulb up) plus they were chewed down to the ground by something in the spring which means, they had to put a lot of their energy into sprouting for the second time.
Sweet potatoes in pots doing well. Anything that grows underground is the most fun because you have NO idea what you're going to get.
---
Growing sweet potatoes in pots is my favourite way but I explain a few other options in this post on how to grow sweet potatoes.
---
The bean and cucumber trellis row is pathetic. Bacterial wilt and rabbits are to blame. I still got a ton of pickling cucumbers though and have had time to replant the beans one last time in the hope that I get some.
I'll be crushed if i can't make dilly beans or canned green beans for the winter.
Are you realizing now that there has been an issue with EVERY single thing I grew this year? And yet ....
I still have a ton of food.
The corn looks good but when I shuck it I might discover it's filled with corn smut.
Which is not porn for corn, but rather a fungus. It's quite horrifying, especially since it's viewed as a delicacy. I've eaten it. I can't say I'm a huge fan. I'd rather eat the corn.
Or a foot.
My Favourite Corn Variety
... is not the one I'm growing this year. I thought I had seed for my favourite variety but didn't so I grew the seed I had which is a variety of Peaches and Cream.
My favourite corn variety is: Serendipity
It's a hybrid that's very sweet but still tastes like corn.
And there you have it. Pests, problems, and nowhere near perfection but still a harvest like this daily.
And that's not including whatever it is the voles, mice, possums, mink, skunk, rabbits, and raccoons take home in their doggie bags.
Having any issues with your garden this year? Or questions about mine? Let me know and I'll see if I can help. Let me address the most popular question right now:
I eat it. I eat all of it.