Last night I made a Reuben sandwich for dinner.  I made a Reuben for the first time a few months ago and now I've added it to the rotation. It's delicious.  Now what about you?  What did you make for dinner last night?
Let me guess.  It was something you've made 1,732 times before.  It was good.  But you've had it 1,732 times before.  You wouldn't read the same book over and over again would you?  And even if you did re-read it (because it was great, or you didn't remember you had already read it until you were halfway through it)  ... you wouldn't do that 1,730 more times.
If you did, someone in your immediate family would likely have you admitted.  To a "hospital".  And by hospital I mean an inelegant ward where you'll be forced to talk about your feelings with strangers who sometimes eat their own scabs.
So let's try something different.
I'm not saying you have to do anything ridiculously fancy. I'm not saying you should cook with dry ice and tweezers (unless you want to).  Just ... try something different.  Homemade bread, Thai food, fish, whatever.  Just don't make it headcheese.
I swear to God, people who eat headcheese are one gross food item away from being scab eaters.
O.K. let's get those horrible eating images out of your brain now with these 75 FOOD IDEAS THAT'LL ROCK YOUR KITCHEN!
1. Strawberry Rhubarb Pie. 2. Chicken Pot Pie.   3. Avocado Lime Pie  4. Classic French Canadian Tourtiere  5.  Chess Pie  6. Root Vegetable Tarte Tatin  7. Beef Bourguignonne Pot Pie   8. Swiss Chard and Mushroom Galette 
9. Blue Apron's Crispy Chicken with Sauteed purple potatoes, kale and apples.  10. Homemade Chicken Broth  11.  Moroccan Chicken & Sweet Potato Stew   12. Grilled Chicken with cumin spice rub.  13.  Orange Chicken  14. Pistachio Chicken with Mustard/Dill Sauce.
15. Chicken Roulade (pounding a chicken breast flat, filling it with what you want, then rolling it up tight in plastic wrap and cooking)
16. Sun dry your own tomatoes.
17. Brine your cuts of meat (especially poultry and pork)
18. Chicken & Goat's Cheese salad with roasted red peppers.  19. Dr. Weil's Kale Salad  20. Classic Caesar Salad from scratch. 21. Beet Salad #1  22.The Best Curried Chicken Salad you'll ever eat. 23. Chick Pea salad.  24. Quinoa Salad.
25. NACHOS! (I made my absolutely sick on these last Superbowl)  26. Corndogs. 27. Chicken Burgers. 28. Krispy Kreme donuts   29. Fish & Chips  30. Homemade Cheez-its
31. Spicy Sesame Noodle Bowl   32. Thug Kitchen's Winter Vegetable Stir Fry   33. Cheater Pad Thai    34. Authentic Pad Thai    35. Rice Noodle Bowls with Crispy Tofu
36. Pumpkin Soup  37. Easy Broccoli Soup.  38. No Measure Potato Leek Soup.  39. Brazilian Black Bean Soup. 40. Szechuan Carrot Soup.
41.  Goats Cheese & Leek Tart.  42. Mushroom, Leek and Fontina Frittata  43. Jalapeño Cheese Souffle  44. Aioli (garlic mayo)  45. Poached Eggs on Toast with Ramps   46.  Scotch Eggs  47. Egg Foo Young
48.  Homemade Pizza Dough   49.  Homemade Pizza Sauce  50.  Nutella Dessert Pizza
51.  Penne Rigate with Rapini and Chorizo Sausage    52.   Gramma's Spaghetti & Meatballs  53.  Spaghetti Puttanesca   54.  Pumpkin Ravioli 
55. Rhubarb Crisp    56. Soft Granola Bars   57.  Ricotta Gelato    58. Lemon Poppyseed Biscotti     59. 5 Layer Honey Cream Cake  60.  Thug Kitchen's Vegan Chocolate popsicles
61. Frikadeller (Danish meatballs)  62. Cottage Pie  63. Pappardelle with Spicy Meat Sauce  64.  Thai Style Ground Beef dinner   65. Cheesy Ground Beef & Avodado Quesadillas. 
Two weeks ago I asked my readers to try something new and send me a photo of it. And they did!  Including homemade vegan hotdogs!  Another reader sent a cookie into space, which didn't really qualify as trying a new food, but it's still interesting.  Here are a few of my favourites that were sent to me.
66. Steak with Chimichurri sauce & Fire Roasted Corn Made by reader Linda.
67. Chicken Chili from Weight Watchers made by Anne.
68. Dragon Fruit Pudding w/ coconut milk. Made by reader Connie.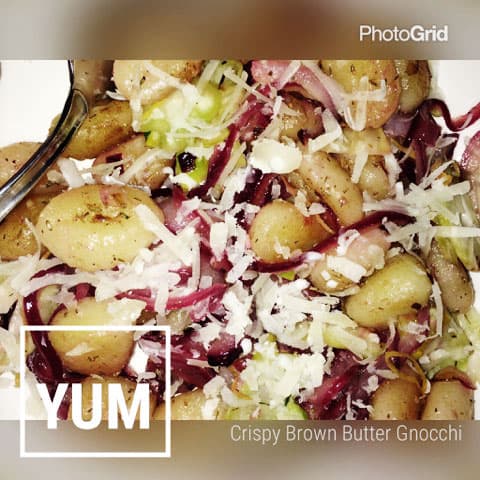 69. Blue Apron's Crispy Brown Butter Gnocchi  Made by reader Linda.
70. Vegan Pineapple Curry Tofu bowl.  Made for reader Mary by her granddaughter.
71. Fried Oysters with Panko made by Jasmine.
72. Shakshuka (traditional Israeli)  Made by reader Darla.
73. Blue Apron's Seared Salmon with pickled mustard seeds.  (See Tara's post on her experience with this Blue Apron recipe here)
74. Banana Pancakes (only banana & eggs!) made by Mariaurora
75. Homemade Bread from my favourite bread book The New Artisan Bread in 5 Minutes a Day.  Made by Marie.  There's no kneading and you can store the dough in the fridge for a couple of weeks and just pull out a bunch of it when you feel like making bread.  It's a bread miracle.
Have a good weekend and try something new.
Except headcheese.
And I think I'd also like to add barnacles to that.
And probably brussels sprouts.
Other than that ... go nuts.